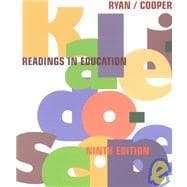 Kaleidoscope : Readings in Education
by
Unknown
Questions About This Book?
What version or edition is this?
This is the 9th edition with a publication date of 6/12/2000.
What is included with this book?
The New copy of this book will include any supplemental materials advertised. Please check the title of the book to determine if it should include any CDs, lab manuals, study guides, etc.
Summary
This text features high-interest readings drawn from contemporary, classic, academic, and popular sources. Many of the newer readings explore current trends in teacher education, such as standards, assessment, diversity, and social issues. The pedagogy includes introductions, post-notes, discussion questions, and a glossary and helps students get the most out of each reading. The new "Education Classics" logo highlights the articles that are considered classics in the field of education. A rationale for deeming the article a "classic" is provided in the pedagogy. The "Kaleidoscope Online" Web site includes approximately 18 articles┐half from the book and half unique to the Web site┐with additional, enhanced pedagogy.
Table of Contents
Preface
xi
Part One Teachers

| | |
| --- | --- |
| | The Influence of Teachers |

2
(7)
9
(3)
12
(8)
20
(5)

| | |
| --- | --- |
| | Reflection Is at the Heart of Practice |

25
(5)
30
(3)

| | |
| --- | --- |
| | The Great Teacher Question: Beyond Competencies |

33
(7)
40
(4)

| | |
| --- | --- |
| | Selecting ``Star'' Teachers for Children and Youth in Urban Poverty |

44
(7)

| | |
| --- | --- |
| | Developing an Effective Teaching Portfolio |

51
(7)
Part Two Students
58
(2)

| | |
| --- | --- |
| | Problem Students: The Sociocultural Roots |

60
(7)
67
(6)

| | |
| --- | --- |
| | How to Create Discipline Problems |

73
(5)

| | |
| --- | --- |
| | At Risk for Abuse: A Teacher's Guide for Recognizing and Reporting Child Neglect and Abuse |

78
(7)

| | |
| --- | --- |
| | What Do Students Want (and What Really Motivates Them)? |

85
(6)

| | |
| --- | --- |
| | On Emotional Intelligence: A Conversation with Daniel Goleman |

91
(5)

| | |
| --- | --- |
| | What Do We Know from Brain Research? |

96
(6)
102
(4)
Part Three Schools

| | |
| --- | --- |
| | Mythology and the American System of Education |

106
(10)
116
(5)

| | |
| --- | --- |
| | The Big Benefits of Smallness |

121
(5)

| | |
| --- | --- |
| | Why Some Parents Don't Come to School |

126
(6)

| | |
| --- | --- |
| | Parent Participation: Fad or Function? |

132
(8)

| | |
| --- | --- |
| | Home Schooling Comes of Age |

140
(5)

| | |
| --- | --- |
| | Early Lessons of the Charter School Movement |

145
(6)

| | |
| --- | --- |
| | Charter Schools: The Smiling Face of Disinvestment |

151
(9)
Part Four Curriculum

| | |
| --- | --- |
| | The Saber-Tooth Curriculum |

160
(6)

| | |
| --- | --- |
| | The Paideia Proposal: Rediscovering the Essence of Education |

166
(6)

| | |
| --- | --- |
| | The Core Knowledge Curriculum---What's Behind Its Success? |

172
(6)

| | |
| --- | --- |
| | The Quality School Curriculum |

178
(6)

| | |
| --- | --- |
| | Curriculum Integration and the Disciplines of Knowledge |

184
(10)

| | |
| --- | --- |
| | The Relevance of Religion to the Curriculum |

194
(5)
199
(8)

| | |
| --- | --- |
| | Mining the Values in the Curriculum |

207
(4)

| | |
| --- | --- |
| | Standards for American Schools: Help or Hindrance? |

211
(8)

| | |
| --- | --- |
| | Realizing the Promise of Standards-Based Education |

219
(7)
Part Five Instruction

| | |
| --- | --- |
| | Engaging Students: What I Learned Along the Way |

226
(4)

| | |
| --- | --- |
| | A Multiplicity of Intelligences |

230
(7)

| | |
| --- | --- |
| | Students Need Challenge, Not Easy Success |

237
(7)

| | |
| --- | --- |
| | Making the Grade: What Benefits Students? |

244
(8)

| | |
| --- | --- |
| | Cooperative Learning and the Cooperative School |

252
(9)

| | |
| --- | --- |
| | What's All the Noise About? Constructivism in the Classroom |

261
(6)

| | |
| --- | --- |
| | Context Matters: Teaching in Japan and the United States |

267
(11)
Part Six Foundations
278
(7)
285
(8)
293
(5)

| | |
| --- | --- |
| | The Free and Happy Student |

298
(6)

| | |
| --- | --- |
| | Personal Thoughts on Teaching and Learning |

304
(3)
307
(5)

| | |
| --- | --- |
| | The Teacher's Ten Commandments: School Law in the Classroom |

312
(12)

| | |
| --- | --- |
| | You Ask, ``Why Have School Costs Increased So Greatly During the Last 20 Years?'' |

324
(6)

| | |
| --- | --- |
| | The Return of Character Education |

330
(8)
Part Seven Educational Reform

| | |
| --- | --- |
| | What Matters Most: A Competent Teacher for Every Child |

338
(13)

| | |
| --- | --- |
| | From Aptitude to Effort: A New Foundation for Our Schools |

351
(5)

| | |
| --- | --- |
| | New Hope for High Schools: Lessons from Reform-Minded Educators |

356
(6)

| | |
| --- | --- |
| | The Who, What, and Why of Site-Based Management |

362
(6)

| | |
| --- | --- |
| | The Power of Innovative Scheduling |

368
(8)

| | |
| --- | --- |
| | The Educational Consequences of Choice |

376
(7)

| | |
| --- | --- |
| | School Choice: Panacea or Pandora's Box? |

383
(9)
Part Eight Educational Technology
392
(5)

| | |
| --- | --- |
| | Making a Living, Making a Life: Technology Reconsidered |

397
(5)

| | |
| --- | --- |
| | School Reform in the Information Age |

402
(10)

| | |
| --- | --- |
| | Technology and Equity Issues |

412
(8)

| | |
| --- | --- |
| | Technology Changes Intelligence: Societal Implications and Soaring IQs |

420
(5)

| | |
| --- | --- |
| | Educating the Net Generation |

425
(7)
Part Nine Diversity

| | |
| --- | --- |
| | Multiculturalism: E Pluribus Plures |

432
(7)

| | |
| --- | --- |
| | Multicultural Education in the New Century |

439
(4)
443
(4)

| | |
| --- | --- |
| | The Culture/Learning Style Connection: Educating for Diversity |

447
(7)

| | |
| --- | --- |
| | Where We Stand on the Rush to Inclusion |

454
(6)

| | |
| --- | --- |
| | What Do I Do Now? A Teacher's Guide to Including Students with Disabilities |

460
(5)

| | |
| --- | --- |
| | School Reform and Student Diversity |

465
(6)

| | |
| --- | --- |
| | The Changing Face of Bilingual Education |

471
(6)

| | |
| --- | --- |
| | Shortchanging Girls and Boys |

477
(6)
Glossary
483
(10)
Index
493
(8)
Article Review Form
501
(2)
Student Response Form
503