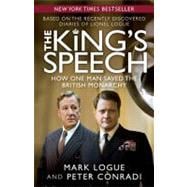 Summary
Based on the recently discovered diaries of Lionel Logue, The King's Speech: How One Man Saved the British Monarchy recounts an inspiring real-life tale of triumph over adversity, when an Australian taught a British king with a crippling speech defect how to speak to his subjects.
Author Biography
Peter Conradi's books include The Red Ripper: Inside the Mind of Russia's Most Brutal Serial Killer, Mad Vlad: Vladimir Zhirinovksy and the New Russian Nationalism, and Hitler's Piano Player.
Table of Contents
Acknowledgments
p. vii
Introduction
p. ix
God Save the King
p. 1
The 'common colonial'
p. 13
Passage to England
p. 33
Growing Pains
p. 45
Diagnosis
p. 65
Court Dress with Feathers
p. 79
The Calm Before the Storm
p. 91
Edward VIII's 327 Days
p. 105
In the Shadow of the Coronation
p. 121
After the Coronation
p. 129
The Path to War
p. 145
'Kill the Austrian House Painter'
p. 157
Dunkirk and the Dark Days
p. 171
The Tide Turns
p. 187
Victory
p. 203
The Last Words
p. 219
Notes
p. 230
Index
p. 233
Table of Contents provided by Ingram. All Rights Reserved.