Note: Supplemental materials are not guaranteed with Rental or Used book purchases.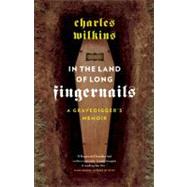 In the Land of Long Fingernails : A Gravedigger's Memoir
ISBN13:
9781553658436
by
Wilkins, Charles
Questions About This Book?
What version or edition is this?
This is the edition with a publication date of 8/23/2011.
What is included with this book?
The New copy of this book will include any supplemental materials advertised. Please check the title of the book to determine if it should include any CDs, lab manuals, study guides, etc.
The eBook copy of this book is not guaranteed to include any supplemental materials. Typically only the book itself is included.
Summary
A darkly humourous memoir of a 1960s summer spent in a cemetery. First published in hardcover in 2008, In the Land of Long Fingernailswas shortlisted for the Trillium Book Prize, the Stephen Leacock Memorial Medal for Humour, and the Toronto Book Awards. During the hazy summer of 1969, Charles Wilkins, then a university student, took a job as a gravedigger in a vast corporate cemetery in the east end of Toronto. The bizarre but true events of that time -- a midsummer gravediggers' strike, the unearthing of a victim of an unsolved murder, and a little illegal bone shifting -- play out among a Barnum-esque parade of mavericks and misfits in this macabre and hilarious memoir. Amid relentless gallows humour and the inevitable reminders of what it is, finally, to be human, Wilkins provides an unforgettable insideris view of a morbidly fascinating industry. In the Land of Long Fingernailsis a story of mortality, materialism, friendship, and sexuality, and the gradual coming of age of an impressionable young man. A darkly humourous memoir of a 1960s summer spent in a cemetery.
Author Biography
Charles Wilkins wrestled Don Starkell's mountainous diary into the classic work of adventure travel Paddle to the Amazon, praised by the New York Times Book Review as "a model expeditionary journal." He is the winner of three National Magazine Awards and has been a finalist for the Writers' Trust Non-Fiction Prize, among other awards. His acclaimed non-fiction includes The Circus at the Edge of the Earth and Walk to New York, and he is the co-author, with Gordie Howe, of the bestseller After the Applause. He divides his time between Thunder Bay and Muskoka, ON.
Table of Contents
Author's Note

Part I
1 A Half-Assed Shot at Redemption
2 The Luxuriating Harmony of the Peaceable Kingdom
3 The Unassailable Code of Cemetery Conduct
4 A Young Man of Spiritual Inclinations
5 The Practice of Inefficiency
6 The Profitable Phase of Death
7 Death's Little Acre
8 No Time to Croak
9 The Pace of Microbes and Worms
10 A Loner and a Rose Gardener
11 The Remains of the Day
12 The Business of Being Alive
13 The Imperfect Possibilities of the Venal New World
14 The Land of Low Expectations
15 No More Bullshit

Part II
16 The Most Liberated Locality on Earth
17 As Deeply Adrift as Ever
18 Housekeeping and Human Disposition
19 A Wide and Shapely Stage

Acknowledgments

Excerpts
The next morning, in heavy rain, my car refused to start. I took the bus to the cemetery, arrived late, and was put to work in the maintenance shop, applying gold-coloured lacquer to an elaborate concrete outer vault that was to be used the following day. On it, I was to apply neat lines of letters forming the dead person's name and a Biblical reference, Psalm 46:10. At break, Peter informed me that the funeral was going to be a corker - a seventeen-year-old girl had died of bone cancer. He had been told to expect four school buses of teenagers. I blew a reefer under the eaves of the chapel, out of the rain, and feeling as remote as a star went back into the shop to apply a second coat of paint. Hogjaw came in, as stoned as I, and for a moment, on a whim, I jumped into the box and struck a surfing pose, and jumped out. "Lie down in it," he said, and I stepped back in and lay down. "You look good," he said. "I'm alive," I said. "It doesn't count." "You're stoned is what you are." "You get in," I said as I got out, and he stepped in and lay down and shut his eyes. Scotty had told me that from the age of forty the actress Sarah Bernhardt had slept in the coffin in which she would eventually be buried. He had read it in Midnight. I mentioned it to Hogjaw, who said he thought people could do "a helluva lot more in coffins" than they do. I asked him "Like what?" and he said. "All they do now is rot and go to hell." He opened his eyes and asked if I believed there was an afterlife, to which I responded that it was a nice idea, one that I had once held inviolable, but that I no longer knew. I asked for his own views on the age-old stumper. He said, "There is as long as we're alive - after that, what does it matter?" The next morning, I suffered waves not just of hay fever but of draining pessimism as we set up to bury the dead teenager. From behind a grove of cedars, Hogjaw and I watched the committal, a despairing locus of compressed grief, all of it in preposterous contrast to the crowd of high school students in mini-skirts and bell-bottomed jeans and the bright yellow presence of the school buses. When we had lowered the coffin into the concrete vault and had hitched cables to the gold-painted lid, Hogjaw walked to the edge of the grave, dropped onto the edges of the vault, looked at me and said, "Do you want to see her?" "No," I said, as sure of it as I have ever been of anything. "Actually, yes," I said. "I wouldn't mind," at which point Hogjaw, the master of such exertions, spread his knees so that they touched the side walls of the grave, reached down and, having manipulated the coffin latch, lifted the lid and stood up, so that I had an unobstructed view. I glanced around, to make sure we weren't being watched, and for the next few seconds stared into the exquisite corpse's expressionless face, a face unmarred by the tortures of disease - in fact, except for the make-up, indistinguishable from that of any dreamy 17-year-old. "Bye-bye now," whispered Hogjaw, and he bent over and touched the teenager's cheek with the backs of his fingers, moving her head slightly, which spooked me, sending me backpedaling to where I grabbed the indoor-outdoor that was covering the dirt pile, yanked it off and flung it over a nearby stone. We lowered the vault lid, and I hastily tidied up as Hogjaw plowed clay into the hole. It might behoove my tale to report that as a child I had an irrational fear of cancer, and by twelve, or so, was praying nightly that the little lump or lesion in my armpit or groin would not do me in - at least not before I had had a chance to have sex, which I thought about day and night, agonized over, dreamt about, sometimes to vivifying, even alarming, effect. My fantasized mate in these morbid speculations, was invariably a busty brunette in black lingerie -- big-nippled, perhaps twenty years my senior, and well-versed in the bedroom arts. At the time, I believed I might inveigle such a woman to have sex with me if she knew I was on my way out and would require the service just once or twice which is all I want, Dear Lord, please, just this five or six times. As I tamped the sod into place, I experienced the same paradoxical mixture of relief and guilt that I had known as a kid after witnessing some baleful violation of the natural order. She was dead of cancer -- I wasn't. Meanwhile, I wondered what nightmarish forces had exploded in her skull when she had found out she had the disease - wondered what unbridgeable loneliness she had endured with the awareness she was going to die. I wondered if she had ever had sex.