Note: Supplemental materials are not guaranteed with Rental or Used book purchases.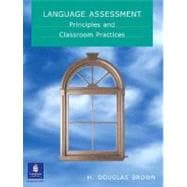 Language Assessment : Principles and Classroom Practices
ISBN13:
9780130988348
by
Brown, H. Douglas
Summary
Best-selling author H. Douglas Brown offers a clear, authoritative manual of testing and assessment in the second language classroom. Language Assessment looks at essential principles for assessment, as well as the critical tools that teachers need for fair, effective evaluation.
Table of Contents
Preface
ix
Text Credits
xii
1 Testing, Assessing, and Teaching
1
(18)
3
(1)
4
(3)

| | |
| --- | --- |
| | Informal and Formal Assessment, |

5
(1)

| | |
| --- | --- |
| | Formative and Summative Assessment, |

6
(1)

| | |
| --- | --- |
| | Norm-Referenced and Criterion-Referenced Tests, |

7
(1)

| | |
| --- | --- |
| | Approaches to Language Testing: A Brief History, |

7
(6)

| | |
| --- | --- |
| | Discrete-Point and Integrative Testing, |

8
(2)

| | |
| --- | --- |
| | Communicative Language Testing, |

10
(1)

| | |
| --- | --- |
| | Performance-Based Assessment, |

10
(3)

| | |
| --- | --- |
| | Current Issues in Classroom Testing, ll |

| | |
| --- | --- |
| | New Views on Intelligence, ll |

| | |
| --- | --- |
| | Traditional and "Alternative" Assessment, |

13
(1)
14
(2)
16
(2)

| | |
| --- | --- |
| | For Your Further Reading, |

18
(1)
2 Principles of Language Assessment
19
(23)
19
(1)
20
(2)

| | |
| --- | --- |
| | Student-Related Reliability, |

21
(1)
21
(1)

| | |
| --- | --- |
| | Test Administration Reliability, |

21
(1)
22
(1)
22
(6)

| | |
| --- | --- |
| | Content-Related Evidence, |

22
(2)

| | |
| --- | --- |
| | Criterion-Related Evidence, |

24
(1)

| | |
| --- | --- |
| | Construct-Related Evidence, |

25
(1)
26
(1)
26
(2)
28
(1)
28
(2)

| | |
| --- | --- |
| | Applying Principles to the Evaluation of Classroom Tests, |

30
(8)

| | |
| --- | --- |
| | 1. Are the test procedures practical? |

31
(1)
31
(1)

| | |
| --- | --- |
| | 3. Does the procedure demonstrate content validity? |

32
(1)

| | |
| --- | --- |
| | 4. Is the procedure face valid and "biased for best"? |

33
(2)

| | |
| --- | --- |
| | 5. Are the test tasks as authentic as possible? |

35
(2)

| | |
| --- | --- |
| | 6. Does the test offer beneficial washback to the learner? |

37
(1)
38
(3)

| | |
| --- | --- |
| | For Your Further Reading, |

41
(1)
3 Designing Classroom Language Tests
42
(24)
43
(5)
43
(1)
44
(1)
45
(1)
46
(1)
47
(1)

| | |
| --- | --- |
| | Some Practical Steps to Test Construction, |

48
(13)

| | |
| --- | --- |
| | Assessing Clear, Unambiguous Objectives, |

49
(1)

| | |
| --- | --- |
| | Drawing Up Test Specifications, |

50
(2)
52
(3)

| | |
| --- | --- |
| | Designing Multiple-Choice Test Items, |

55
(6)

| | |
| --- | --- |
| | 1. Design each item to measure a specific objective, |

56
(1)

| | |
| --- | --- |
| | 2. State both stem and options as simply and directly as possible, |

57
(1)

| | |
| --- | --- |
| | 3. Make certain that the intended answer is clearly the only correct one, |

58
(1)

| | |
| --- | --- |
| | 4. Use item indices to accept, discard, or revise items, |

58
(3)

| | |
| --- | --- |
| | Scoring, Grading, and Giving Feedback, |

61
(3)
61
(1)
62
(1)
62
(2)
64
(1)

| | |
| --- | --- |
| | For Your Further Reading, |

65
(1)
4 Standardized Testing
66
(38)

| | |
| --- | --- |
| | What Is Standardization?, |

67
(1)

| | |
| --- | --- |
| | Advantages and Disadvantages of Standardized Tests, |

68
(1)

| | |
| --- | --- |
| | Developing a Standardized Test, |

69
(13)

| | |
| --- | --- |
| | 1. Determine the purpose and objectives of the test, |

70
(1)

| | |
| --- | --- |
| | 2. Design test specifications, |

70
(4)

| | |
| --- | --- |
| | 3. Design, select, and arrange test tasks/items, |

74
(4)

| | |
| --- | --- |
| | 4. Make appropriate evaluations of different kinds of items, |

78
(1)

| | |
| --- | --- |
| | 5. Specify scoring procedures and reporting formats, |

79
(2)

| | |
| --- | --- |
| | 6. Perform ongoing construct validation studies, |

81
(1)

| | |
| --- | --- |
| | Standardized Language Proficiency Testing, |

82
(1)

| | |
| --- | --- |
| | Four Standardized Language Proficiency Tests, |

83
(4)

| | |
| --- | --- |
| | Test of English as a Foreign Language (TOEFL), |

84
(1)

| | |
| --- | --- |
| | Michigan English Language Assessment Battery (MELAB), |

85
(1)

| | |
| --- | --- |
| | International English Language Testing System (IELTS), |

85
(1)

| | |
| --- | --- |
| | Test of English for International Communication (TOEIC®), |

86
(1)
87
(1)

| | |
| --- | --- |
| | For Your Further Reading, |

87
(1)

| | |
| --- | --- |
| | Appendix to Chapter 4: Commercial Proficiency Tests: Sample Items and Tasks, |

88
(16)

| | |
| --- | --- |
| | Test of English as a Foreign Language (TOEFL®), |

88
(5)

| | |
| --- | --- |
| | Michigan English Language Assessment Battery (MELAB), |

93
(3)

| | |
| --- | --- |
| | International English Language Testing System (IELTS), |

96
(4)

| | |
| --- | --- |
| | Test of English for International Communication (TOEIC®), |

100
(4)
5 Standards-Based Assessment
104
(12)
105
(1)
106
(2)
108
(1)
109
(1)

| | |
| --- | --- |
| | The Consequences of Standards-Based and Standardized Testing, |

110
(3)
111
(1)

| | |
| --- | --- |
| | Test-Driven Learning and Teaching, |

112
(1)

| | |
| --- | --- |
| | Ethical Issues: Critical Language Testing, |

113
(2)
115
(1)

| | |
| --- | --- |
| | For Your Further Reading, |

115
(1)
6 Assessing Listening
116
(24)

| | |
| --- | --- |
| | Observing the Performance of the Four Skills, |

117
(2)

| | |
| --- | --- |
| | The Importance of Listening, |

119
(1)

| | |
| --- | --- |
| | Basic Types of Listening, |

119
(2)

| | |
| --- | --- |
| | Micro- and Macroskills of Listening, |

121
(1)

| | |
| --- | --- |
| | Designing Assessment Tasks: Intensive Listening, |

122
(3)

| | |
| --- | --- |
| | Recognizing Phonological and Morphological Elements, |

123
(1)
124
(1)

| | |
| --- | --- |
| | Designing Assessment Tasks: Responsive Listening, |

125
(1)

| | |
| --- | --- |
| | Designing Assessment Tasks: Selective Listening, |

125
(5)
125
(2)
127
(3)
130
(1)

| | |
| --- | --- |
| | Designing Assessment Tasks: Extensive Listening, |

130
(8)
131
(1)

| | |
| --- | --- |
| | Communicative Stimulus-Response Tasks, |

132
(3)

| | |
| --- | --- |
| | Authentic Listening Tasks, |

135
(3)
138
(1)

| | |
| --- | --- |
| | For Your Further Reading, |

139
(1)
7 Assessing Speaking
140
(45)
141
(1)

| | |
| --- | --- |
| | Micro- and Macroskills of Speaking, |

142
(3)

| | |
| --- | --- |
| | Designing Assessment Tasks: Imitative Speaking, |

l44
145
(2)

| | |
| --- | --- |
| | Designing Assessment Tasks: Intensive Speaking, |

147
(12)
147
(1)
147
(2)

| | |
| --- | --- |
| | Sentence/Dialogue Completion Tasks and Oral Questionnaires, |

149
(2)
151
(8)

| | |
| --- | --- |
| | Translation (of Limited Stretches of Discourse), |

159
(1)

| | |
| --- | --- |
| | Designing Assessment Tasks: Responsive Speaking, |

159
(3)
159
(2)

| | |
| --- | --- |
| | Giving Instructions and Directions, |

161
(1)
161
(1)

| | |
| --- | --- |
| | Test of Spoken English (TSE®), |

162
(5)

| | |
| --- | --- |
| | Designing Assessment Tasks: Interactive Speaking, |

167
(9)
167
(7)
174
(1)

| | |
| --- | --- |
| | Discussions and Conversations, |

175
(1)
175
(1)

| | |
| --- | --- |
| | Oral Proficiency Interview (OPI), |

176
(3)

| | |
| --- | --- |
| | Designing Assessment: Extensive Speaking, |

179
(4)
179
(1)

| | |
| --- | --- |
| | Picture-Cued Story-Telling, |

180
(2)

| | |
| --- | --- |
| | Retelling a Story, News Event, |

182
(1)

| | |
| --- | --- |
| | Translation (of Extended Prose), |

182
(1)
183
(1)

| | |
| --- | --- |
| | For Your Further Reading, |

184
(1)
8 Assessing Reading
185
(33)

| | |
| --- | --- |
| | Types (Genres) of Reading, |

186
(1)

| | |
| --- | --- |
| | Microskills, Macroskills, and Strategies for Reading, |

187
(2)
189
(1)

| | |
| --- | --- |
| | Designing Assessment Tasks: Perceptive Reading, |

190
(4)
190
(1)
191
(1)
191
(1)
191
(3)

| | |
| --- | --- |
| | Designing Assessment Tasks: Selective Reading, |

194
(7)

| | |
| --- | --- |
| | Multiple-Choice (for Form-Focused Criteria), |

194
(3)
197
(1)
198
(1)
199
(1)
200
(1)

| | |
| --- | --- |
| | Designing Assessment Tasks: Interactive Reading, |

201
(11)
201
(3)

| | |
| --- | --- |
| | Impromptu Reading Plus Comprehension Questions, |

204
(2)
206
(1)
207
(2)
209
(1)
209
(1)

| | |
| --- | --- |
| | Information Transfer: Reading Charts, Maps, Graphs, Diagrams, |

210
(2)

| | |
| --- | --- |
| | Designing Assessment Tasks: Extensive Reading, |

212
(4)
213
(1)

| | |
| --- | --- |
| | Summarizing and Responding, |

213
(2)

| | |
| --- | --- |
| | Note-Taking and Outlining, |

215
(1)
216
(1)

| | |
| --- | --- |
| | For Your Further Reading, |

217
(1)
9 Assessing Writing
218
(33)

| | |
| --- | --- |
| | Genres of Written Language, |

219
(1)

| | |
| --- | --- |
| | Types of Writing Performance, |

220
(1)

| | |
| --- | --- |
| | Micro- and Macroskills of Writing, |

220
(1)

| | |
| --- | --- |
| | Designing Assessment Tasks: Imitative Writing, |

221
(4)

| | |
| --- | --- |
| | Tasks in [Hand] Writing Letters, Words, and Punctuation, |

221
(2)

| | |
| --- | --- |
| | Spelling Tasks and Detecting Phoneme-Grapheme Correspondences, |

223
(2)

| | |
| --- | --- |
| | Designing Assessment Tasks: Intensive (Controlled) Writing, |

225
(6)

| | |
| --- | --- |
| | Dictation and Dicto-Comp, |

225
(1)

| | |
| --- | --- |
| | Grammatical Transformation Tasks, |

226
(1)
226
(3)

| | |
| --- | --- |
| | Vocabulary Assessment Tasks, |

229
(1)
230
(1)

| | |
| --- | --- |
| | Short-Answer and Sentence Completion Tasks, |

230
(1)

| | |
| --- | --- |
| | Issues in Assessing Responsive and Extensive Writing, |

231
(2)

| | |
| --- | --- |
| | Designing Assessment Tasks: Responsive and Extensive Writing, |

233
(4)
234
(1)

| | |
| --- | --- |
| | Guided Question and Answer, |

234
(1)

| | |
| --- | --- |
| | Paragraph Construction Tasks, |

235
(1)
236
(1)

| | |
| --- | --- |
| | Test of Written English (TWE®), |

237
(4)

| | |
| --- | --- |
| | Scoring Methods for Responsive and Extensive Writing, |

241
(5)
242
(1)
242
(1)
243
(3)

| | |
| --- | --- |
| | Beyond Scoring: Responding to Extensive Writing, |

246
(3)

| | |
| --- | --- |
| | Assessing Initial Stages of the Process of Composing, |

247
(1)

| | |
| --- | --- |
| | Assessing Later Stages of the Process of Composing, |

247
(2)
249
(1)

| | |
| --- | --- |
| | For Your Further Reading, |

250
(1)
10 Beyond Tests: Alternatives in Assessment
251
(30)

| | |
| --- | --- |
| | The Dilemma of Maximizing Both Practicality and Washback, |

252
(2)

| | |
| --- | --- |
| | Performance-Based Assessment, |

254
(2)
256
(4)
260
(4)

| | |
| --- | --- |
| | Conferences and Interviews, |

264
(2)
266
(4)

| | |
| --- | --- |
| | Self and Peer-Assessments, |

270
(9)

| | |
| --- | --- |
| | Types of Self and Peer-Assessment, |

271
(5)

| | |
| --- | --- |
| | Guidelines for Self and Peer-Assessment, |

276
(1)

| | |
| --- | --- |
| | A Taxonomy of Self and Peer-Assessment Tasks, |

277
(2)
279
(1)

| | |
| --- | --- |
| | For Your Further Reading, |

280
(1)
11 Grading and Student Evaluation
281
(22)

| | |
| --- | --- |
| | Philosophy of Grading: What Should Grades Reflect? |

282
(9)

| | |
| --- | --- |
| | Guidelines for Selecting Grading Criteria, |

284
(1)

| | |
| --- | --- |
| | Calculating Grades: Absolute and Relative Grading, |

285
(4)

| | |
| --- | --- |
| | Teachers' Perceptions of Appropriate Grade Distributions, |

289
(2)

| | |
| --- | --- |
| | Institutional Expectations and Constraints, |

291
(3)

| | |
| --- | --- |
| | Cross-Cultural Factors and the Question of Difficulty, |

292
(1)

| | |
| --- | --- |
| | What Do Letter Grades "Mean"?, |

293
(1)

| | |
| --- | --- |
| | Alternatives to Letter Grading, |

294
(5)

| | |
| --- | --- |
| | Some Principles and Guidelines for Grading and Evaluation, |

299
(1)
300
(2)

| | |
| --- | --- |
| | For Your Further Reading, |

302
(1)
Bibliography
303
(10)
Name Index
313
(2)
Subject Index
315
0791457605
Preface
ix
Acknowledgments
xiii
Part 1: Introduction

| | |
| --- | --- |
| | Chapter 1. School Reform and Educational Improvement: Challenges and Responses |

3
(12)

| | |
| --- | --- |
| | Chapter 2. Attachment and Knowledge |

15
(14)

| | |
| --- | --- |
| | Chapter 3. Building the Education Field: Getting Parents, Schools, and Communities Together |

29
(12)

| | |
| --- | --- |
| | Chapter 4. Baltimore, the Schools, and the Southeast Education Task Force |

41
(18)
Part 2: Research as a Way of Getting Started

| | |
| --- | --- |
| | Chapter 5. Getting Started, Getting Bearings |

59
(14)
Part 3: Participation

| | |
| --- | --- |
| | Chapter 6. Creating the Southeast Education Task Force |

73
(14)

| | |
| --- | --- |
| | Chapter 7. Organizing Networks for Southeast Education: Engaging the School System |

87
(10)

| | |
| --- | --- |
| | Chapter 8. Organizing Networks for Southeast Education: Connecting with Parents and Community Institutions |

97
(24)
Part 4: Action

| | |
| --- | --- |
| | Chapter 9. Doing Something |

121
(8)

| | |
| --- | --- |
| | Chapter 10. Education and the Empowerment Zone: Participation in the Service of Action |

129
(18)
Part 5: Research as a Means to Action

| | |
| --- | --- |
| | Chapter 11. Acting as a Way of Knowing: Action Research |

147
(14)

| | |
| --- | --- |
| | Chapter 12. Knowing as a Means to Acting: Research for Action |

161
(20)
Part 6: Money

| | |
| --- | --- |
| | Chapter 13. Money Matters: The Costs of Participation, Research, and Action |

181
(14)
Part 7: Tensions between Attachment and Knowledge

| | |
| --- | --- |
| | Chapter 14. Realities and Fantasies in University-Community Partnerships |

195
(14)

| | |
| --- | --- |
| | Chapter 15. Why Community-School Partnerships Are Unlikely |

209
(16)

| | |
| --- | --- |
| | Chapter 16. Building Networks in Turbulent Fields: Tension between Attachment and Knowledge |

225
(16)
Part 8: Lessons and Conclusions

| | |
| --- | --- |
| | Chapter 17. Evaluating the Southeast Education Task Force |

241
(16)

| | |
| --- | --- |
| | Chapter 18. Can Community Action Reform Schools or Improve Education? |

257
(16)
Notes
273
(4)
References
277
(14)
Index
291