Note: Supplemental materials are not guaranteed with Rental or Used book purchases.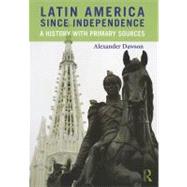 Latin America since Independence: A History with Primary Sources
ISBN13:
9780415991964
by
Dawson
;
Alexander
Summary
What is Latin America, after all? While histories of the "other" Americas often link disparate histories through revolutionary or tragic narratives, Latin America since Independence begins with the assumption that our efforts to imagine a common past for nearly thirty countries are deeply problematic. Without losing sight of chronology or regional trends, this text offers glimpses of the Latin American past through eleven carefully selected stories. Each chapter introduces students to a specific historical issue, which in turn raises questions about the history of the Americas as a whole. Key themes include:Race and CitizenshipInequality and Economic DevelopmentPolitics and RightsSocial and Cultural MovementsGlobalizationViolence and Civil SocietyThe short, thematic chapters are bolstered by the inclusion of relevant primary documents ' many translated for the first time ' including advertisements and posters, song lyrics, political speeches, government documents, and more. Each chapter also includes timelines highlighting important dates and suggestions for further reading. A highly interactive companion website contains the full text of excerpted documents, extra images and timelines, film clips, and student review materials. Richly informative and highly readable, Latin America since Independence provides compelling accounts of this region's past and present.For additional information and classroom resources please visit the Latin America since Independence companion website at www.routledge/textbooks/LatinAmericasinceIndependence.
Author Biography
Alexander Dawson is Associate Professor of Latin American History at Simon Fraser University, in British Columbia, Canada. He is the author of First World Dreams: Mexico since 1989 and Indian and Nation in Revolutionary Mexico.
Table of Contents
List of Illustrations
p. ix
Acknowledgments
p. xi
List of Abbreviations
p. xiii
Introduction: Latin America's Useable Past
p. 1
Independence Narratives, Past and Present
p. 9
Documents:
Simón Bolívar, the Letter from Jamaica: Kingston, Jamaica, September 6, 1815
p. 19
Ambassador Odeen Ishmael, "Influencing the Democratic Process in the Americas: A Tribute to Simón Bolívar"
p. 21
Speech by President Hugo Chávez at the opening of XII G-15 Summit, Monday, March 1, 2004
p. 25
Caudillos versus the Nation State
p. 35
Document:
Esteban Echeverría, The Slaughterhouse (El Matadero)
p. 45
Race and Citizenship in the New Republics
p. 59
Documents:
Raimundo (Raymundo) Nina Rodrigues, The Fetishist Animism of the Bahian Blacks (O Animismo Fetischistados Negros Bahianos) (Excerpt)
p. 73
Political Program of the Partido Independiente de Color, 1908
p. 76
Manifesto, "Santa Rita de Casia," y "San Lázaro": Sociedad de Protección Mutua, Canto y Baile
p. 78
The Export Boom as Modernity
p. 83
Document:
James Creelman, "Porfirio Díaz, Hero of the Americas" (Excerpts)
p. 97
Signs of Crisis in a Gilded Age
p. 109
Documents:
José Martí, "Our America," from La Revista Ilustrada, New York, January 1, 1891
p. 119
Emiliano Zapata, The Plan de Ayala, 1911
p. 125
José Carlos Mariátegui, "The Problem of the Indian," from Seven Interpretive Essays on Peruvian Reality, 1928
p. 129
Commerce, Coercion, and America's Empire
p. 137
Documents:
Augusto Sandino, Political Manifesto, Nicaragua, July 1927
p. 154
Silent War (Film)
p. 156
Journey to Banana Land (Film)
p. 156
Ariel Dorfman and Armand Mattelart, "From the Noble Savage to the Third World" 1970
p. 156
Power to the People
p. 163
Documents:
Foster Hailey, "Peronists Will Head Argentine Ticket," New York Times, August 23, 1951
p. 178
The Peronist Version of the Speech
p. 179
The Renunciamiento as Compiled from Newsreel and Archival Footage
p. 182
Eva Perón's Final Response Broadcast over the Airwaves at 8.30 p.m. on August 31, 1951
p. 136
A Decade of Revolution in Cuba
p. 189
Documents:
Fidel Castro, "Cuba Is a Socialist Nation," Address to the May Day Celebrations, May 1, 1961 (Excerpt)
p. 204
Reinaldo Arenas, "The Fire," from Before Night Falls
p. 209
Jesús Díaz, "Chapter 13," from The Initials of the Earth
p. 210
Elizabeth Dore, "Cubans' Memories of the 1960s" (Excerpt)
p. 216
Peru in an Age of Terror
p. 221
Documents:
Mario Vargas Llosa, "The Massacre," excerpt from "Inquest in the Andes: A Latin American Writer Explores the Political Lessons of a Peruvian Massacre," New York Times Magazine, July 31, 1983
p. 237
The Interview of the Century, 1988 (Excerpt)
p. 240
Fujimori's 1992 Declaration of the Autogolpe
p. 244
A Day in the Trial of the Century, by Carolina Huamán Oyague (Family Member of La Cantuta Victim)
p. 249
A Right to Have Rights in the New Democracies
p. 253
Document:
Migrant Guide (2004)
p. 266
Bolivia's Left Turn
p. 279
Documents:
Memorandum, a Declaration from the Nación Camba, February 14, 2001
p. 295
Walter Chávez and Álvaro García Linera, "From the Diesel-Price-Hike Protests to the Struggle for Autonomy: The Camba Rebellion"
p. 298
"Santa Cruz Belongs to All Bolivians," Bolpress, August 24, 2008
p. 303
Speech by the President of the Pro-Santa Cruz Committee, Branko Marinkovic, in the Plaza "24 de Septiembre," Santa Cruz de la Sierra, January 25, 2009
p. 305
Tuffí Aré, "A Reading of Yes and No," El Deber, January 26, 2009
p. 307
Epilogue
p. 310
Glossary
p. 312
Notes
p. 316
Index
p. 324
Table of Contents provided by Ingram. All Rights Reserved.