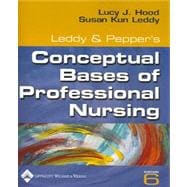 List Price: $60.75
Usually Ships in 2-3 Business Days
Questions About This Book?
What version or edition is this?
This is the 6th edition with a publication date of 10/12/2005.
What is included with this book?
The Used copy of this book is not guaranteed to inclue any supplemental materials. Typically, only the book itself is included.
Summary
Now in its Sixth Edition, this text provides nurses with a comprehensive overview of the evolving marketplace, emphasizing the need to develop and maintain sound professionalism. The book discusses the nurse's role in public policy and management of patient care. This edition includes new material on professional nursing roles, nursing management and leadership theories, quality improvement processes, and working in diverse and international communities. Each chapter includes clinical vignettes representing real-life practice situations, thought-provoking questions to stimulate critical thinking, research briefs to promote the use of research in practice, and critical thinking exercises. Internet exercises are included to familiarize students with online resources.
Table of Contents
| | |
| --- | --- |
| | SECTION I Exploring Professional Nursing |

1
(230)
3
(36)

| | |
| --- | --- |
| | Challenges to the Returning Professional Nursing Student |

5
(5)

| | |
| --- | --- |
| | Socialization and Resocialization Into the Nursing Profession |

10
(2)

| | |
| --- | --- |
| | Development of a Professional Self-Concept |

12
(3)

| | |
| --- | --- |
| | Characteristics of a Profession |

15
(19)

| | |
| --- | --- |
| | Summary and Significance to Practice |

34
(5)

| | |
| --- | --- |
| | The History Behind the Development of Professional Nursing |

39
(28)

| | |
| --- | --- |
| | Nursing in Ancient Civilizations (Before AD 1) |

40
(4)

| | |
| --- | --- |
| | Nursing in the Early Christian Era (AD 1--500) |

44
(1)

| | |
| --- | --- |
| | Nursing in the Middle Ages (500--1500) |

45
(1)

| | |
| --- | --- |
| | Nursing in the Renaissance and Colonial America (1500--1860) |

46
(1)

| | |
| --- | --- |
| | The Movement of Nursing to a Respectable Profession (1820-1917) |

47
(6)

| | |
| --- | --- |
| | Nursing During the Early 20th Century, the World Wars, and Post--World War II Era (1890-1960) |

53
(2)

| | |
| --- | --- |
| | Nursing in the Modern Era (1960--1999) |

55
(7)

| | |
| --- | --- |
| | Nursing in the Postmodern Era (2000--Beyond) |

62
(1)

| | |
| --- | --- |
| | Summary and Significance to Practice |

63
(4)

| | |
| --- | --- |
| | Contextual, Philosophical, and Ethical Elements of Professional Nursing |

67
(22)

| | |
| --- | --- |
| | Contextual Basis of Nursing Practice |

68
(4)
72
(4)

| | |
| --- | --- |
| | Morality and Ethics in Nursing Practice |

76
(2)

| | |
| --- | --- |
| | Ethical Decision-Making Process |

78
(5)

| | |
| --- | --- |
| | Major Contextual Elements Affecting Nursing Practice |

83
(3)

| | |
| --- | --- |
| | Summary and Significance to Practice |

86
(3)

| | |
| --- | --- |
| | Patterns of Knowing and Nursing Science |

89
(16)

| | |
| --- | --- |
| | The Evolution of Scientific Thought |

90
(3)
93
(3)

| | |
| --- | --- |
| | Patterns of Nursing Knowledge |

96
(4)

| | |
| --- | --- |
| | The Development of Nursing Science |

100
(2)

| | |
| --- | --- |
| | Summary and Significance to Practice |

102
(3)

| | |
| --- | --- |
| | Nursing Models and Theories |

105
(35)

| | |
| --- | --- |
| | Models and Theories for Professional Nursing |

106
(1)
106
(2)

| | |
| --- | --- |
| | The Stability Model of Change |

108
(9)

| | |
| --- | --- |
| | The Growth Model of Change |

117
(13)

| | |
| --- | --- |
| | Nursing Models in Research and Practice |

130
(3)

| | |
| --- | --- |
| | Summary and Significance to Practice |

133
(7)

| | |
| --- | --- |
| | Professional Nursing Processes |

140
(28)
142
(2)

| | |
| --- | --- |
| | Cognitive Nursing Processes |

144
(16)
160
(2)
162
(1)

| | |
| --- | --- |
| | Patterning Nursing Processes |

162
(3)

| | |
| --- | --- |
| | Summary and Significance to Practice |

165
(3)

| | |
| --- | --- |
| | Professional Communication to Establish Helping and Healing Relationships |

168
(33)

| | |
| --- | --- |
| | Communication as Interaction |

169
(11)

| | |
| --- | --- |
| | Helping Relationships: The Nurse as Helper |

180
(14)

| | |
| --- | --- |
| | Healing Relationships: The Nurse's Role in Healing |

194
(2)

| | |
| --- | --- |
| | Helping and Healing Relationships With Colleagues and Other Health Team Members |

196
(3)

| | |
| --- | --- |
| | Summary and Significance to Practice |

199
(2)

| | |
| --- | --- |
| | The Health Process and Self-Care of the Nurse |

201
(30)
202
(4)

| | |
| --- | --- |
| | Health Protection and Promotion |

206
(9)
215
(2)

| | |
| --- | --- |
| | Implications of the Nurse's View of Health for Role Performance |

217
(1)
217
(9)

| | |
| --- | --- |
| | Summary and Significance to Practice |

226
(5)

| | |
| --- | --- |
| | SECTION II The Changing Health Care Context |

231
(228)

| | |
| --- | --- |
| | Health Care Delivery Systems |

233
(28)

| | |
| --- | --- |
| | Historical Development of Current Health Care Delivery Systems |

234
(5)

| | |
| --- | --- |
| | Different Health Care Delivery Systems |

239
(8)

| | |
| --- | --- |
| | Forces Influencing Changes in Health Care Systems |

247
(5)

| | |
| --- | --- |
| | Changes in the Health Care Delivery System: Nursing Implications |

252
(2)

| | |
| --- | --- |
| | Integrated Health Care Delivery Systems |

254
(1)
254
(4)

| | |
| --- | --- |
| | Summary and Significance to Practice |

258
(3)

| | |
| --- | --- |
| | Developing and Using Nursing Knowledge Through Research |

261
(30)

| | |
| --- | --- |
| | Research Processes in Nursing |

263
(9)

| | |
| --- | --- |
| | Utilization of Nursing Research |

272
(12)
284
(2)

| | |
| --- | --- |
| | Creating a Public Image of the Nurse as Scholar |

286
(2)

| | |
| --- | --- |
| | Summary and Significance to Practice |

288
(3)

| | |
| --- | --- |
| | Multicultural Issues in Professional Practice |

291
(28)

| | |
| --- | --- |
| | Diversity and Assimilation in a Shrinking World |

292
(6)

| | |
| --- | --- |
| | Establishing Cultural Competence |

298
(11)

| | |
| --- | --- |
| | Strategies for Multicultural Nursing Practice |

309
(6)

| | |
| --- | --- |
| | Creating a Multicultural Profession of Nursing |

315
(1)

| | |
| --- | --- |
| | Summary and Significance to Practice |

316
(3)

| | |
| --- | --- |
| | Professional Nurse Accountability |

319
(24)

| | |
| --- | --- |
| | Definition of Accountability and Related Concepts |

320
(3)

| | |
| --- | --- |
| | Professional Accountability |

323
(13)

| | |
| --- | --- |
| | Accountability in an Era of Cost Containment |

336
(2)

| | |
| --- | --- |
| | Accountability in the Future |

338
(1)

| | |
| --- | --- |
| | Checklist for Accountability |

338
(2)

| | |
| --- | --- |
| | Summary and Significance to Practice |

340
(3)

| | |
| --- | --- |
| | Environmental and Global Health |

343
(29)
344
(10)

| | |
| --- | --- |
| | The Community Environment |

354
(3)
357
(7)
364
(2)

| | |
| --- | --- |
| | Comprehensive Environmental Health Assessment |

366
(2)

| | |
| --- | --- |
| | Summary and Significance to Practice |

368
(4)
372
(33)

| | |
| --- | --- |
| | Key Concepts of Community Health |

373
(3)

| | |
| --- | --- |
| | Conceptual Models for Community Health Nursing |

376
(7)

| | |
| --- | --- |
| | Community Level Nursing Interventions |

383
(1)

| | |
| --- | --- |
| | Career Opportunities in Community Health Nursing |

384
(17)

| | |
| --- | --- |
| | Summary and Significance to Practice |

401
(4)

| | |
| --- | --- |
| | Informatics and Technology in Nursing Practice |

405
(30)

| | |
| --- | --- |
| | Informatics and Technology in Nursing Practice |

406
(5)

| | |
| --- | --- |
| | The Informatics Nurse Specialist |

411
(4)

| | |
| --- | --- |
| | Technological Changes Affecting Nursing Practice and Health Care |

415
(6)

| | |
| --- | --- |
| | Challenges Managing Health-Related Informatics and Technology |

421
(9)

| | |
| --- | --- |
| | Summary and Significance to Practice |

430
(5)

| | |
| --- | --- |
| | The Professional Nurse's Role in Public Policy |

435
(24)

| | |
| --- | --- |
| | The Nurse's Role in Influencing Public Policy |

436
(13)

| | |
| --- | --- |
| | Current Political and Legislative Issues Affecting Professional Nursing Practice and Health Care |

449
(4)

| | |
| --- | --- |
| | Examples of Nurses Influencing Public Policy |

453
(2)

| | |
| --- | --- |
| | Opportunities to Learn the Art of Influencing Public Policy |

455
(1)

| | |
| --- | --- |
| | Summary and Significance to Practice |

456
(3)

| | |
| --- | --- |
| | SECTION III Professional Nursing Roles |

459
(126)

| | |
| --- | --- |
| | Nursing Approaches to Client Systems |

461
(26)
463
(1)
463
(15)
478
(5)

| | |
| --- | --- |
| | Summary and Significance to Practice |

483
(4)

| | |
| --- | --- |
| | The Professional Nurse's Role in Teaching and Learning |

487
(23)

| | |
| --- | --- |
| | Philosophical Assumptions About Teaching and Learning |

489
(4)

| | |
| --- | --- |
| | The Traditional Teaching-Learning Process |

493
(1)

| | |
| --- | --- |
| | Teaching-Learning as a Responsibility of the Advocate |

494
(2)
496
(3)

| | |
| --- | --- |
| | Implications of Change Theory on Teaching-Learning |

499
(2)

| | |
| --- | --- |
| | Strategies for Effective Teaching and Learning |

501
(2)

| | |
| --- | --- |
| | Specific Client Education Activities |

503
(3)

| | |
| --- | --- |
| | Client Education as an Interdisciplinary Process |

506
(1)

| | |
| --- | --- |
| | Summary and Significance to Practice |

506
(4)

| | |
| --- | --- |
| | Leadership and Management in Professional Nursing |

510
(50)

| | |
| --- | --- |
| | Conceptual and Theoretical Approaches to Nursing Leadership and Management |

512
(8)
520
(3)

| | |
| --- | --- |
| | Key Leadership and Management Skills for Nurses |

523
(1)

| | |
| --- | --- |
| | Professional Nurses as Leaders |

523
(25)
548
(4)

| | |
| --- | --- |
| | Evaluating Leadership Effectiveness |

552
(2)

| | |
| --- | --- |
| | Summary and Significance to Practice |

554
(6)

| | |
| --- | --- |
| | Quality Improvement and Professional Nursing |

560
(25)

| | |
| --- | --- |
| | History of Quality Improvement in Health Care |

562
(2)

| | |
| --- | --- |
| | Quality Improvement Approaches |

564
(7)

| | |
| --- | --- |
| | Celebrating Successes in Continuous Quality Improvement/Total Quality Management |

571
(1)

| | |
| --- | --- |
| | Key Concepts of Total Quality Improvement and Other Quality Management Approaches |

572
(2)

| | |
| --- | --- |
| | TQM/CQI Processes in Health Care |

574
(2)

| | |
| --- | --- |
| | Professional Nursing Roles in Quality Improvement |

576
(5)

| | |
| --- | --- |
| | Summary and Significance to Practice |

581
(4)

| | |
| --- | --- |
| | SECTION IV Glimpsing the Future of Professional Nursing |

585
(68)

| | |
| --- | --- |
| | Career Options for Professional Nurses |

587
(19)
588
(1)

| | |
| --- | --- |
| | Levels of Nursing Practice |

588
(1)

| | |
| --- | --- |
| | General Nursing Career Opportunities |

589
(9)

| | |
| --- | --- |
| | Advanced Nursing Practice Career Options |

598
(5)

| | |
| --- | --- |
| | Summary and Significance to Practice |

603
(3)

| | |
| --- | --- |
| | Development of a Professional Nursing Career |

606
(22)
607
(1)

| | |
| --- | --- |
| | Discovering Your Passion in Nursing |

608
(1)

| | |
| --- | --- |
| | Envisioning Your Nursing Career |

609
(1)
610
(1)
611
(2)

| | |
| --- | --- |
| | Career Development Strategies |

613
(1)

| | |
| --- | --- |
| | Making a Nursing Career Change |

614
(11)

| | |
| --- | --- |
| | Summary and Significance to Practice |

625
(3)

| | |
| --- | --- |
| | Shaping the Future of Nursing |

628
(25)

| | |
| --- | --- |
| | A Conceptual Approach to the Future |

629
(2)

| | |
| --- | --- |
| | Future Scenarios for Society and Health Care |

631
(6)

| | |
| --- | --- |
| | Future Scenarios for Health Care Delivery |

637
(2)

| | |
| --- | --- |
| | Evolving Health Care Needs and Health Care Delivery |

639
(3)

| | |
| --- | --- |
| | The Future of Professional Nursing Practice |

642
(3)

| | |
| --- | --- |
| | The Future of Nursing Education |

645
(3)

| | |
| --- | --- |
| | The Future of Nursing Scholarship |

648
(1)

| | |
| --- | --- |
| | Summary and Significance to Practice |

648
(5)
Index
653