Note: Supplemental materials are not guaranteed with Rental or Used book purchases.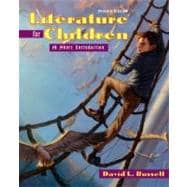 Literature for Children A Short Introduction
ISBN13:
9780132173797
by
Russell, David L.
Questions About This Book?
What version or edition is this?
This is the 7th edition with a publication date of 3/3/2011.
What is included with this book?
The Used copy of this book is not guaranteed to include any supplemental materials. Typically, only the book itself is included.
Summary
Literature for Childrencovers the full range of subjects typically addressed in childrenrs"s literature, while focusing on genres and concepts rather than on particular authors. The bookrs"s concise, accessible, inviting style includes many specific illustrations and explanations as examples of the concepts presented and allows readers to spend more time reading the primary texts. Included are topics for consideration and discussion at the end of each chapter, many bibliographies of both scholarly resources and childrenrs"s books, an extensive glossary, a list of childrenrs"s literature research sources, and lists of childrenrs"s book awards, making the book an outstanding, useful resource.
Author Biography
David L. Russell is Professor of Languages and Literature at Ferris State University and co-editor of The Lion and the Unicorn. In addition to book-length studies of Scott O'Dell and Patricia MacLachlan, he has published numerous scholarly articles on a wide range of subjects in children's literature.
Table of Contents
Table of Contents
Part I: The Contexts of children's literature
Chapter 1 The History of Children's Literature: How We Got Here Introduction
The Ancient World–Greece and Rome (ca. 850 BCE to 476 CE)
The Medieval World (ca. 476-1450)
The Renaissance (ca. 1450-1700)
The Eighteenth Century
The Nineteenth Century
The Twentieth Century and Beyond
Summary
Timeline
For Reflection and Discussion
Selected Bibliography
Chapter 2 Literature and Child Development: Growing Through Reading
Introduction
Language Acquisition in Children
Child Development Theories
Jean Piaget and Cognitive Development
Sensorimotor Period
Preoperational Period
Period of Concrete Operations
Period of Formal Operations
Erik Erikson and Psychosocial Development
Trust Versus Mistrust
Autonomy Versus Doubt
Initiative Versus Guilt
Industry Versus Inferiority
Identity Versus Role Confusion
Lawrence Kohlberg and Moral Development
Pre-conventional Level
Conventional Level
Post-conventional Level
Bibliotherapy
Censorship
Summary
For Reflection and Discussion
Chapter 3 The Elements of Story: The Building Blocks of Literature
Introduction
Characters
Character Type
Character Development
Character Revelation
Setting
Narrative Point of View
First-person Narrator
Omniscient Narrator
Limited Narrator
Plot
Dramatic Plot
Episodic Plot
Parallel Plot
Sequential Plot
Cumulative Plot
Conflict
Protagonist against Another
Protagonist against Society
Protagonist against Nature
Protagonist against Self
Theme
Style
Words
Sentences
Exposition and Dialogue
Tone
Humor
Didacticism
Sentimentalism
Irony
Parody
Summary
For Reflection and Discussion
Chapter 4 Exploring Books: Reading, Talking, Doing
Introduction
Lev Vygotsky and Education
The Reader-Centered Approach to Literature
Reading Experiences
Reading Aloud
Storytelling
Book Discussions
Memory Questions
Interpretation Questions
Application Questions
Evaluation Questions
Writing Experiences
Webbing and Mapping
Response Journals
Book Reports
Dramatic Experiences
Oral Interpretation
Story Theater
Reader's Theater
Puppet Theater
Creative Dramatics
Artistic Responses
Graphic Art
Plastic Art
Creating Books
Summary
For Reflection and Discussion
Chapter 5 Cultural Diversity and Inclusion: Reading the World
Introduction
Definition of Culturally Diverse Literature
Types of Cultural Diversity
African Americans
Hispanic Americans
Native Americans
Asian Americans
The Jewish Experience
Other Cultures
Gender Awareness
Alternative Families
The Physically, Emotionally, and Intellectually Challenged
Summary
For Reflection and Discussion
Selected Bibliography
Part II: The kinds of Children's literature
Chapter 6 Beginning Books: Knowledge Through Delight
Introduction
Mother Goose Rhymes
Origin and Definition
Mother Goose and Child Development
Table: Choosing Mother Goose Books
Alphabet and Counting Books
Alphabet Books
Counting Books
Perceptual Concept Books
Tactile Books and Movable Books
Wordless Picture Books
Summary
For Reflection and Discussion
Selected Bibliography
Chapter 7 Picture Books: The Collaboration of Story and Art
Introduction
History of the Picture Book
Picture Book Texts
Plot
Character
Language
Subject and Tone
Elements of Picture Book Art
Line
Shape
Space
Texture
Composition and Perspective
Color
Design and Meaning in Picture Books
Rhythm and Movement
Tension
Page Layout
Artistic Media
Painterly Techniques
Graphic Techniques
Photography and Digital Art
Composite Techniques
Artistic Styles
Realism
Cartoon Art
Folk Art
Naïve Art
Impressionism
Cubism
Expressionism
Surrealism
Picture Book Layout: Three Examples
Graphic Novels
Summary
For Reflection and Discussion
Selected Bibliography
Chapter 8 Poetry: For the Love of Language
Introduction
Definition of Poetry
Sounds in Poetry
Rhyme
Rhythm
Pictures in Poetry
Sensory Description
Sight
Touch
Hearing
Smell
Taste
Motion
Comparative Description
Simile
Metaphor
Personification
Forms of Poetry
Narrative Poetry
Lyric Poetry
Haiku
Cinquain
Concrete Poetry
Limerick
Free Verse
Nonsense Poetry
Sharing Poetry with Children
Summary
For Reflection and Discussion
Selected Bibliography
Chapter 9 Folk Narratives: The Oldest Stories
Introduction
Storytelling Conventions of Folktales
Setting
Character
Plot
Theme and Conflict
Style
Types of Folktales
Talking Animal Tales and Fables
Moral Tales
Local Legends and Tall Tales
Dilemma Tales and Riddles
Wonder Tales or Märchen
Merry Tales
Ghost Stories
Pourquoi Tales
Trickster Tales
Myths and Traditional Epics
Summary
For Reflection and Discussion
Selected Bibliography
Chapter 10 Fantasy: The World of Make Believe
Introduction
History of Fantasy
Characteristics of Fantasy
Magic and Rules
Setting
Character
Plot
Theme
Originality
Types of Fantasy
Literary Fairy Tales and Magical Fantasy
Comic Fantasy
Talking Animal (and Toy) Fantasy
Miniature Fantasy
Epic, Heroic and Adventure Fantasy
Horror Fantasy
Time-Slip Fantasy
Science Fiction or Speculative Fantasy
Summary
For Reflection and Discussion
Selected Bibliography
Chapter 11 Realistic Fiction: The Days of Our Lives
Introduction
Definitions of Historical and Contemporary Realism
Characteristics of Realistic Fiction
Setting
Character
Plot
Language
Themes
History of Historical Realism
Concerns of Historical Realism
Recreating the Period
Unobtrusive History
Credible Dialogue
Sensitivity and Objectivity
History of Contemporary Realism
Nineteenth-century Origins
Twentieth-century Realism
Topics in Contemporary Realism
Family Life (and Problems)
Friends
Outsiders
Sexuality
Mortality
Survival
Mysteries and Puzzles
Sports
Animals
Summary
For Reflection and Discussion
Selected Bibliography
Chapter 12 Nonfiction: Telling It Like It Is
Introduction
History of Nonfiction
Characteristics of Nonfiction
Purpose and Audience
Factual Information
Style
Format
Apparatus of Nonfiction
Table of Contents
Footnotes/Endnotes
Glossary
Bibliography
Index
Illustrations in Nonfiction
Photographs
Drawings
Maps, Chart, Diagrams, Tables
Biography and Autobiography
Authentic Biography
Fictionalized Biography
Biographical Fiction
Complete, Partial, and Collective Biographies
Autobiography
General Nonfiction
History and Culture
Science and Nature
Arts and Leisure
Human Growth and Development
Summary
For Reflection and Discussion
Selected Bibliography
Glossary
Children's Literature Resources
Children's Book Awards
TheCaldecott Award
The Newbery Award
The Mildred L. Batchelder Award
The Laura Ingalls Wilder Award
The Coretta Scott Award
The Scott O'Dell Award for Historical Fiction
National Council of Teachers of English Award for Excellence in Poetry for Children
The Robert F. Sibert Informational Book Award
The Phoenix Award
The Hans Christian Andersen Award
The Astrid Lindgren Memorial Award