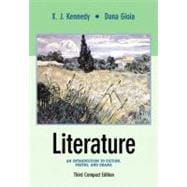 Questions About This Book?
What version or edition is this?
This is the 3rd edition with a publication date of 1/1/2003.
What is included with this book?
The Used copy of this book is not guaranteed to include any supplemental materials. Typically, only the book itself is included.
Summary
"Literature, Compact 4/e," the concise edition of the most popular introduction of its kind, is organized into three genres--Fiction, Poetry, and Drama. As in past editions, the authors' collective poetic voice brings personal warmth and a human perspective to the discussion of literature, adding to students' interest in the readings. An introduction to a balance of contemporary and classic stories, poems, and plays. Casebooks offer in-depth look at an author or clusters of works, for example " Latin American Poetry." Authors Joe Kennedy and Dana Gioia provide inviting and illuminating introductions to the authors included and to the elements of literature. Coverage of writing about literature is also included. For those interested in literature.
Table of Contents
Preface
xxxix
To the Instructor
xliii
About the Authors
liii
Fiction
1
(452)
3
(19)

| | |
| --- | --- |
| | Fable, Parable, and Tales |

4
(7)

| | |
| --- | --- |
| | The Appointment in Samarra |

4
(1)

| | |
| --- | --- |
| | The North Wind and the Sun Aesop |

5
(1)
6
(2)
8
(3)
11
(1)
12
(7)
14
(5)

| | |
| --- | --- |
| | John Updike on Writing, Why Write? |

19
(1)
20
(1)
21
(1)

| | |
| --- | --- |
| | Further Suggestions for Writing |

21
(1)
22
(55)
28
(7)
35
(4)
39
(24)
63
(10)

| | |
| --- | --- |
| | James Baldwin on Writing, Race and the African-American Writer |

73
(2)

| | |
| --- | --- |
| | How Point of View Shapes a Story |

75
(1)
75
(1)

| | |
| --- | --- |
| | Further Suggestions for Writing |

76
(1)
77
(34)

| | |
| --- | --- |
| | The Jilting of Granny Weatherall |

80
(8)
88
(7)
95
(11)

| | |
| --- | --- |
| | Isaac Bashevis Singer on Writing, The Character of Gimpel |

106
(1)

| | |
| --- | --- |
| | How Character Creates Action |

107
(1)
108
(1)

| | |
| --- | --- |
| | Comparing Miss Emily and Miss Brill |

108
(2)

| | |
| --- | --- |
| | Further Suggestions for Writing |

110
(1)
111
(34)
114
(5)
119
(8)
127
(15)

| | |
| --- | --- |
| | Amy Tan on Writing, Setting the Voice |

142
(1)

| | |
| --- | --- |
| | How Time and Place Set a Story |

143
(1)
143
(1)

| | |
| --- | --- |
| | Further Suggestions for Writing |

144
(1)
145
(34)

| | |
| --- | --- |
| | A Clean, Well-Lighted Place |

149
(4)
153
(13)
166
(10)
168
(8)

| | |
| --- | --- |
| | Ernest Hemingway on Writing, The Direct Style |

176
(1)
177
(1)
178
(1)

| | |
| --- | --- |
| | Further Suggestions for Writing |

178
(1)
179
(31)
181
(19)

| | |
| --- | --- |
| | Luke 15: 11-32, The Parable of the Prodigal Son |

200
(1)
201
(6)

| | |
| --- | --- |
| | Kurt Vonnegut, Jr. on Writing, The Themes of Science Fiction |

207
(1)
208
(1)
208
(1)

| | |
| --- | --- |
| | Further Suggestions for Writing |

208
(2)
210
(36)
212
(9)
221
(8)
229
(5)

| | |
| --- | --- |
| | The Ones Who Walk Away from Omelas |

234
(6)

| | |
| --- | --- |
| | Ursula K. Le Guin on Writing, On ``The Ones Who Walk Away from Omelas'' |

240
(1)
241
(1)
241
(1)

| | |
| --- | --- |
| | An Analysis of the Symbolism in Steinbeck's ``The Chrysanthemums'' |

242
(3)

| | |
| --- | --- |
| | Further Suggestions for Writing |

245
(1)

| | |
| --- | --- |
| | Two Critical Casebooks: Flannery O'Connor and Raymond Carver |

246
(79)
246
(1)
247
(27)

| | |
| --- | --- |
| | A Good Man Is Hard to Find |

| | |
| --- | --- |
| | Flannery O'Connor on Flannery O'Connor |

| | |
| --- | --- |
| | The Element of Suspense in ``A Good Man Is Hard to Find'' |

274
(3)
277
(1)

| | |
| --- | --- |
| | The Serious Writer and the Tired Reader |

277
(2)
279
(1)

| | |
| --- | --- |
| | Critics on Flannery O'Connor |

| | |
| --- | --- |
| | Flannery O'Connor and Her Readers |

280
(3)

| | |
| --- | --- |
| | A Good Source Is Not So Hard to Find: The Real Life Misfit |

283
(2)

| | |
| --- | --- |
| | Deconstructing ``A Good Man Is Hard to Find'' |

285
(2)

| | |
| --- | --- |
| | Comic Perversion in ``Good Country People'' |

287
(1)
288
(1)
289
(10)
299
(18)

| | |
| --- | --- |
| | Raymond Carver on Raymond Carver |

| | |
| --- | --- |
| | Commonplace but Precise Language |

317
(1)
318
(1)
319
(1)

| | |
| --- | --- |
| | Critics on Raymond Carver |

| | |
| --- | --- |
| | The Origins of ``Cathedral'' |

319
(1)

| | |
| --- | --- |
| | The Origin of ``Cathedral'' |

320
(1)
321
(1)

| | |
| --- | --- |
| | Carver's Characterization |

322
(1)

| | |
| --- | --- |
| | How One Story Illuminates Another |

323
(1)
323
(1)

| | |
| --- | --- |
| | Further Suggestions for Writing on Flannery O'Connor |

324
(1)

| | |
| --- | --- |
| | Further Suggestions for Writing on Raymond Carver |

324
(1)

| | |
| --- | --- |
| | Stories for Further Reading |

325
(128)
325
(3)
328
(4)

| | |
| --- | --- |
| | An Occurrence at Owl Creek Bridge |

332
(7)

| | |
| --- | --- |
| | The Gospel According to Mark |

339
(4)
343
(15)
358
(2)

| | |
| --- | --- |
| | A Very Old Man with Enormous Wings |

360
(5)
365
(13)
378
(10)
388
(10)
398
(5)
403
(2)
405
(1)
406
(12)
418
(4)

| | |
| --- | --- |
| | Where Are You Going, Where Have You Been? |

422
(13)
435
(13)

| | |
| --- | --- |
| | The Man to Send Rain Clouds |

448
(5)
Poetry
453
(412)
455
(16)

| | |
| --- | --- |
| | The Lake Isle of Innisfree |

457
(3)
460
(2)
460
(1)
461
(1)
462
(3)

| | |
| --- | --- |
| | Anonymous, Sir Patrick Spence |

462
(2)
464
(1)
465
(3)
465
(3)

| | |
| --- | --- |
| | Adrienne Rich on Writing, Recalling ``Aunt Jennifer's Tigers'' |

468
(1)

| | |
| --- | --- |
| | Can a Poem Be Paraphrased? |

469
(1)
469
(1)

| | |
| --- | --- |
| | A Paraphrase of ``Ask Me'' |

469
(1)
470
(1)
471
(28)
471
(6)
472
(1)
473
(1)
473
(1)

| | |
| --- | --- |
| | To a Locomotive in Winter |

474
(1)

| | |
| --- | --- |
| | I Like to see it lap the Miles |

475
(1)
476
(1)
477
(1)
477
(7)
478
(1)
479
(1)
480
(1)

| | |
| --- | --- |
| | I Wandered Lonely as a Cloud |

481
(1)
482
(1)
483
(1)
484
(1)
484
(6)
485
(1)
486
(1)
487
(1)
488
(1)
488
(2)

| | |
| --- | --- |
| | For Review and Further Study |

490
(3)
490
(1)

| | |
| --- | --- |
| | At the Un-National Monument Along the Canadian Border |

490
(1)
491
(1)
491
(2)

| | |
| --- | --- |
| | Wilfred Owen on Writing, War Poetry |

493
(1)

| | |
| --- | --- |
| | Paying Attention to the Obvious |

493
(1)
493
(1)

| | |
| --- | --- |
| | Word Choice, Tone, and Point of View in Roethke's ``My Papa's Waltz'' |

494
(3)

| | |
| --- | --- |
| | Further Suggestions for Writing |

497
(2)
499
(24)

| | |
| --- | --- |
| | Literal Meaning: What a Poem Says First |

499
(5)
500
(1)
501
(1)
502
(1)
502
(1)

| | |
| --- | --- |
| | Batter my heart, three-personed God, for You |

503
(1)

| | |
| --- | --- |
| | The Value of a Dictionary |

504
(4)
505
(2)

| | |
| --- | --- |
| | Henry Wadsworth Longfellow |

| | |
| --- | --- |
| | Friend, on this scaffold Thomas More lies dead |

507
(1)

| | |
| --- | --- |
| | Advice to a Friend Who Paints |

507
(1)
507
(1)

| | |
| --- | --- |
| | Word Choice and Word Order |

508
(7)
510
(2)
512
(1)
513
(1)

| | |
| --- | --- |
| | The Fury of Aerial Bombardment |

514
(1)
514
(1)

| | |
| --- | --- |
| | For Review and Further Study |

515
(5)

| | |
| --- | --- |
| | anyone lived in a pretty how town |

515
(1)
516
(1)

| | |
| --- | --- |
| | Anonymous, Carnation Milk |

517
(1)

| | |
| --- | --- |
| | My heart leaps up when I behold |

517
(1)
518
(1)
518
(2)

| | |
| --- | --- |
| | Lewis Carroll on Writing, Humpty Dumpty Explicates ``Jabberwocky'' |

520
(1)

| | |
| --- | --- |
| | How Much Difference Does a Word Make? |

521
(1)
522
(1)

| | |
| --- | --- |
| | Further Suggestions for Writing |

522
(1)
523
(12)
524
(1)
525
(2)

| | |
| --- | --- |
| | Disillusionment of Ten O'Clock |

527
(1)
528
(1)
528
(1)
528
(2)
530
(1)
530
(1)

| | |
| --- | --- |
| | Love Calls Us to the Things of This World |

531
(1)

| | |
| --- | --- |
| | Richard Wilbur on Writing, Concerning ``Love Calls Us to the Things of This World'' |

532
(1)
533
(1)
534
(1)

| | |
| --- | --- |
| | Further Suggestions for Writing |

534
(1)
535
(21)

| | |
| --- | --- |
| | In a Station of the Metro |

535
(1)

| | |
| --- | --- |
| | The piercing chill I Feel |

535
(2)

| | |
| --- | --- |
| | The winter evening settles down |

537
(1)
537
(1)
538
(2)
540
(1)
540
(1)
541
(1)
541
(1)
542
(2)
542
(1)
543
(1)

| | |
| --- | --- |
| | On the one-ton temple bell |

543
(1)
543
(1)
544
(1)

| | |
| --- | --- |
| | For Review and Further Study |

544
(4)

| | |
| --- | --- |
| | Bright star! would I were steadfast as thou art |

544
(1)
545
(1)
545
(1)
545
(1)

| | |
| --- | --- |
| | Driving to Town Late to Mail a Letter |

546
(1)

| | |
| --- | --- |
| | Mid-August at Sourdough Mountain Lookout |

546
(1)
546
(1)
547
(1)
547
(1)

| | |
| --- | --- |
| | Ezra Pound on Writing, The Image |

548
(1)
549
(1)
550
(1)

| | |
| --- | --- |
| | Elizabeth Bishop's Use of Imagery in ``The Fish'' |

550
(5)

| | |
| --- | --- |
| | Further Suggestions for Writing |

555
(1)
556
(18)
556
(3)
557
(1)

| | |
| --- | --- |
| | Shall I compare thee to a summer's day? |

557
(1)

| | |
| --- | --- |
| | Shall I Compare Thee to a Summer's Day? |

558
(1)
559
(4)

| | |
| --- | --- |
| | My Life had stood - a Loaded Gun |

560
(1)

| | |
| --- | --- |
| | Flower in the Crannied Wall |

561
(1)

| | |
| --- | --- |
| | To see a world in a grain of sand |

561
(1)
562
(1)
562
(1)
563
(5)
564
(2)

| | |
| --- | --- |
| | Elegy, Written with His Own Hand in the Tower Before His Execution |

566
(1)
567
(1)
567
(1)

| | |
| --- | --- |
| | For Review and Further Study |

568
(3)
568
(1)
568
(1)
569
(1)
569
(1)
569
(1)
570
(1)

| | |
| --- | --- |
| | Oh, my love is like a red, red rose |

570
(1)

| | |
| --- | --- |
| | Robert Frost on Writing, The Importance of Poetic Metaphor |

571
(1)

| | |
| --- | --- |
| | How Metaphors Enlarge a Poem's Meaning |

572
(1)
572
(1)

| | |
| --- | --- |
| | Further Suggestions for Writing |

573
(1)
574
(19)
574
(8)
575
(1)

| | |
| --- | --- |
| | Anonymous, The Cruel Mother |

576
(2)
578
(1)

| | |
| --- | --- |
| | Take, O, take those lips away |

579
(1)
580
(1)
581
(1)
582
(4)

| | |
| --- | --- |
| | Anonymous, Bonny Barbara Allan |

582
(3)
585
(1)
586
(2)
587
(1)
587
(1)

| | |
| --- | --- |
| | For Review and Further Study |

588
(3)
588
(1)

| | |
| --- | --- |
| | The Times They are a-Changing |

589
(2)

| | |
| --- | --- |
| | Paul McCartney on Writing, Creating ``Eleanor Rigby'' |

591
(1)

| | |
| --- | --- |
| | Is There a Difference Between Poetry and Song? |

592
(1)
592
(1)

| | |
| --- | --- |
| | Further Suggestions for Writing |

592
(1)
593
(19)
593
(5)

| | |
| --- | --- |
| | True Ease in Writing comes from Art, not Chance |

594
(2)
596
(1)
597
(1)
597
(1)

| | |
| --- | --- |
| | A Slumber Did My Spirit Seal |

597
(1)

| | |
| --- | --- |
| | Alliteration and Assonance |

598
(2)
599
(1)
599
(1)

| | |
| --- | --- |
| | The splendor falls on castle walls |

600
(1)
600
(6)

| | |
| --- | --- |
| | On my Boat on Lake Cayuga |

601
(2)
603
(1)
604
(1)
604
(1)
605
(1)

| | |
| --- | --- |
| | Reading and Hearing Poems Aloud |

606
(3)

| | |
| --- | --- |
| | In Memoriam John Coltrane |

607
(1)

| | |
| --- | --- |
| | Full fathom five thy father lies |

607
(1)
608
(1)
608
(1)

| | |
| --- | --- |
| | T. S. Eliot on Writing, The Music of Poetry |

609
(1)

| | |
| --- | --- |
| | Is it Possible to Write about Sound? |

610
(1)
611
(1)

| | |
| --- | --- |
| | Further Suggestions for Writing |

611
(1)
612
(19)
612
(7)
616
(1)
617
(1)

| | |
| --- | --- |
| | Slow, slow, fresh fount, keep time with my salt tears |

617
(1)
618
(1)
619
(1)
619
(9)

| | |
| --- | --- |
| | On the imprint of the first English edition of The Works of Max Beerbohm |

619
(5)
624
(1)

| | |
| --- | --- |
| | When I was one-and-twenty |

625
(1)
625
(1)
626
(1)
627
(1)

| | |
| --- | --- |
| | Gwendolyn Brooks on Writing, Hearing ``We Real Cool'' |

628
(1)
629
(1)
629
(1)

| | |
| --- | --- |
| | Further Suggestions for Writing |

630
(1)
631
(19)
632
(5)

| | |
| --- | --- |
| | This living hand, now warm and capable |

633
(2)
635
(1)

| | |
| --- | --- |
| | Song ``(Go and catch a falling star'') |

636
(1)
637
(4)

| | |
| --- | --- |
| | Let me not to the Marriage of true minds |

638
(1)

| | |
| --- | --- |
| | What lips my lips have kissed, And where, and why |

638
(1)

| | |
| --- | --- |
| | Acquainted with the Night |

639
(1)
640
(1)
640
(1)
641
(2)
641
(2)
643
(4)
643
(1)

| | |
| --- | --- |
| | Do not go gentle into that good night |

644
(1)
644
(1)
645
(2)

| | |
| --- | --- |
| | Robert Graves on Writing, Poetic Inspiration and Poetic Form |

647
(1)
648
(1)
648
(1)

| | |
| --- | --- |
| | Further Suggestions for Writing |

649
(1)
650
(17)

| | |
| --- | --- |
| | Six Variations (Part III) |

650
(4)
654
(1)

| | |
| --- | --- |
| | For the Anniversary of My Death |

654
(1)
655
(1)
655
(1)

| | |
| --- | --- |
| | Thirteen Ways of Looking at a Blackbird |

656
(2)
658
(1)
659
(3)
659
(1)
660
(2)
662
(1)

| | |
| --- | --- |
| | Seeing the Logic of Open Form Verse |

662
(3)
662
(1)
663
(1)
663
(1)

| | |
| --- | --- |
| | I Shall Paint My Nails Red |

664
(1)

| | |
| --- | --- |
| | Walt Whitman on Writing, The Poetry of the Future |

665
(1)
665
(1)
666
(1)

| | |
| --- | --- |
| | Further Suggestions for Writing |

666
(1)
667
(32)

| | |
| --- | --- |
| | The Boston Evening Transcript |

668
(1)

| | |
| --- | --- |
| | The Lightning is a yellow Fork |

669
(2)
671
(1)

| | |
| --- | --- |
| | The Parable of the Good Seed |

672
(1)
673
(1)
674
(1)
674
(1)

| | |
| --- | --- |
| | For Review and Further Study |

675
(4)
675
(1)
676
(1)
677
(1)
677
(1)
678
(1)
678
(1)

| | |
| --- | --- |
| | William Butler Yeats On Writing, Poetic Symbols |

679
(1)
680
(1)
680
(1)

| | |
| --- | --- |
| | Further Suggestions for Writing |

681
(5)
684
(1)
684
(1)

| | |
| --- | --- |
| | The World Is Too Much with Us |

685
(1)
686
(1)
686
(2)
687
(1)
688
(3)
688
(2)

| | |
| --- | --- |
| | Memento Mori in Middle School |

690
(1)
691
(5)
692
(4)

| | |
| --- | --- |
| | Anne Sexton on Writing, Transforming Fairy Tales |

696
(1)
697
(1)
698
(1)

| | |
| --- | --- |
| | Further Suggestions for Writing |

698
(1)

| | |
| --- | --- |
| | Poetry and Personal Identity |

699
(19)
700
(3)

| | |
| --- | --- |
| | The women on my mother's side were known |

703
(1)

| | |
| --- | --- |
| | Culture, Race, and Ethnicity |

704
(6)
704
(1)
705
(2)

| | |
| --- | --- |
| | The Shrine Whose Shape I Am |

707
(1)
707
(1)

| | |
| --- | --- |
| | For the White Poets Who Would Be Indian |

708
(1)
709
(1)
710
(3)
710
(1)
711
(1)
712
(1)
712
(1)

| | |
| --- | --- |
| | For Review and Further Study |

713
(2)
713
(1)

| | |
| --- | --- |
| | Elegy for My Father, Who Is Not Dead |

713
(1)
714
(1)

| | |
| --- | --- |
| | Julia Alvarez on Writing, Discovering My Voice in English |

715
(1)

| | |
| --- | --- |
| | Poetic Voice and Personal Identity |

716
(1)
717
(1)

| | |
| --- | --- |
| | Further Suggestions for Writing |

717
(1)
718
(20)

| | |
| --- | --- |
| | Anonymous, O Moon, when I gaze on thy beautiful face |

720
(1)
720
(1)

| | |
| --- | --- |
| | A Dying Tiger - moaned for Drink |

721
(2)

| | |
| --- | --- |
| | Thoughts on Capital Punishment |

723
(1)

| | |
| --- | --- |
| | Traveling Through the Dark |

724
(1)
725
(10)
725
(3)

| | |
| --- | --- |
| | On the Vanity of Earthly Greatness |

728
(1)
728
(1)

| | |
| --- | --- |
| | My mistress' eyes are nothing like the sun |

729
(1)
730
(1)
731
(2)
733
(1)
733
(2)

| | |
| --- | --- |
| | Edgar Allan Poe on Writing, A Long Poem Does Not Exist |

735
(1)

| | |
| --- | --- |
| | How to Begin Evaluating a Poem |

735
(1)
736
(1)

| | |
| --- | --- |
| | Further Suggestions for Writing |

737
(1)
738
(3)

| | |
| --- | --- |
| | Some Definitions of Poetry |

738
(2)
740
(1)

| | |
| --- | --- |
| | Two Critical Casebooks: Emily Dickinson and Langston Hughes |

741
(37)
741
(1)

| | |
| --- | --- |
| | Success is counted sweetest |

742
(1)

| | |
| --- | --- |
| | Water, is taught by thirst |

742
(1)

| | |
| --- | --- |
| | I taste a liquor never brewed |

743
(1)

| | |
| --- | --- |
| | Wild Nights - Wild Nights! |

743
(1)

| | |
| --- | --- |
| | I felt a Funeral, in my Brain |

743
(1)
744
(1)

| | |
| --- | --- |
| | The Soul selects her own Society |

744
(1)

| | |
| --- | --- |
| | After great pain, a formal feeling comes |

744
(1)

| | |
| --- | --- |
| | This is my letter to the World |

745
(1)

| | |
| --- | --- |
| | I heard a Fly buzz - when I died |

745
(1)

| | |
| --- | --- |
| | Because I could not stop for Death |

746
(1)

| | |
| --- | --- |
| | Some keep the Sabbath going to Church |

746
(1)
747
(1)

| | |
| --- | --- |
| | Tell all the Truth but tell it slant |

747
(1)

| | |
| --- | --- |
| | Emily Dickinson on Emily Dickinson |

747
(1)
748
(1)

| | |
| --- | --- |
| | Critics on Emily Dickinson |

749
(2)

| | |
| --- | --- |
| | Thomas Wentworth Higginson |

| | |
| --- | --- |
| | The Discovery of Emily Dickinson's Manuscripts |

751
(2)

| | |
| --- | --- |
| | The Three Privations of Emily Dickinson |

753
(1)

| | |
| --- | --- |
| | Dickinson and Death (A Reading of ``Because I could not stop for Death'') |

754
(2)

| | |
| --- | --- |
| | A Reading of ``My Life had stood - A Loaded Gun'' |

756
(2)
758
(1)

| | |
| --- | --- |
| | The Negro Speaks of Rivers |

759
(1)
759
(1)
760
(1)
760
(1)
760
(1)
761
(1)
762
(1)
762
(1)
763
(1)
764
(1)
764
(1)
764
(1)
765
(1)
766
(1)

| | |
| --- | --- |
| | Langston Hughes on Langston Hughes |

| | |
| --- | --- |
| | The Negro Artist and the Racial Mountain |

766
(1)
767
(2)

| | |
| --- | --- |
| | Critics on Langston Hughes |

| | |
| --- | --- |
| | Hughes as an Experimentalist |

769
(1)

| | |
| --- | --- |
| | Langston Hughes and Harlem |

770
(2)

| | |
| --- | --- |
| | Black Identity in Langston Hughes |

772
(1)
773
(2)

| | |
| --- | --- |
| | A Reading of ``Dream Deferred'' |

775
(2)
777
(1)
777
(1)

| | |
| --- | --- |
| | Poems for Further Reading |

778
(87)
779
(1)
780
(1)

| | |
| --- | --- |
| | Anonymous, Last Words of the Prophet (Navajo mountain chant) |

780
(1)
781
(1)
782
(1)
783
(1)

| | |
| --- | --- |
| | As I Walked Out One Evening |

784
(2)
786
(1)
787
(1)
788
(1)

| | |
| --- | --- |
| | How Do I Love Thee? Let Me Count the Ways |

789
(1)

| | |
| --- | --- |
| | Elizabeth Barrett Browning |

| | |
| --- | --- |
| | Soliloquy of the Spanish Cloister |

790
(2)
792
(1)

| | |
| --- | --- |
| | somewhere I have never travelled, gladly beyond |

793
(1)
794
(1)
795
(1)
795
(1)

| | |
| --- | --- |
| | The Love Song of J. Alfred Prufrock |

796
(5)

| | |
| --- | --- |
| | Indian Boarding School: The Runaways |

801
(1)
801
(2)
803
(1)

| | |
| --- | --- |
| | Stopping by Woods on a Snowy Evening |

804
(1)

| | |
| --- | --- |
| | A Supermarket in California |

805
(1)

| | |
| --- | --- |
| | California Hills in August |

806
(1)

| | |
| --- | --- |
| | The Man with Night Sweats |

807
(1)

| | |
| --- | --- |
| | The Convergence of the Twain |

807
(2)
809
(1)
810
(1)
811
(1)

| | |
| --- | --- |
| | To the Virgins, to Make Much of Time |

812
(1)
813
(1)
814
(1)

| | |
| --- | --- |
| | Loveliest of trees, the cherry now |

815
(1)

| | |
| --- | --- |
| | To an Athlete Dying Young |

815
(1)

| | |
| --- | --- |
| | The Death of the Ball Turret Gunner |

816
(1)
817
(1)
817
(1)

| | |
| --- | --- |
| | On the Death of Friends in Childhood |

818
(1)
818
(1)

| | |
| --- | --- |
| | On First Looking into Chapman's Homer |

819
(1)

| | |
| --- | --- |
| | When I have fears that I may cease to be |

820
(1)
821
(1)
822
(1)

| | |
| --- | --- |
| | Animals are Passing from Our Lives |

823
(1)
824
(1)
825
(1)
826
(2)

| | |
| --- | --- |
| | When I consider how my light is spent |

828
(1)
828
(2)

| | |
| --- | --- |
| | A Strange Beautiful Woman |

830
(1)
830
(1)

| | |
| --- | --- |
| | The One Girl at the Boys' Party |

831
(1)
832
(1)
832
(1)
833
(1)
833
(1)
834
(3)
837
(1)

| | |
| --- | --- |
| | A little Learning is a dang'rous Thing |

837
(1)

| | |
| --- | --- |
| | The River-Merchant's Wife: a Letter |

838
(1)
839
(1)
840
(1)
841
(1)
842
(1)

| | |
| --- | --- |
| | Not marble nor the gilded monuments |

843
(1)

| | |
| --- | --- |
| | That time of year thou mayst in me behold |

844
(1)

| | |
| --- | --- |
| | When, in disgrace with Fortune and men's eyes |

844
(1)
845
(1)
846
(1)
846
(1)
846
(2)
848
(1)
849
(2)
851
(1)
852
(1)
853
(1)
854
(1)

| | |
| --- | --- |
| | A Noiseless Patient Spider |

855
(1)

| | |
| --- | --- |
| | I Saw in Louisiana a Live-Oak Growing |

856
(1)
856
(1)
857
(2)
859
(1)

| | |
| --- | --- |
| | Composed upon Westminster Bridge |

859
(1)

| | |
| --- | --- |
| | Autumn Begins in Martins Ferry, Ohio |

860
(1)

| | |
| --- | --- |
| | In this strange labyrinth |

861
(1)

| | |
| --- | --- |
| | They flee from me that sometime did me seke |

862
(1)

| | |
| --- | --- |
| | Crazy Jane Talks with the Bishop |

863
(1)
864
(1)
864
(1)
Drama
865
(490)
867
(38)
869
(15)
869
(15)
884
(13)
887
(10)

| | |
| --- | --- |
| | Susan Glaspell on Drama, Creating Trifles |

897
(1)
898
(1)
899
(1)
899
(5)

| | |
| --- | --- |
| | Further Suggestions for Writing |

904
(1)

| | |
| --- | --- |
| | Critical Casebook: Sophocles |

905
(57)
905
(1)
905
(4)

| | |
| --- | --- |
| | The Civic Role of Creek Drama |

909
(1)

| | |
| --- | --- |
| | Aristotle's Concept of Tragedy |

910
(2)
912
(1)

| | |
| --- | --- |
| | The Origins of Oedipus the King |

912
(42)
913
(41)

| | |
| --- | --- |
| | Robert Fitzgerald on Sophocles |

954
(1)
955
(2)
957
(1)

| | |
| --- | --- |
| | On Misunderstanding Oedipus |

958
(1)
959
(1)

| | |
| --- | --- |
| | Some Things Change, Some Things Don't |

960
(1)
961
(1)

| | |
| --- | --- |
| | Further Suggestions for Writing |

961
(1)

| | |
| --- | --- |
| | Critical Casebook: Shakespeare |

962
(107)

| | |
| --- | --- |
| | The Theater of Shakespeare |

962
(2)
964
(1)
964
(100)

| | |
| --- | --- |
| | Othello, The Moor of Venice |

965
(99)

| | |
| --- | --- |
| | Ben Jonson on Shakespeare |

| | |
| --- | --- |
| | On His Friend and Rival William Shakespeare |

1064
(1)

| | |
| --- | --- |
| | Iago as a Triumphant Villain |

1065
(1)

| | |
| --- | --- |
| | Lucifer in Shakespeare's Othello |

1065
(1)

| | |
| --- | --- |
| | Black and White in Othello |

1066
(1)

| | |
| --- | --- |
| | An Asian Culture Looks at Shakespeare |

1066
(1)

| | |
| --- | --- |
| | Breaking the Language Barrier |

1067
(1)
1068
(1)

| | |
| --- | --- |
| | Further Suggestions for Writing |

1068
(1)
1069
(84)
1069
(60)
1072
(57)

| | |
| --- | --- |
| | George Bernard Shaw on Drama, Ibsen and the Familiar Situation |

1129
(1)

| | |
| --- | --- |
| | Tragicomedy and the Absurd |

1130
(17)
1133
(14)

| | |
| --- | --- |
| | Milcha Sanchez-Scott on Drama, Writing The Cuban Swimmer |

1147
(1)

| | |
| --- | --- |
| | What's So Realistic About Realism? |

1148
(1)
1148
(1)
1149
(3)

| | |
| --- | --- |
| | Further Suggestions for Writing |

1152
(1)
1153
(4)
1154
(1)
1155
(1)

| | |
| --- | --- |
| | Further Suggestions for Writing |

1115
(42)

| | |
| --- | --- |
| | Plays for Further Reading |

1157
(198)
1158
(14)

| | |
| --- | --- |
| | David Henry Hwang on Drama, Multicultural Theater |

1172
(1)
1173
(3)

| | |
| --- | --- |
| | Terrence McNally on Drama, How To Write a Play |

1176
(1)
1177
(71)

| | |
| --- | --- |
| | Arthur Miller on Drama, Tragedy and the Common Man |

1248
(3)
1251
(49)

| | |
| --- | --- |
| | Tennessee Williams on Drama, How to Stage The Glass Menagerie |

1300
(2)

| | |
| --- | --- |
| | Joe Turner's Come and Gone |

1302
(50)

| | |
| --- | --- |
| | August Wilson on Drama, Black Experience in America |

1352
(3)
Writing
1355
(108)
1357
(24)
1357
(2)
1359
(2)
1361
(3)

| | |
| --- | --- |
| | The Form of Your Finished Paper |

1364
(1)

| | |
| --- | --- |
| | Using Spell-Check Programs |

1365
(1)

| | |
| --- | --- |
| | Anonymous, A Little Poem Regarding Computer Spell Checkers |

1365
(1)
1366
(1)
1366
(7)

| | |
| --- | --- |
| | Reference Guide for Citations |

1373
(7)
1380
(1)
1381
(17)
1381
(5)

| | |
| --- | --- |
| | Sample Student Essay (Explication) |

1382
(4)
1386
(7)

| | |
| --- | --- |
| | Sample Student Essay (Analysis) |

1387
(4)

| | |
| --- | --- |
| | Sample Student Card Report |

1391
(2)

| | |
| --- | --- |
| | Comparing and Contrasting |

1393
(2)
1395
(3)
1398
(19)
1399
(6)
1400
(1)

| | |
| --- | --- |
| | Sample Student Essay (Explication) |

1400
(5)
1405
(3)

| | |
| --- | --- |
| | Sample Student Essay (Analysis) |

1406
(2)

| | |
| --- | --- |
| | Comparing and Contrasting |

1408
(3)
1408
(1)

| | |
| --- | --- |
| | Sample Student Essay (Comparison) |

1409
(2)
1411
(3)
1414
(3)

| | |
| --- | --- |
| | In White (early draft of ``Design'') |

1415
(2)
1417
(9)
1417
(2)
1419
(1)
1420
(3)

| | |
| --- | --- |
| | Sample Student Drama Review |

1421
(2)
1423
(3)

| | |
| --- | --- |
| | Critical Approaches to Literature |

1426
(37)
1427
(3)
1427
(1)

| | |
| --- | --- |
| | Light and Darkness in ``Sonny's Blues'' |

1428
(2)
1430
(3)

| | |
| --- | --- |
| | The Relationship of Poet and Poem |

1431
(1)

| | |
| --- | --- |
| | On Elizabeth Bishop's ``One Art'' |

1432
(1)
1433
(3)
1434
(1)

| | |
| --- | --- |
| | ``To His Coy Mistress'' and the Renaissance Tradition |

1435
(1)
1436
(4)
1437
(1)

| | |
| --- | --- |
| | The Father-Figure in ``The Tell-Tale Heart'' |

1438
(2)
1440
(4)

| | |
| --- | --- |
| | The Collective Unconscious and Archetypes |

1441
(1)

| | |
| --- | --- |
| | Myth in Faulkner's ``Barn Burning'' |

1442
(2)
1444
(3)
1444
(1)

| | |
| --- | --- |
| | Money and Labor in ``The Rocking-Horse Winner'' |

1445
(2)
1447
(3)

| | |
| --- | --- |
| | Toward a Feminist Poetics |

1447
(1)

| | |
| --- | --- |
| | Gender and Pathology in ``The Yellow Wallpaper'' |

1448
(2)

| | |
| --- | --- |
| | Reader-Response Criticism |

1450
(3)

| | |
| --- | --- |
| | An Eskimo ``A Rose for Emily'' |

1450
(1)

| | |
| --- | --- |
| | ``How Do We Make a Poem?'' |

1451
(2)

| | |
| --- | --- |
| | Deconstructionist Criticism |

1453
(4)
1454
(1)

| | |
| --- | --- |
| | On Wordsworth's ``A Slumber Did My Spirit Seal'' |

1455
(2)
1457
(6)

| | |
| --- | --- |
| | Poststructuralist Cultural Critique |

1459
(1)

| | |
| --- | --- |
| | What is Cultural Studies? |

1460
(3)
Glossary of Literary Terms
1463
(34)
Acknowledgments
1497
(12)
Index of First Lines of Poetry
1509
(4)
Index of Authors and Titles
1513
(14)
To the Student
1527
(2)
Index of Literary Terms
1529