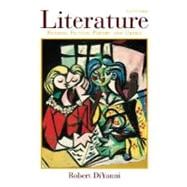 Literature : Reading Fiction, Poetry, and Drama
by
DIYANNI
McGraw-Hill Humanities/Social Sciences/Languages
List Price: $78.07
Hurry!
Only one copy
in stock at this price.
In Stock Usually Ships in 24 Hours.
Questions About This Book?
Why should I rent this book?
Renting is easy, fast, and cheap! Renting from eCampus.com can save you hundreds of dollars compared to the cost of new or used books each semester. At the end of the semester, simply ship the book back to us with a free UPS shipping label! No need to worry about selling it back.
How do rental returns work?
Returning books is as easy as possible. As your rental due date approaches, we will email you several courtesy reminders. When you are ready to return, you can print a free UPS shipping label from our website at any time. Then, just return the book to your UPS driver or any staffed UPS location. You can even use the same box we shipped it in!
What version or edition is this?
This is the 5th edition with a publication date of 7/17/2001.
What is included with this book?
The Used copy of this book is not guaranteed to inclue any supplemental materials. Typically, only the book itself is included.
The Rental copy of this book is not guaranteed to include any supplemental materials. You may receive a brand new copy, but typically, only the book itself.
Summary
This anthology offers a lively introduction to the study of fiction, poetry, and drama, and is appropriate for introduction to literature courses as well as literature-based composition courses.
Known for its clear presentation of the formal elements of literary analysis, DiYanni's Literature effectively balances classical, modern, and contemporary works across the three major genres, blending well-known writers with a diverse gathering of newer, international figures. This literary breadth is supplemented by extensive coverage of writing about literature, making DiYanni an excellent resource for literature instructors who want a full-featured anthology.
Table of Contents
INTRODUCTION: READING (AND WRITING ABOUT) LITERATUREReading LiteratureThe Pleasures of Reading LiteratureThe Pleasures of FictionThe Dog and the ShadowLearning to Be Silent*Reading the Parable in Context The Pleasures of PoetryRobert Frost, Dust of Snow*Reading Frost's poem in ContextThe Pleasures of DramaUnderstanding Literature: Experience/ Interpretation/ EvaluationWriting About LiteratureReasons for Writing about Literature*Reading a play in ContextWays of Writing about LiteratureThe Writing ProcessDraftingRevisingEditingPART ONE: FICTIONCHAPTER 1: READING STORIESLuke, The Prodigal SonThe Experience of FictionThe Interpretation of Fiction*Reading in ContextThe Evaluation of FictionJohn Updike, A&PThe Act of Reading FictionKate Chopin, The Story of an HourChapter 2: TYPES OF SHORT FICTIONEarly Forms: Parable, Fable, and TaleAesop, The Wolf and the MastiffPetronius, The Widow of EphesusThe Short StoryThe Nonrealistic StoryThe Short NovelChapter 3: ELEMENTS OF FICTIONPlot and StructureFrank O'Connor, Guests of the NationCharacterKay Boyle, Astronomer's WifeSettingBobbie Ann Mason, ShilohPoint of ViewWilliam Faulkner, A Rose for EmilyLanguage and StyleJames Joyce, ArabyThemeEudora Welty, A Worn PathIrony and SymbolD. H. Lawrence, The Rocking-Horse WinnerChapter 4: WRITING ABOUT FICTIONReasons for Writing about FictionInformal Ways of Writing about FictionKatherine Anne Porter, MagicFormal Ways of Writing about FictionStudent Papers on FictionQuestions for Writing about FictionSuggestions for WritingChapter 5: THREE FICTION WRITERS IN CONTEXTReading Edgar Allan Poe, Flannery O'Connor, and Sandra Cisneros in Depth*Edgar Allan Poe in Context *Poe and Journalism / Poe and The Horror Story / Poe and The Detective Story / The Dimension of Style/ TimelineEdgar Allan Poe: Stories:*The Black Cat*The Cask of Amontillado*The Fall of the House of Usher*The Purloined Letter*Edgar Allan Poe: Letters, Essays*Critics on PoeFlannery O'Connor in Context*Southern Gothic / The Catholic Dimension / O'Connor's Irony/ TimelineFlannery O'Connor: Stories:Good Country PeopleA Good Man is Hard to FindEverything That Rises Must Converge*The Life You Save May Be Your OwnFlannery O'Connor: Letters, EssaysCritics on O'Connor*Sandra Cisneros in ContextCulture and Identity / Literature of the American Southwest / The Feminist Dimension/ Timeline*Sandra Cisneros: Stories: *Barbie Q*Eleven*There was a Man, There was a Woman*Woman Hollering Creek*Sandra Cisneros on Herself *Critics on CisnerosChapter 6: A COLLECTION OF SHORT FICTIONClassics*Chinua Achebe, Marriage is a Private Affair *James Baldwin, Sonny's BluesJorge Luis Borges, The Garden of Forking Paths*Anton Chekhov, The Kiss translated by CONSTANCE GARNETTRalph Ellison, Battle Royal*F. Scott Fitzgerald, Babylon RevisitedGabriel Garcia Marquez, A Very Old Man With Enormous Wings translated by GREGORY RABASSACharlotte Perkins Gilman, The Yellow WallpaperNathaniel Hawthorne, Young Goodman Brown*Ernest Hemingway, Soldier's Home*Zora Neale Hurston, SpunkJames Joyce, The Boarding HouseJames Joyce, The Dead*Franz Kafka, The Metamorphosis translated by ALEXIS WALKERKatherine Mansfield, BlissTillie Olsen, I Stand Here IroningLuigi Pirandello, WarKatherine Anne Porter, The Jilting of Granny Weatherall Isaac Bashevis Singer, Gimpel the Fool translated by SAUL BELLOWJean Stafford, Bad Characters *Eudora Welty, Why I Live at the P.O.Contemporaries*Sherman Alexie, Indian Education*Julia Alvarez, The Kiss*Margaret Atwood, Happy EndingsToni Cade Bambara, The LessonRaymond Carver, Cathedral*Anita Desai, Diamond Dust*Nathan Englander, The Tumblers *Ursula Hegi, To the GateMary Hood, How Far She Went*Gish Jen, Who's IrishHa Jin, Taking a HusbandJamaica Kincaid, Girl*James Alan McPherson, Why I Like Country Music*Bharati Mukherjee, The Tenant*Alice Munro, An Ounce of Cure*Edna O'Brien, Long DistanceTim O'Brien, The Things They Carried*Annie Proulx, The Bunchgrass Edge of the World Leslie Silko, Yellow WomanAmy Tan, Rules of the GameAlice Walker, Everyday Use*Louisa Valenzuela, I'm Your Horse in the Night*John Edgar Wideman, DamballahPART TWO: POETRYChapter 7: READING POEMSThe Experience of PoetryRobert Hayden, Those Winter Sundays*Reading in ContextThe Interpretation of PoetryRobert Frost, Stopping by Woods on a Snowy Evening*Reading in ContextThe Evaluation of PoetryAdrienne Rich, Aunt Jennifer's TigersThe Act of Reading PoetryTheodore Roethke, My Papa's WaltzChapter 8: TYPES OF POETRYNarrative PoetryLyric PoetryChapter 9: ELEMENTS OF POETRYVoice: Speaker and ToneStephen Crane, War is KindRobert Browning, My Last DuchessMuriel Stuart, In the OrchardGerard Manley Hopkins, "Thou art indeed just, Lord, if I contend"Anonymous, Western WindHenry Reed, Naming of PartsJacques Prevert, Family PortraitDictionWilliam Wordsworth, I wandered lonely as a cloudEdwin Arlington Robinson, Miniver CheevyWilliam Wordsworth, It is a beauteous eveningRobert Herrick, Delight in DisorderAdrienne Rich, RapeImageryElizabeth Bishop, First Death in Nova ScotiaWilliam Butler Yeats, The Lake Isle of InnisfreeRobert Browning, Meeting at NightH.D., HeatThomas Hardy, Neutral TonesFigures of Speech: Simile and MetaphorWilliam Shakespeare, That time of year thou may'st in me beholdJohn Donne, Hymn to God the FatherRobert Wallace, The Double-PlayLouis Simpson, The BattleJudith Wright, Woman to ChildSymbolism and AllegoryPeter Meinke, Advice to My SonChristina Rossetti, Up-HillWilliam Blake, A Poison TreeRobert Frost, The Road Not TakenGeorge Herbert, VirtueEmily Dickinson, Because I could not stop for DeathSyntaxJohn Donne, The Sun RisingThomas Hardy, The Man He KilledWilliam Butler Yeats, An Irish Airman Foresees His DeathRobert Frost, The Silken Tente.e. cummings, "Me up at does"Stevie Smith, Mother, Among the DustbinsSound: Rhyme, Alliteration, AssonanceGerard Manley Hopkins, In the Valley of the ElwyThomas Hardy, During Wind and RainAlexander Pope, Sound and SenseBob McKenty, Adam's SongMay Swenson, The UniverseHelen Chasin, The Word PlumRhythm and MeterRobert Frost, The Span of LifeGeorge Gordon, Lord Byron, The Destruction of SennacheribAnne Sexton, Her KindWilliam Carlos Williams, The Red WheelbarrowStructure: Closed Form and Open FormJohn Keats, On First Looking into Chapman's HomerWalt Whitman, When I heard the learn'd astronomere.e. cummings l(ae.e. cummings, [Buffalo Bill's]William Carlos Williams, The DanceDenise Levertov, O Taste and SeeTheodore Roethke, The Waking*Christine Kane Molito, Reflections in Black & BlueC.P. Cavafy, The City translated by EDMUND KEELEY AND PHILIP SHERRARDThemeEmily Dickinson, Crumbling is not an instant's ActChapter 10: TRANSFORMATIONSRevisionsWilliam Blake, LondonWilliam Butler Yeats, A Dream of DeathEmily Dickinson, The Wind begun to knead the GrassD.H. Lawrence, Piano*Langston Hughes, Ballad of Booker T.ParodiesWilliam Carlos Williams, This is Just to SayKenneth Koch, Variations on a Theme by William Carlos WilliamsGerard Manley Hopkins, Carrion ComfortGary Layne Hatch, Terrier Torment; or, Mr. Hopkins and his DogWilliam Shakespeare, Shall I compare thee to a summer's day?Howard Moss, Shall I Compare Thee to a Summer's Day?Robert Frost, Dust of SnowBob McKenty, Snow on FrostTranslations*Horace, Eheu fugaces, Postume, Postume translated by DAVID FERRY AND BY HELEN ROWE HENZ *Francesco Petrarca, S'amor non e, che dunque e quel ch'io siento translated by ROBERT M. DURLING AND BY MARK MUSARainer Maria Rilke, Der Panther translated by STEPHEN MITCHELL AND BY C.F. MCINTYREGuillaume Apollinaire, Le Pont Mirabeau translated by RICHARD WILBUR AND BY W.S. MERWINJuan Ramon Jimenez, Nocturno Sonado translated by ELEANOR L. TURNBULL AND BY THOMAS MCGREEVYResponsesChristopher Marlowe: The Passionate Shepherd to His LoveSir Walter Raleigh, The Nymph's Reply to the ShepherdWilliam Shakespeare, Not marble, nor the gilded monumentsArchibald MacLeish, Not marble Nor the Gilded Monuments*William Blake, Nurse's Song (Innocence); Nurse's Song (Experience)Matthew Arnold, Dover BeachAnthony Hecht, The Dover Bitch: A Criticism of LfeWilliam Carlos Williams, Queen-Ann's-Lace