Note: Supplemental materials are not guaranteed with Rental or Used book purchases.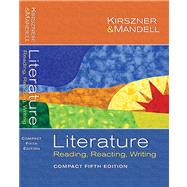 Literature Reading, Reacting, Writing With Infotrac: Compact Edition
ISBN13:
9780838406601
by
Kirszner,Laurie G.
Questions About This Book?
What version or edition is this?
This is the 5th edition with a publication date of 8/8/2003.
What is included with this book?
The New copy of this book will include any supplemental materials advertised. Please check the title of the book to determine if it should include any CDs, lab manuals, study guides, etc.
Summary
This compact edition of Laurie Kirszner and Steve Mandell's LITERATURE: READING, REACTING, WRITING, retains all the features that have made the full edition so successful in classrooms over 4 editions in a smaller, affordable volume.
Table of Contents
| | |
| --- | --- |
| Preface | |
| 1. Understanding Literature | |
| Imaginative Literature | |
| Conventional Themes | |
| The Literary Canon | |
| Luisa Valenzuela, All about Suicide | |
| Wole Soyinka, Telephone Conversation | |
| Thinking Critically | |
| Interpreting Literature | |
| Evaluating Literature | |
| The Function of Literary Criticism | |
| Checklist: Evaluating Literary Criticism | |
| 2. Reading and Writing About Literature | |
| Reading Literature | |
| Previewing | |
| Highlighting | |
| Checklist: Using Highlighting Symbols | |
| Maya Angelou, My Arkansas | |
| Annotating | |
| Writing About Literature | |
| Planning an Essay | |
| Considering your Audience | |
| Understanding Your Purpose | |
| Writing To Respond | |
| Writing To Interpret | |
| Writing To Evaluate | |
| Choosing a Topic | |
| Finding Something to Say | |
| Brainstorming | |
| Keeping a Journal | |
| Seeing Connections | |
| Listing | |
| Deciding on a Thesis | |
| Preparing an Outline | |
| Drafting an Essay | |
| Revising and Editing an Essay | |
| Strategies for Revision | |
| The Revision Process | |
| Thesis Statement | |
| Support | |
| Topic Sentences | |
| Introductions and Conclusions | |
| Sentences and Words | |
| Using and Documenting Sources | |
| Checklist: Using Sources | |
| Checklist: Conventions for Writing About Literature | |
| Exercise: Two Student Papers | |
| Student Paper: "Initiation into Adulthood" | |
| Student Paper: "Hard Choices" | |
| FICTION | |
| 3. Understanding Fiction | |
| Defining Fiction | |
| The Short Story | |
| *Margaret Atwood, Happy Endings | |
| Gary Gildner, Sleepytime Gal | |
| A Final Note | |
| 4. Reading and Writing About Fiction | |
| Reading Fiction | |
| Active Reading | |
| Alberto Alvaro Ríos, The Secret Lion | |
| Previewing | |
| Highlighting and Annotating | |
| Writing About Fiction | |
| Planning an Essay | |
| Choosing a Topic | |
| Finding Something to Say | |
| Brainstorming | |
| Seeing Connections | |
| Listing | |
| Deciding on a Thesis | |
| Preparing an Outline | |
| Drafting an Essay | |
| Student Paper: Symbols in "The Secret Lion" First Draft | |
| First Draft Commentary | |
| Revising and Editing an Essay | |
| Student Paper: Symbols in "The Secret Lion" Second Draft | |
| Second Draft Commentary | |
| Student Paper: Symbols in "The Secret Lion" Final Draft | |
| Final Draft Commentary | |
| 5. Plot | |
| Conflict | |
| Stages of Plot | |
| Order and Sequence | |
| A Final Note | |
| Checklist: Writing about Plot | |
| Kate Chopin, The Story of an Hour | |
| *Stephen Dobyns, Kansas | |
| William Faulkner, A Rose for Emily | |
| Lorrie Moore, How to Talk to Your Mother (Notes) | |
| Writing Suggestions: Plot | |
| 6. Character | |
| Round and Flat Characters | |
| Dynamic and Static Characters | |
| Motivation | |
| Checklist: Writing About Character | |
| John Updike, A and P | |
| Katherine Mansfield, Miss Brill | |
| Charles Baxter, Gryphon | |
| *Mary Ladd Gavell, The Swing | |
| Writing Suggestions: Character | |
| 7. Setting | |
| Historical Setting | |
| Geographical Setting | |
| Physical Setting | |
| Checklist: Writing About Setting | |
| Sherman Alexie, This Is What It Means to Say Phoenix, Arizona | |
| Charlotte Perkins Gilman, The Yellow Wallpaper | |
| *Ralph Ellison, Battle Royal | |
| Tillie Olsen, I Stand Here Ironing | |
| Writing Suggestions: Setting | |
| 8. Point of View | |
| First Person Narrator | |
| Unreliable Narrators | |
| Third Person Narrator | |
| Omniscient | |
| Limited Omniscient | |
| Objective | |
| Selecting an Appropriate Point of View | |
| Limited Omniscient Point of View | |
| First-Person Point of View (Child) | |
| First-Person Point of View (Adult) | |
| Omniscient Point of View | |
| Selecting An Appropriate Point of View: Review | |
| Checklist: Writing about Point of View | |
| Edgar Allen Poe, The Cask of Amontillado | |
| Richard Wright, Big Black Good Man | |
| *Gish Jen, Chin | |
| William Faulkner, Barn Burning | |
| Writing Suggestions: Point of View | |
| 9. Style, Tone, and Language | |
| Style and Tone | |
| The Uses of Language | |
| Formal and Informal Diction | |
| Imagery | |
| Figures of Speech | |
| A Final Note | |
| Checklist: Writing about Style, Tone, and Language | |
| James Joyce, Araby | |
| *Andrea Barrett, The Littoral Zone | |
| Ernest Hemingway, A Clean, Well-Lighted Place | |
| Tim O'Brien, The Things They Carried | |
| Writing Suggestions: Style, Tone, and Language | |
| 10. Symbol and Allegory | |
| Literary Symbols | |
| Recognizing Symbols | |
| The Purpose of Symbols | |
| Allegory | |
| Checklist: Writing About Symbol and Allegory | |
| Nathaniel Hawthorne, Young Goodman Brown | |
| Shirley Jackson, The Lottery | |
| Alice Walker, Everyday Use | |
| *Raymond Carver, Cathedral | |
| Writing Suggestions: Symbol and Allegory | |
| Theme | |
| Interpreting Themes | |
| Identifying Themes | |
| Checklist: Writing About Theme | |
| David Michael Kaplan, Doe Season | |
| D | |
| H | |
| Lawrence, The Rocking-Horse Winner | |
| Eudora Welty, A Worn Path | |
| *Rick Bass, The Fireman | |
| Writing Suggestions: Theme | |
| 11. Joyce Carol Oates' Where are You Going, Where have You Been?: A Casebook for Reading Research, and Writing | |
| Joyce Carol Oates, Where Are You Going, Where Have You Been? Joyce Carol Oates, When Characters from the Page Are Made Flesh on the Screen | |
| Gretchen Schulz and R | |
| J | |
| R | |
| Rockwood, From In Fairyland, without a Map: Connie's Exploration Inward in Joyce Carol Oates' "Where Are You Going, Where Have You Been?" Mike Tierce and John Michael Grafton, From Connie's Tambourine Man: A New Reading of Arnold Friend" | |
| Bob Dylan, It's All Over Now, Baby Blue | |
| Joyce M | |
| Wegs, "Don't You Know Who I Am?" The Grotesque in Oates's "Where Are You Going, Where Have You Been?" Laura Kalpakian, Where Are you Going, Where Have You Been (book review) | |
| Stephen Slimp, Oates's "Where Are You Going, Where Have You Been?" Don Moser, The Pied Piper of Tuscon | |
| The Pied Piper of Hamelin | |
| Charles Perrault, Little Red Riding Hood | |
| Topics for Further Research | |
| Student Paper | |
| 12. Fiction for Further Reading | |
| Chinua Achebe, Dead Man's Path | |
| *Toni Cade Bambara, The Lesson | |
| T | |
| oraghessan Boyle, Greasy Lake | |
| Junot Diaz, Aguantado | |
| Chitra Banerjee Divakaruni, The Disappearance | |
| Louise Erdrich, Fleur | |
| Gabriel García Marquez, A Very Old Man with Enormous Wings: A Tale for Children | |
| Nathaniel Hawthorne, The Birthmark | |
| James Joyce, Eveline | |
| Jamaica Kincaid, Girl | |
| Alice Munro, Boys and Girls | |
| Flannery O'Connor, A Good Man is Hard to Find | |
| Katherine Anne Porter, The Jilting of Granny Weatherall | |
| Richard Russo, Dog | |
| Amy Tan, Two Kinds | |
| Anne Tyler, Teenage Wasteland | |
| POETRY | |
| 13. Understanding Poetry | |
| Nikki Giovanni, Poetry | |
| Archibald MacLeish, Ars Poetica | |
| Marianne Moore, Poetry | |
| Defining Poetry | |
| William Shakespeare, That Time of Year Thou Mayst in Me Behold | |
| Louis Zukofsky, I Walk in the Old Street | |
| E | |
| E | |
| Cummings, l-a | |
| Approaching Poetry | |
| Recognizing Kinds of Poetry | |
| Narrative Poetry | |
| Lyric Poetry | |
| 14. Discovering Themes in Poetry | |
| Adrienne Rich, A Woman Mourned by Daughters | |
| Raymond Carver, Photograph of my Father in His Twenty Second Year | |
| Judith Ortiz Cofer, My Father In the Navy: A Childhood Memory | |
| Poems About Parents | |
| Theodore Roethke, My Papa's Waltz | |
| Dylan Thomas, Do Not Go Gentle into That Good Night | |
| Lucille Clifton, My Mama Moved among the Days | |
| Robert Hayden, Those Winter Sundays | |
| Seamus Heaney, Digging | |
| *Yehuda Amichai, My Father | |
| *Jill Bialosky, The Boy Beheld his Mother's Past | |
| Poems about Love | |
| Christopher Marlowe, The Passionate Shepherd to His Love | |
| Sir Walter Raleigh, The Nymph's Reply to the Shepherd | |
| Thomas Campion, There Is a Garden in Her Face | |
| William Shakespeare, My Mistress' Eyes Are Nothing like the Sun | |
| Robert Browning, Meeting at Night | |
| Robert Browning, Parting At Morning | |
| Elizabeth Barrett Browning, How Do I Love Thee? Edna St | |
| Vincent Millay, What Lips My Lips Have Kissed | |
| Dorothy Parker, General Review of the Sex Situation | |
| Sylvia Plath, Wreath for a Bridal | |
| Ted Hughes, A Pink Wool Knitted Dress | |
| Poems About War | |
| Rupert Brooke, The Soldier | |
| Wilfred Owen, Anthem for Doomed Youth | |
| William Butler Yeats, An Irish Airman Foresees His Death | |
| Robert Lowell, For the Union Dead | |
| Denise Levertov, What Were They Like | |
| *Carl Phillips, On the Notion of Tenderness in Wartime | |
| Boris Slutsky, How Did They Kill My Grandmother | |
| Yusef Komunyakaa, Facing It | |
| *Wislawa Szymborska, The End and the Beginning | |
| 15. Reading and Writing About Poetry | |
| Reading Poetry | |
| Active Reading | |
| Previewing | |
| Highlighting and Annotating | |
| Robert Hayden, Those Winter Sundays | |
| Seamus Heaney, Digging | |
| Writing About Poetry | |
| Planning an Essay | |
| Choosing a Topic | |
| Seeing Connections | |
| Listing | |
| Deciding on a Thesis | |
| Preparing an Outline | |
| Drafting an Essay | |
| Student Paper: A Comparison of Two Poems about Fathers (First Draft) | |
| First Draft Commentary | |
| Revising and Editing an Essay | |
| Student Paper: A Comparison of Two Poems about Fathers (Second Draft) | |
| Second Draft Commentary | |
| Student Paper, Digging For Memories (Final Draft) | |
| Final Draft Commentary | |
| 16. Voice | |
| Emily Dickinson, I'm Nobody! Who Are You? The Speaker in the Poem | |
| Louise Gluck, Gretel in Darkness | |
| Leonard Adame, My Grandmother Would Rock Quietly and Hum | |
| Langston Hughes, Negro | |
| Robert Browning, My Last Duchess | |
| Janice Mirikitani, Suicide Note | |
| *James Tate, Nice Car, Camille | |
| *Dorianne Laux, The Shipfitter's Wife | |
| The Tone of the Poem | |
| Robert Frost, Fire and Ice | |
| Thomas Hardy, The Man He Killed | |
| Amy Lowell, Patterns | |
| *Adam Zagajewski, Try to Praise the Mutilated World | |
| William Wordsworth, The World Is Too Much with Us | |
| Sylvia Plath, Morning Song | |
| Robert Herrick, To the Virgins, to Make Much of Time | |
| *Steve Kowit, The Grammar Lesson | |
| Irony | |
| Robert Browning, Porphyria's Lover | |
| Percy Bysshe Shelley, Ozymandias | |
| Ariel Dorfman, Hope | |
| W | |
| | |
| Auden, The Unknown Citizen | |
| Dudley Randall, Ballad of Birmingham | |
| *Sherman Alexie, How to Write the Great American Indian Novel | |
| *Rachel Rose, What We Heard about the Japanese | |
| *Rachel Rose, What the Japanese Perhaps Heard | |
| Checklist: Writing about Voice | |
| Writing Suggestions: Voice | |
| 17. Word Choice, Word Order | |
| Sipho Sepamla, Words, Words, Words | |
| Word Choice | |
| Walt Whitman, When I Heard the Learn'd Astronomer | |
| William Stafford, For the Grave of Daniel Boone | |
| James Wright, Autumn Begins in Martins Ferry, Ohio | |
| Adrienne Rich, Living in Sin | |
| E | |
| E | |
| Cummings, In Just- | |
| *Robert Pinsky, ABC | |
| Levels of Diction | |
| Margaret Atwood, The City Planners | |
| Jim Sagel, Baca Grande | |
| *Mark Halliday, The Value of Education | |
| Richard Wilbur, For the Student Strikers | |
| Charles Bukowski, Dog Fight | |
| Word Order | |
| Edmund Spenser, One Day I Wrote Her Name upon the Strand | |
| E | |
| E | |
| Cummings, Anyone Lived In A Pretty How Town | |
| A | |
| E | |
| Housman, To An Athlete Dying Young | |
| Emily Dickinson, My Life Had Stood--A Loaded Gun | |
| Checklist: Writing About Word Choice, Word Order | |
| Writing Suggestions: Word Choice, Word Order | |
| 18. Imagery | |
| Jane Flanders, Cloud Painter | |
| William Carlos Williams, Red Wheelbarrow | |
| Ezra Pound, In a Station of the Metro | |
| Gary Snyder, Some Good Things to be Said for the Iron Age | |
| Suzanne E | |
| Berger, The Meal | |
| William Carlos Williams, The Great Figure | |
| *Michael Chitwood, Division | |
| *Lam Thi My Da, Washing Rice | |
| *Chitra Banerjee Divakaruni, The Alley of Flowers | |
| Robert Frost, Nothing Gold Can Stay | |
| Jean Toomer, Reapers | |
| Wilfred Owen, Dulce et Decorum est | |
| Checklist: Writing about Imagery | |
| Writing Suggestions: Imagery | |
| 19. Figures of Speech | |
| William Shakespeare, Shall I Compare Thee to a Summer's Day? Simile, Metaphor, and Personification | |
| Langston Hughes, Harlem | |
| Lawrence Ferlinghetti, Constantly Risking Absurdity | |
| Audre Lorde, Rooming Houses Are Old Women | |
| Robert Burns, Oh, My Love Is like A Red, Red, Rose | |
| John Updike, Ex-Basketball Player | |
| Randall Jarrell, The Death of the Ball Turret Gunner | |
| Marge Piercy, The Secretary Chant | |
| John Donne, A Valediction: Forbidding Mourning | |
| *E | |
| | |
| White, Natural History | |
| *Martin Espada, My Father as Guitar | |
| Hyperbole and Understatement | |
| Sylvia Plath, Daddy | |
| David Huddle, Holes Commence Falling | |
| Anne Bradstreet, To My Dear and Loving Husband | |
| Andrew Marvell, To His Coy Mistress | |
| Robert Frost, Out, Out-- | |
| Donald Hall, My Son, My Executioner | |
| Margaret Atwood, You Fit Into Me | |
| *Sherod Santos, Spring Elegy | |
| Metonymy and Synecdoche | |
| Richard Lovelace, To Lucasta Going to the Wars | |
| *Thomas Lux, Henry Clay's Mouth | |
| Apostrophe | |
| Sonia Sanchez, On Passing thru Morgantown, Pa | |
| *Allen Ginsberg, A Supermarket in California | |
| Checklist: Writing About Figures of Speech | |
| Writing Suggestions: Figures of Speech | |
| 20. Sound | |
| Walt Whitman, Had I the Choice | |
| Rhythm | |
| Gwendolyn Brooks, Sadie and Maud | |
| Meter | |
| Emily Dickinson, I Like to See It Lap the Miles | |
| Adrienne Rich, Aunt Jennifer's Tigers | |
| Etheridge Knight, For Malcolm, a Year After | |
| Alliteration and Assonance | |
| Alfred, Lord Tennyson, The Eagle | |
| N | |
| Scott Momaday, Comparatives | |
| Robert Herrick, Delight in Disorder | |
| Rhyme | |
| Ogden Nash, The Llama | |
| Richard Wilbur, A Sketch | |
| Gerald Manley Hopkins, Pied Beauty | |
| W | |
| H | |
| Auden, As I Walked Out One Evening | |
| *Lydia Davis, A Mown Lawn | |
| *Alan Shapiro, A Parting Gift | |
| *Mona Van Duyn, The Beginning | |
| Lewis Carroll, Jabberwocky | |
| Checklist: Writing About Sound | |
| Writing Suggestions: Sound | |
| 21. Form | |
| John Keats, On the Sonnet | |
| *Billy Collins, Sonnet | |
| Closed Form | |
| Blank Verse | |
| Stanza | |
| The Sonnet | |
| William Shakespeare, When, in Disgrace with Fortune and Men's Eyes | |
| Claude McKay, The White City | |