Note: Supplemental materials are not guaranteed with Rental or Used book purchases.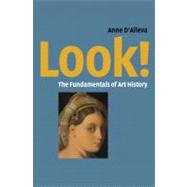 Look! : Art History Fundamentals
ISBN13:
9780130486356
by
D'Alleva, Anne
Summary
For Introductory Art History Surveys. Look! is designed as a handbook to accompany the major textbooks used in the art history survey. Written in a casual, personable, and unassuming style, it introduces students to the basic methods of art history and the visual and contextual analysis of works of art, and teaches them how to use these types of analysis in writing papers and examinations.
Table of Contents
(Note:Each chapter ends with a Conclusion.)
Introduction: How to Use this Book
Introducing Art History
What do Art Historians Do: The Object of Art History
Art History's Disciplinary Identity
Why is Art History Important?
The Fundamentals of Interpretation: Formal and Contextual Analysis
Two Sides of a Coin: Formal and Contextual Analysis
Everyday Art History: Looking at Advertising
Formal Analysis
Contextual Analysis
Art Out of Context? Museums and Art History
The Process of Interpretation: Confronting your Assumptions
Writing Art History Papers
Structuring Art Historical Arguments: Interpretation vs. Opinion
Formal Analysis Papers
Research Papers
Some Specialized Kinds of Writing Assignments
Resources for Art Historical Research
Critical Moments in Art-History Writing
Citations and Bibliographies
Writing Style
Navigating Art History Examinations
Slide Identifications and Short-Answer Questions
Art History Essays
Effective Note-Taking
Art History's Own History
Ancient "Art Historians"
Medieval Art History
Renaissance Art History
Art History and Criticism in the Age of Enlightenment
Foundations of Modern Art History: Nineteenth-century Philosophers and Historians of Art
Art History at Mid-century Formalists, Iconographers, and Social Historians
The "New" Art History and the Future of Art History
Do Other Cultures Practice Art History? Glossary
Annotated Bibliography
Table of Parallel Illustrations in Art History Surveys
Picture Credits
Index
Table of Contents provided by Publisher. All Rights Reserved.
Excerpts
How to use this Book I wrote this book primarily to help undergraduates--like you!--navigate their way through introductory art-history surveys. As you probably already realize, introductory art history can be simultaneously exciting and challenging for both instructors and students. These courses cover a dazzling array of artworks from prehistory to the present and offer provocative new ways to think about key moments in human history and many different cultural practices. Unfortunately, precisely because the course is so packed with interesting material, we instructors don't always spend enough time teaching our students how to deal with that material, either conceptually (in learning to think like art historians) or practically (in terms of the papers you need to produce and the exam questions you need to answer). Look!does just that. It starts out by providing a basic introduction to art history as an academic discipline. It then introduces the fundamental methods of art history, the formal and contextual analysis of works of art. It goes on to provide guidelines to writing good papers and exams, and provides suggestions on effective note-taking. Finally, it includes a brief overview of the history of art history, so that you'll understand how the discipline evolved and why it asks the kind of questions that it does. I've tried to orientLook!toward the kinds of visual images and issues discussed in introductory classes. You'll notice that most of the illustrations also appear in one or more of the major survey texts used in such courses (Honour and Fleming, Janson, Gardner, Stokstad, Abrams, etc.). The sample paper assignments and exam questions included here come from material I've used in my own courses. The examples of student writing have been only lightly edited for grammar and length--these are real-life responses to real-life exams and paper assignments. Because Look! is a handbook and resource, it's not necessarily a book that you'll read through from beginning to end (although in an ideal world you probably would!). There are lots of different ways to use it effectively, but I'll offer a few suggestions here. Chapter One: Introducing Art Historyprovides a basic introduction to the discipline. It's a good idea to read this fairly early on in your course--maybe in conjunction with your instructor's introductory classes--so you'll be firmly grounded in the goals of the course and the discipline. I also recommend readingChapter Two: The Fundamentals of Interpretation: Formal and Contextual Analysis,early in your studies, because it provides an introduction to two basic art historical methods--formal analysis and contextual analysis. You'll see your professor doing both these things in class, and this chapter shows you various ways to develop these processes so that you can then use the methods in class discussion and in writing papers and exams. Chapter Two will also be helpful when you're writing papers. SaveChapter Three: Writing Art History Papersuntil you're preparing to start your first paper assignment. You'll probably consult it repeatedly as you're working on your paper. You may want to read the parts ofChapter Four: Navigating Art History Examinationsthat deal with note-taking early on in your course. Read the parts about exams when you're starting to review images. (By the way, I recommend reviewing images every week, not just in the few days before the exam.) Chapter Five: Art History's Own Historyis the kind of chapter you'll read or browse through when you're not under time pressure to study for an exam or read a paper (unless, of course, you're procrastinating . . .). It gives you a larger perspective on the discipline of art history, which you may find especially interesting if you're thinking about majoring or minoring in art history. However you ap