Note: Supplemental materials are not guaranteed with Rental or Used book purchases.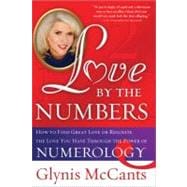 Love by the Numbers : How to Find Great Love or Reignite the Love You Have Through the Power of Numerology
ISBN13:
9781402244629
by
McCants, Glynis
Questions About This Book?
What version or edition is this?
This is the edition with a publication date of 11/1/2010.
What is included with this book?
The eBook copy of this book is not guaranteed to include any supplemental materials. Typically only the book itself is included.
Summary
Media sensation Glynis McCants reveals the Numerology of love. Bestselling author and publicity dynamo Glynis McCants created this exciting guide to love through the power of Numerology because she believes that the greatest gift one can receive is that of true and lasting love. Glynis's celebrated system is a contemporary spin on the ancient Science of Numerology that is easy to use and amazingly accurate. She'll teach you the simple way to create a Numerology blueprint that reveals what kind of mate would fulfill your-or a potential mate's-innermost needs and desires. Plus celebrity Numerology, healing a toxic relationship, why great sex is in the numbers, and more! "To put it simply, if cupid and a clairvoyant were to have an affair, Glynis McCants would very much look like their offspring." -L.A. Confidential magazine
Table of Contents
Acknowledgments
p. xiii
Introduction to Numerology
p. 1
Discovering Your Numerology Blueprint
p. 11
Is it a Love Match? How to Interpret Your Chart Comparison
p. 23
The Soul Number: "The Secret Number"
p. 33
The Personality Numbers: Do You Click, or Do You Clash?: Two Case Studies
p. 43
The Power Name Number: Who's Got the Power?
p. 53
The Birth Day Number: Is What You See Really What You Get?
p. 63
Life Path Number: What Each Life Path Offers and Desires in Love
p. 71
The Master Numbers 11 and 22
p. 95
Master Number 11
Master Number 22
The Attitude Number: How's Your Attitude?
p. 101
The Destiny Number: Are You Destined to be Together?
p. 109
The Maturity Number: Midlife is not Always a Crisis
p. 117
The Maturity Number of Paul Newman
Every Life Path Love Combination: Have You Truly Met Your Match?
p. 127
Toxic Life Paths: Is There Any Hope?
p. 161
Loving Your Partner's Life Path Number: Just the Way They Like It!
p. 183
Sex and Numerology: Is It in the Numbers?
p. 225
Picking the Perfect Wedding Date
p. 239
Should You Take His Name?
p. 255
Homes, Apartments, and Hotels: Can the Number on a Door Ruin a Relationship?
p. 269
Personal Year Cycles: This Too Shall Pass
p. 277
Affirmations for Healthy Love
p. 289
Affirmations to Attract Great Love
p. 297
The Fascinating Numerology of Power Couples
p. 301
Glynis Shares Her Secrets!
p. 315
Some Final Thoughts on Love
p. 325
Suggested Reading
p. 328
Bibliography
p. 329
Chart Comparisons for Yourself, a Friend, or a Family Member
p. 331
The Pythagorean Number System
p. 335
Table of Contents provided by Ingram. All Rights Reserved.
Excerpts
<p><strong>Excerpt from Chapter 1: Introduction to Numerology</strong></p><p><em>We come to love, not by finding a perfect person, but by learning to see an imperfect person perfectly.<br>—Sam Keen</em></p><p>When I wrote my previous book Glynis Has Your Number, I had so many topics to cover that I only put one chapter about love in the book. I vowed that my next book would be dedicated to love, because I believe there is nothing more important to our well-being.</p><p>I have been practicing Numerology for over twenty-one years, and one of my greatest pleasures is to bring two people together and help them find lasting love by the Numbers. It is a blessing when we share our lives with kindness and consideration to help each other achieve our dreams. I find equal satisfaction in counseling married couples whose marriages have lost their way. Numerology has helped them to understand each other, begin to work through their differences, and fall in love all over again.</p><p>It isn't as much fun if you have a great career and achieve success but have no one with whom you can share your triumphs. I strongly believe that God did not put us on a planet with millions of people and yet doomed us to live our lives alone. It only makes sense that He would want us to be able to share our lives with the right someone else. If you are dating and looking for a lasting love, I can help you find a loving partner through the power of Numerology. If you are already in a relationship and know that it is not a healthy one, help is on the way!</p><p><strong>How It Works</strong><br>Numerology, a 2,500-year-old science of numbers, was created by the Greek mathematician Pythagoras. Pythagoras believed that when we are born, we enter this world with very specific Vibrations. These Vibrations have a direct influence on our character and what our life purpose will be. Pythagoras attached a Number to each Vibration, using the Numbers 1 (new beginnings) through 9 (completion). If you have a person's first and last name, and full date of birth, you can discover exactly who they are by using the Pythagorean Number System.</p><p>There are three Numbers that come from the name (the Soul Number, the Personality Number, and the Power Name Number), and there are three Numbers that come from the full birth date (the Birth Day Number, the Life Path Number, and the Attitude Number).</p><p>Below are the brief definitions of what each number tells you about a person.</p><p><em>The Soul Number:</em>Defines what will fulfill your Soul.<br><em>The Personality Number: </em>Defines how people perceive you.<br><em>The Power Name Number: </em>Defines the strength of your character.<br><em>The Birth Day Number: </em>Defines how you appear to people when they first meet you.<br><em>The Life Path Number:</em>Defines your life's purpose. This Number has the biggest impact on your Life.<br><em>The Attitude Number: </em>Defines your general outlook on life.</p><p>Here is an example of what the six numbers above look like when they are laid out:</p><p>93345*/7Attitude</p><p>When you do a Numerology Blueprint, the layout of the numbers will always be in this exact order, going from left to right. The first number will be the <strong>Soul Number</strong>(9), the second number will be the <strong>Personality Number</strong>(3), the third number will be the <strong>Power Name Number</strong>(3), the fourth number will be the <strong>Birth Day Number </strong>(4), the fifth Number will be the<strong>Life Path Number</strong>(5), and the sixth number will be the <strong>Attitude Number </strong>(7). I will always put an asterisk (*) next to the <strong>Life Path Number</strong>, because it is the most important Number when it comes to love relationships. However, if your Life Path Numbers are a Challenge, all is not lost because I do give you advice on how to deal with this in Chapter 14.</p><p>When you have determined the six numbers for you and your partner, you will have the information you need to create a Personal Numerology Chart Comparison and see whether this relationship is worth pursuing or ending so you can move on. This book will help you answer this question with confidence. If you are in an unhappy marriage, and your relationship is mostly Toxic but you want to save it, perhaps because you have children or just do not believe in divorce, there is information throughout this book that will give you the tools to heal your relationship.</p><p>When you do a Personal Numerology Chart Comparison, there are three ways that each number interacts with another number: </p><p><strong>A Natural Match Number</strong>means you have an instant rapport and an easygoing understanding of each other.<br><strong>A Compatible Number</strong>means you get along most of the time and can learn to agree to disagree.<br><strong>A Challenge Number </strong>means that no matter what you say, you will be misunderstood. More often than not you will find a break down in communication, which can feel very Toxic and make the relationship difficult.</p><p>I will discuss each of these further in Chapter 3.</p><p>As time goes on, there are couples who believe they have outgrown each other, and others who say they grew much closer in later years. I believe this actually has to do with the Maturity Number (what you achieve in midlife) and the Destiny Number (where you are headed), which are two Vibrations that reveal themselves later in life. Although<br>these two Numbers are not one of the six Numbers used in your Numerology Blueprint, they do also help you understand each other better. By learning what they are and mean, you can prepare for them with your mate; or if you are dating and find they are Toxic, you may want to reconsider the relationship.</p><p>By studying your Numerology Blueprints with your partner, you can learn a whole new way to communicate, so that your partner will actually hear what you are saying—perhaps for the first time. </p>