Note: Supplemental materials are not guaranteed with Rental or Used book purchases.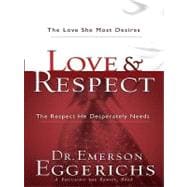 Summary
Psychological studies affirm it, and the Bible has been saying it for ages. Cracking the communication code between husband and wife involves understanding one thing: that unconditional respect is as powerful for him as unconditional love is for her. Now you and your mate can start fresh with the ground-breaking guidance that Dr. Emerson Eggerichs provides in this book. His revolutionary message is for anyone in marital crisis, wanting to stay happily married, or feeling lonely. Using Dr. Eggerich's breakthrough techniques, couples nationwide are achieving a brand-new level of intimacy. And if you'll take this biblically based counsel to heart, your marriage could be next! Book jacket.
Table of Contents
Acknowledgments
p. 11
Introduction: Love Alone Is Not Enough
p. 15
The Crazy Cycle
The Simple Secret to a Better Marriage
p. 23
To Communicate, Decipher the Code
p. 50
Why She Won't Respect; Why He Won't Love
p. 76
What Men Fear Most Can Keep the Crazy Cycle Spinning
p. 102
She Fears Being a Doormat; He's Tired of "Just Not Getting It"
p. 128
She Worries about Being a Hypocrite; He Complains, "I Get No Respect!"
p. 150
She Thinks She Can't Forgive Him; He Says, "Nobody Can Love That Woman!"
p. 171
The Energizing Cycle
C-O-U-P-L-E: How to Spell Love to Your Wife
p. 193
Closeness—She Wants You to Be Close
p. 205
Openness—She Wants You to Open Up to Her
p. 219
Understanding—Don't Try to "Fix" Her; Just Listen
p. 236
Peacemaking—She Wants You to Say, "I'm Sorry"
p. 252
Loyalty—She Needs to Know You're Committed
p. 268
Esteem—She Wants You to Honor and Cherish Her
p. 281
C-H-A-I-R-S: How to Spell Respect to Your Husband
p. 298
Conquest—Appreciate His Desire to Work and Achieve
p. 313
Hierarchy—Appreciate His Desire to Protect and Provide
p. 331
Authority—Appreciate His Desire to Serve and to Lead
p. 347
Insight—Appreciate His Desire to Analyze and Counsel
p. 364
Relationship—Appreciate His Desire for Shoulder-to-Shoulder Friendship
p. 382
Sexuality—Appreciate His Desire for Sexual Intimacy
p. 397
The Energizing Cycle Will Work IfYou Do
p. 413
The Rewarded Cycle
The Real Reason to Love and Respect
p. 423
The Truth Can Make You Free, Indeed
p. 446
Conclusion: Pink and Blue Can Make God's Purple
p. 470
A Lexicon Of Love And Respect: Reminders Of What To Say, Do, Or Think To Practice Love And Respect In Your Marriage
p. 481
Personal Love And Respect Inventory For Husbands And Wives
p. 487
How To Ask Your Mate To Meet Your Needs
p. 491
What About Exceptions To The Love And Respect Pattern?
p. 495
What If Your Husband Is A Workaholic?
p. 499
Notes
p. 505
Table of Contents provided by Ingram. All Rights Reserved.