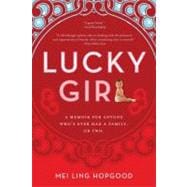 Summary
Mei-Ling Hopgood was an all-American girl. She grew up in the Midwest, studied journalism at the University of Missouri, and became a reporter for a Michigan newspaper. Adopted when she was a baby, she was never really curious about her Asian roots. Then one day, when she was in her twenties, her birth family from Taiwan came calling'"on the phone, on the computer, by fax'"in a language she didn't understand. The Wangs wanted to meet her; they wanted her to return home. But this unexpected reunion has a price, as she uncovers devastating secrets that haunt the Wangs to this day. Lucky Girl journeys into Chinese culture'"its magnificent sights, war-torn history, and sumptuous foods'"while revealing the personal suffering wrought by the country's tightly held traditions. Mei-Ling's is a tale of love and loss, frustration, hilarity, deep sadness, and great discovery as she comes to understand the true meaning of family.
Table of Contents
Acknowledgments
p. xi
Author's Note
p. xiii
Prologue
p. 1
Come Back Taiwan
p. 3
The Birth of a Family
p. 19
Twisting Fate
p. 34
The Odd Couple
p. 44
Happy Days
p. 66
The Return
p. 81
A Perfect Reunion
p. 101
Meimei
p. 113
Through the Looking Glass
p. 122
Crosscurrents
p. 133
The Biology of Adoption
p. 145
Handmade Dumplings
p. 154
Daddy's Girl
p. 168
The Boy
p. 180
Mother-Daughter Banquet
p. 190
The Namesakes
p. 213
The Lucky Eight
p. 233
Epilogue
p. 240
Table of Contents provided by Ingram. All Rights Reserved.