Note: Supplemental materials are not guaranteed with Rental or Used book purchases.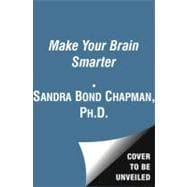 Questions About This Book?
What version or edition is this?
This is the 1st edition with a publication date of 1/1/2013.
What is included with this book?
The New copy of this book will include any supplemental materials advertised. Please check the title of the book to determine if it should include any CDs, lab manuals, study guides, etc.
Summary
One of the world's most innovative and respected cognitive neuroscientists combines the latest scientific discoveries with unique tests and exercises to improve your brainpowerfor life. The human brain is not a static organ; it's plastic, which means it can grow and change. But just like a muscle, you have to exercise it. In Make Your Brain Smarter, Longer, renowned cognitive neuroscientist Dr. Sandra Bond Chapman gives you the comprehensive fitness plan you need to "exercise" your way to a healthier brain. By taking advantage of the immense cognitive potential of your brain, you can think smarter, not harder, solving the complexities and problems that occur every day. In this all-inclusive book, you'll find easy strategies to train deep, insightful, and strategic thinking in order to realize your brain's maximum cognitive capacity. With her years of experience, Dr. Chapman will introduce you to the very latest research in brain science, with an emphasis on the cutting-edge findings related to the frontal lobe. She'll show you how to tailor a brain fitness program to fit your own needs. From cover to cover, she shares tips and techniques that can be practiced throughout life to promote vigorous cognitive brain health at every age. Whether you're a Boomer-age "thinker" or a Millennial-era "finder," Make Your Brain Smarter, Longerwill help you to take charge of your frontal lobe command center and create the bright and vibrant brain that you craveand will need to have a healthy, happy rest of your life.
Excerpts
INTRODUCTION
When I say, "You can increase your brain performance," people stare at me, doubtful that this could be true. It is not surprising that many would challenge the claim and believe it to be false hype.
New brain science discoveries show that individuals, young and old, can, indeed, increase their intelligence.1 – 7 As a cognitive neuroscientist and founder and chief director of the Center for BrainHealth at The University of Texas at Dallas, I strive to uncover how the brain best learns and reasons, rebounds and repairs after injury, and builds resilience against decline. The goal: to maximize the amazing potential of our most vital organ—the brain.
My research and scientific discoveries have shown that most everyone can increase their intellectual capital and maximize their cognitive potential.8 – 15 What does that mean for you? Simply put, you can control the destiny of your brain. You can mold your brain's frontal lobe, the epicenter of your intelligence, to grow your brainpower.
Do you want to:
• start thinking smarter today?
• learn to avoid habits that drain your cognitive potential?
• strengthen your fluid intelligence continually?
• recognize that memory lapses may not be the chief thief robbing you of your highest level of mental productivity and cognitive creativity?
• advance your capacity to be an agent of change?
The answer to each of these is—a Know Brainer. By learning how to incorporate new brain science into your daily life, you can develop the mental agility necessary to help solve the complexities of the issues you face today and the unknown ones of the future. I will guide you to improve cognitive capacity and increase your peak performance and intellectual capital.
The Limitless Frontier of Cognitive Discovery
For the past thirty years, my life has been dedicated to discovering ways to optimize brain health by applying rapidly emerging innovations to make a difference in people's lives. Through my ongoing research with a host of populations—including but not limited to healthy teens and adults; people who have suffered traumatic brain injuries such as a concussion or stroke; those with brain diseases such as Alzheimer's and other forms of dementia; and children diagnosed with autism and ADHD—I have been struck by two key findings:
• The brain's frontal lobe unequivocally contributes to building resilience, to regaining cognitive function, and to retraining the brain to maximize its extraordinary power.
• It typically takes twenty to forty years or more for scientific discoveries to trickle down to meaningfully benefit human life.
And this is why I am writing this book.
None of us can afford to let our brains decline—not even for a day. You would not accept that for your heart, eyes, or lungs, so why allow such slippage for your most valued internal asset?
If you fail to harness the incredible potential of your brain, you are inhibiting your success. You are, in essence, going backward instead of forging a blazing trail to increased productivity and boundless performance.
Our life span only continues to grow as the twenty-first century proceeds. A health-care policy journal predicts an average American life span of eighty-six years for a man and ninety-three years for a woman by midcentury16 —more than a decade longer than today's life expectancy—a mere forty years from now. This poses numerous ethical questions. When asked, people tend to respond that they desire to live as long as they have a healthy mind, since a robust and high-functioning brain is considered the very cornerstone of a satisfactory quality of life. Surprisingly, though, the steps to improve cognitive brain function are at least a generation and a half behind what has been achieved for heart health. Significantly more needs to be done to achieve a brain health span that more closely aligns with our body's new life span. This is why brain fitness should become your personal goal.
I have dedicated my life to discovering how the brain best absorbs complex information, learns to think strategically, and innovates at its optimal level. I am determined to help people increase and maximize their brainpower.
Why the Frontal Lobe?
This book will revolutionize how you think and use your brain's frontal lobe to solve the complexities you meet each day. Your frontal lobe is the part of the brain responsible for planning, decision making, judgment, and other executive functions. You will become keenly aware of new brain discoveries regarding which frontal lobe brain habits might obstruct clear thinking and which ones could facilitate your capacity to think smarter rather than harder, day in and day out. You will learn how to build a more robust cognitive capacity, how to process information deeply and insightfully, and how to develop strategic thinking to continually upgrade your realized potential.
One is never too young or too old to commit to a brain health plan that challenges the brain's capacity to think smarter. It requires concerted and continual efforts to achieve robust frontal lobe function since each generation comes to the table with different strengths and vulnerabilities. And while there is almost no area that one cannot improve with repeated practice and proper use, the choice of what to focus on may make a difference.
Our cognitive brain health declines because we let it.We are complicit in our own brain decline by failing to keep our frontal lobe as fit as we can and should, by not adopting and incorporating healthy brain habits that daily promote dynamic and flexible thinking, and by not taking full advantage of all our brains have to offer. It is unsettling how much brain potential is lost due to neglect and improper maintenance.When your brainpower decreases it costs you dearly. Habitual low brain performance costs an estimated $100 trillion to our gross domestic product.17
The hopeful part is that science is revealing that certain brain functions, such as problem solving, synthesizing big ideas, and innovative thinking, can actually improve with advancing age,18 – 22 but only if we keep these functions fine-tuned. You can play a role in slowing the rate of deterioration of many cognitive brain functions—such as difficulty with new learning brought about by lack of confidence and practice—regardless of your age.
What brain value are you willing to lose this year? Or will you take the necessary steps to experience brain gain? Become a master of your own cognitive destiny. Increase your productivity, enhance your success, maximize your potential, and boost your bottom line. Don't overthink it—there is no downside to thinking more efficiently, more clearly, and smarter.
For additional tools and tips visitwww.makeyourbrainsmarter.com .