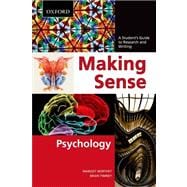 Summary
The Making Senseseries includes six concise, readable guides to research and writing for use by students at all levels of undergraduate studies. Designed especially for students studying psychology, this volume outlines general principles of style, grammar, and punctuation while also covering issues such as how to conduct academic research in psychological studies; how to present data; how to write essays, research papers, and lab reports; how to document sources; and how to give an oral presentation.
Author Biography

Margot Northey, a specialist in communication, is the former dean of the School of Business at Queen's University in Canada.

Brian Timney is the Dean of the Faculty of Social Science and Professor of Psychology and Neuroscience at the University of Western Ontario. Born in England, with an undergraduate degree from the University of Edinburgh and a PhD from Brandeis University, he completed his post-doctoral fellowships at Queen's University and Dalhousie University, before moving to Western in 1978 where he's been ever since. His primary area of research is Visual Neuroscience, having worked on visual development and on the visual capacities of various animals including bees, cats, meerkats, horses, and camels.

Table of Contents

Acknowledgements
Preface
1. Communicating in Psychology
2. Ethical Issues in Research and Writing
3. Electronic Resources
4. Information Gathering
5. Writing an Essay or Research Paper
6. Writing a Lab Report
7. Presentation of Data
8. Research Proposals and Honors Theses
9. Giving a Seminar or Oral Presentation
10. APA Editorial Style and Documentation
11. Writing with Style
12. Common Errors in Grammar and Usage
13. Punctuation
Glossary: Key Terms and Abbreviations in Psychology
Appendix A: Catchlist of Misused Words and Phrases
Appendix B: Writing Examinations
Appendix C: Writing a Resume or Letter of Application
Index