Note: Supplemental materials are not guaranteed with Rental or Used book purchases.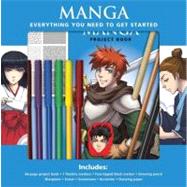 Summary
Manga is the Japanese word for comics. From science fiction and fantasy to romantic dramas to crime stories, it describes any art drawn in the distinctive, fascinating Japanese style. To a novice, this unusual art might seem difficult to create…but with this unique kit, you'll be creating your own characters and chronicles in no time!

Manga includes step-by-step instructions for creating cutting-edge art, along with high-quality materials including colored markers, a drawing pencil, a sharpener, and drawing paper. Using these tools, you'll discover basic techniques for shading, inking, and coloring, as well as tips for portraying a range of body proportions, capturing dynamic action poses, and conveying characters' unique personalities and emotions.

From basic shapes and poses to schoolgirls and ninjas, this kit offers every budding mangaka everything he or she needs to make manga magic!

Author Biography
Jeannie Lee always had an affinity for comics and cartoons—she grew up with Korean comics (man-hwa) as a child, and was a devoted Disney fan. When she first discovered Japanese manga and anime, however, she knew she was hooked for life. Jeannie started drawing at a very young age, and her supportive parents found a talented local contemporary Western artist by the name of Ji Young Oh, who took Jeannie under her wing for over seven years. Jeannie considers Ms. Oh to be the most important artistic influence in her life. Her education also included two years studying traditional character animation at California Institute of the Arts, where Jeannie discovered that while she really loved animation, she preferred to watch it rather than make it herself. However, from this education spawned interests in Flash animation and working with vectors. Jeannie considers herself very fortunate to be able to indulge in many types of artistic expression, and plans to continuously increase her skill set in the years to come. Currently, Jeannie is an Art Lead/Producer at Playdom, and she has worked for Gaia Online, Marvel Entertainment, Inc., TOKYOPOP, and UDON Entertainment. When she isn't working, she indulges in various crafts and hobbies, such as knitting.