Note: Supplemental materials are not guaranteed with Rental or Used book purchases.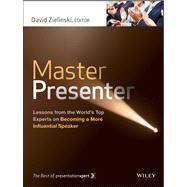 Master Presenter Lessons from the World's Top Experts on Becoming a More Influential Speaker, The Best of PresentationXpert
ISBN13:
9781118485880
by
Zielinski, David
Questions About This Book?
What version or edition is this?
This is the edition with a publication date of 7/1/2013.
What is included with this book?
The New copy of this book will include any supplemental materials advertised. Please check the title of the book to determine if it should include any CDs, lab manuals, study guides, etc.
Summary
A reader-friendly collection of the best tips, tactics and lessons learned from the world's top presentation coaches on becoming a more influential, tech-savvy presenter. Eminently practical, the book offers advice crafted only for the real world, where time-starved businesspeople often have little time to design slides or rehearse presentations, have yet to discover many of the little used-but-valuable features of PowerPoint that can save time or enhance slide design and still adhere to "urban myths" of the presentations field. The book will also be among the first titles to offer offering practical advice on how to use mobile devices for greatest presentation impact, how to use design software other than PowerPoint; how to apply social media tools like Twitter to aid in delivering presentation messages; and how to use webconferencing not just to reduce travel costs, but to deliver more effective informational, training or motivational presentations across geographies. Part 1: Planning, Creating and Visualizing Presentations Chapter 1: The Presentation Blueprint: Groundwork for Success Chapter 2: Shaping Audience-Centric Messages: Achieving Balance and Flow Chapter 3: Perfect Practice: How to Maximize Your Rehearsal Time Chapter 4: Making Anxiety Your Ally Part II: Mastering Presentation Technology Chapter 5: Best Practices in Using PowerPoint, Keynote and Other Design Software Chapter 6: The iPad and Beyond: Using Mobile Devices to Present Chapter 7: Webconferencing, Webcasting and Podcasting Chapter 8: Using Video and Sound Part III: The Art of Moving Audiences to Action Chapter 9: How Influence Really Happens Chapter 10: Winning the Pitch: Delivering Memorable Sales Presentations Chapter 11: Even You, Mr. Ordinary Presenter, Can Become a Great Storyteller Chapter 12 : Tuning the Instruments: Using Your Voice, Hands and Body for Greater Impact Chapter 13: Disaster Recovery: What to Do When Things Go Wrong
Author Biography
David Zielinski is editor of PresentationXpert, (www.presentationxpert.com), the premier monthly e-newsletter dedicated to sharing the best, most relevant information about designing and delivering face-to-face and online presentations.
Table of Contents
Foreword
Acknowledgements
Introduction
Chapter 1: Creating the Presentation Blueprint
Presenting with Impact: How to Craft a Memorable Message, by Dianna Booher
Six Tips for Creating Powerful Presentation Scripts, by Tom Mucciolo
Use Unexpected Openers to Capture Audience Interest, by David Green
Shining a light on Urban Myths of Presenting, by Jim Endicott
Three Steps to Help Your Data Stand Out and Be Remembered, by Mike Parkinson
Seven Tips for Powerful Sit-Down Presentations, by Dianna Booher
Six Big Don'ts for Ending Your Presentation, by Ben Decker
Chapter 2: What's in It for Them? Developing Audience-Centric Messages
How to Give a Presentation the "Steve Jobs Way," by Carmine Gallo
Are Your Key Takeaways a Needle in a Haystack? by Jim Endicott
Change Focus from Your Data to Your Audience, by Dave Paradi
Use Menus to Create Audience-Centered Presentations, by Ellen Finkelstein
How to Use Analogies in Presentations, by Scott Schwertly
Leadership Communication Asks More of Us, by Jim Endicott
Good Audience Interactivity as Part of Your Style, by Dianna Booher
Calculating the Real Cost of Poor Presentations, by Dave Paradi
Chapter 3: Perfect Practice: Maximizing Your Rehearsal Time
Eight Guidelines for Perfect Presentation Practice (Marjorie Brody)
Seven Secrets to Psych Yourself Out of Pre-Presentation Jitters, by Dianna Booher
Mark Twain's Fingernails . . . and Other Potent Memory Devices, by Jerry Weissman
Repetitions and Reputations, by Jim Endicott
Secrets to Practicing Your Presentation When You Have No Time, by Michelle Mazur
Chapter 4: Tapping PowerPoint's Hidden Potential
Cultivating a Healthy Relationship with Your Slides, by Nancy Duarte
PowerPoint Slide Design for the Artistically Challenged, by Ellen Finkelstein
Take the "Three-Word Challenge" to Test Your Bullet-Point Strength, by Rick Altman
Avoid These Sins of Combining Colors in PowerPoint, by Robert Lane
The Lunacy of the Leave Behind, by Rick Altman
Honoring Online Copyright: One Picture Can Be Worth 1,000 Headaches, by John Billington
How to Create a Slide Master (or Two) in PowerPoint, by Ellen Finkelstein
The Most Valuable PowerPoint Feature You're Not Using, by Rick Altman
Stand Out by Using Visual Alternatives to PowerPoint, by Angela DeFinis
Chapter 5: Graphics Design for the Non-Graphics Professional
Create Simpler, More Easily Understood Charts and Graphs, by Geetesh Bajay
Four Ways to Transform Disorganized Graphics into Influential Art, by Mike Parkinson
How to Insert SmartArt Graphics in PowerPoint, by Geetesh Bajay
How to Use Excel More Effectively in PowerPoint, by Dave Paradi
Working with Graphics Created Outside of PowerPoint, by Dave Paradi
Presenting Financial Data: Put Your Numbers on a Diet, by Dave Paradi
Chapter 6: Mastering New Presentation Media: Webinars, Mobile Presenting, and Social Media
Presenting with Your iPad: First Questions First, by Geetesh Bajaj
Struggling with Web-Based Presentations? Try These Tips, by Dave Paradi
Is Twitter a Presenter's Dream Come True . . . or a Nightmare? by Cliff Atkinson
Consider Alternatives to Using Video in Web Presentations, by Dave Paradi
How to Post Your Presentation as a Video to YouTube, by Ellen Finkelstein
Chapter 7: The Art of Persuasion: How Influence Really Happens During Presentations
Facts Just Aren't What They Used to Be, by Jim Endicott
Presenting to Persuade, by Dianna Booher
Hallways of Influence: Mastering the Art of Impromptu Presentations, by Patricia Fripp
Audience Trust: It's Yours to Lose, by Greg Owen-Boger
Chapter 8: Winning the Pitch: Delivering Effective Sales Presentations
The Twelve Biggest Mistakes Salespeople Make in Presentations, by Patricia Fripp
How to Customize Generic PowerPoint Slides for Sales Prospects, by Dave Paradi
Six Ways to Boost Results from Team Sales Presentations, by Steve Mandel
Getting Proposal Graphics Right the First Time, by Mike Parkinson
Seven Simple Steps to Beat the "Demo Demons," by Jerry Weissman
We Are Programmed to Forget . . . and How It Impacts Sales Demos, by Peter Cohan
Chapter 9: The Power of Story: Honing Your Storytelling Skills
The First Five Slides: Unlocking the Story Buried in Your Presentation, by Cliff Atkinson
Why Some Stories Work and Others Fall Flat, by Doug Stevenson
Presentation Tales: It's About the Story, Not the Storyteller, by Jim Endicott
Chapter 10: Tuning the Speaking Instruments: Body Language, Vocal Techniques, and Eye Contact
Ah, Um, Er . . . How to Eliminate Your Speaking Tics, by Lisa B. Marshall
Three Lessons You Can Learn from Your TV Weatherman, by Jim Endicott
The Power of One-on-One Eye Contact, by T.J. Walker
Use These Vocal Techniques to Set Yourself Apart, by Tom Mucciolo and Leila Jahangiri
Chapter 11: Disaster Recovery: Managing Challenging Presentation Situations
What to Do When You're Losing Your Audience, by Olivia Mitchell
How to Recover When You Lose Your Train of Thought, by Jeremey Donovan
Ten Dynamics in Dealing with Disruptive Audience Members, by Dianna Booher
About the Editor
Index