Note: Supplemental materials are not guaranteed with Rental or Used book purchases.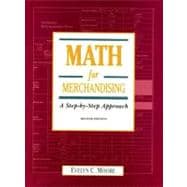 Math for Merchandising: A Step-By-Step Approach
ISBN13:
9780130182029
by
Moore, Evelyn C.
Summary
For Merchandising Math and Buying courses offered by Junior Colleges and Vocational Schools. This book provides a practical application of the skills necessary to a merchandising career. Beginning with the fundamentals of working with numbers, it moves into the skills needed to communicate words and thoughts into calculators or computers as a means of translating business needs into clear mathematical answers.
Table of Contents
PART I Introduction
1
(36)

| | |
| --- | --- |
| | Using Your Workbook and Calculator |

3
(6)
3
(1)
4
(5)

| | |
| --- | --- |
| | Common Operating Keys for a Basic Calculator |

4
(1)
5
(1)
5
(1)
5
(4)
9
(28)
9
(1)
10
(7)
10
(2)
12
(2)
14
(1)
15
(2)
17
(8)

| | |
| --- | --- |
| | Applying Percents to Merchandising Concepts |

25
(9)

| | |
| --- | --- |
| | Using Percents to Analyze, Compare, and Set Direction |

34
(3)
PART II Purchasing Concepts
37
(32)

| | |
| --- | --- |
| | Purchasing Product: The Terms, Conditions, and Forms Used for Buying Merchandise |

39
(30)
40
(1)
40
(1)
40
(1)
40
(1)
40
(13)
42
(4)
46
(2)
48
(5)
53
(16)
56
(57)
57
(4)
61
(8)
PART III Pricing and Repricing Merchandise
69
(66)

| | |
| --- | --- |
| | Individual Markup and Initial Markup |

71
(30)
71
(30)

| | |
| --- | --- |
| | Formulas and T-Chart Grids |

75
(1)

| | |
| --- | --- |
| | Finding the Specific Dollar Amounts |

76
(2)
78
(2)

| | |
| --- | --- |
| | Finding Total Dollar Amounts |

80
(21)

| | |
| --- | --- |
| | Average, Cumulative, and Maintained Markup |

101
(20)
102
(19)
107
(3)
110
(11)
121
(14)
122
(1)

| | |
| --- | --- |
| | Promotional Discount Markdown Reductions |

123
(1)
123
(7)
130
(5)
PART IV Merchandise Planning
135
(92)

| | |
| --- | --- |
| | Elements of a Six-Month Merchandising Plan |

137
(10)

| | |
| --- | --- |
| | Purpose of a Six-Month Plan |

137
(3)

| | |
| --- | --- |
| | Elements of a Six-Month Plan |

140
(7)

| | |
| --- | --- |
| | Analyzing Last Year's Merchandising Plan |

147
(18)
147
(1)
148
(1)
148
(1)

| | |
| --- | --- |
| | Evaluate Purchases at Retail |

149
(1)

| | |
| --- | --- |
| | Evaluate Purchases at Cost |

149
(1)

| | |
| --- | --- |
| | Measure Average Stock and Turnover |

149
(1)
150
(15)

| | |
| --- | --- |
| | Analysis and Interpretation |

152
(13)

| | |
| --- | --- |
| | Changing a Six-Month Plan Using Historical Data |

165
(18)

| | |
| --- | --- |
| | Analyze the Given Information |

165
(1)
166
(1)

| | |
| --- | --- |
| | Figure Out the Stock Data |

166
(1)
166
(1)

| | |
| --- | --- |
| | Determine Planned Purchases |

167
(1)

| | |
| --- | --- |
| | Measure Average Stock and Turnover |

167
(1)

| | |
| --- | --- |
| | Changing a Six-Month Plan |

168
(1)

| | |
| --- | --- |
| | Analyze the Given Information |

168
(1)
169
(1)

| | |
| --- | --- |
| | Figure Out the Stock Data |

169
(2)
171
(1)

| | |
| --- | --- |
| | Determine Planned Purchases |

171
(1)

| | |
| --- | --- |
| | Measure Average Stock and Turnover |

172
(11)

| | |
| --- | --- |
| | Developing New Six-Month Plans |

183
(20)

| | |
| --- | --- |
| | Analyze the Given Information |

183
(1)
184
(1)

| | |
| --- | --- |
| | Figure Out the Stock Data |

184
(1)
185
(1)
186
(1)

| | |
| --- | --- |
| | Developing a Six-Month Plan |

186
(1)

| | |
| --- | --- |
| | Analyze the Given Information |

186
(1)
187
(1)

| | |
| --- | --- |
| | Figure Out the Stock Data |

187
(1)
188
(1)

| | |
| --- | --- |
| | Plan Monthly Purchases at Retail and Cost |

189
(14)
203
(6)
203
(1)
204
(5)
209
(18)

| | |
| --- | --- |
| | Building a Model Stock Through Classification Planning |

211
(16)

| | |
| --- | --- |
| | First Steps in Building a Model Stock Through Classification Planning |

211
(1)

| | |
| --- | --- |
| | Next Steps in Building a Model Stock Through Classification Planning |

211
(1)

| | |
| --- | --- |
| | Elements of a Typical Classification Plan |

212
(1)
212
(15)
PART V Profitability
227
(30)
229
(22)

| | |
| --- | --- |
| | Purpose of an Operating Statement |

229
(3)

| | |
| --- | --- |
| | Format of Operating Statements |

232
(6)
238
(13)
251
(6)
PART VI Corporate Buying and Planning
257
(26)
259
(24)
259
(4)
263
(5)
268
(3)
269
(2)

| | |
| --- | --- |
| | Costing and Pricing: Wholesale versus Private Label |

271
(12)
Workbook Aids: Formulas and Answers
283
(4)
285
(2)
285
(1)
285
(1)

| | |
| --- | --- |
| | Analyzing and Evaluating Six-Month Merchandising Plans |

286
(1)

| | |
| --- | --- |
| | Developing a Six-Month Merchandising Plan |

286
(1)
286
(1)
286
(1)
Answers
287
(44)
Index
331