Note: Supplemental materials are not guaranteed with Rental or Used book purchases.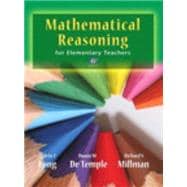 Questions About This Book?
What version or edition is this?
This is the 6th edition with a publication date of 4/20/2011.
What is included with this book?
The Used copy of this book is not guaranteed to include any supplemental materials. Typically, only the book itself is included.
Summary
This package consists of the textbook plus an access kit for MyMathLab/MyStatLab.     Mathematical Reasoning for Elementary Teacherspresents the mathematical knowledge needed for teaching, with an emphasis on whyfuture teachers are learning the content as well as when and howthey will use it in the classroom.   The Sixth Editionhas been streamlined throughout to make it easier to focus on the important concepts. The authors continue to make the course relevant for future teachers by adding new features such as questions connected to School Book Pages; enhancing hallmark features such as Responding to Students exercises; and making the text a better study tool through the redesigned Chapter Summaries. For this edition, MyMathLab has been expanded to include new exercises, the integration of IMAP videos, and additional resources to make it easier to assign homework and provide resources to students.   To see available supplements that will enliven your course with activities, classroom videos, and professional development for future teachers, visitwww.pearsonhighered.com/teachingmath   MyMathLabprovides a wide range of homework, tutorial, and assessment tools that make it easy to manage your course online.
Author Biography
Calvin Long received his B.S. in Mathematics from the University of Idaho. Following M.S. and Ph.D. degrees in Mathematics from the University of Oregon he worked briefly as an analyst for the National Security Agency and then joined the faculty at Washington State University. His teaching ran the gamut from elementary algebra through graduate courses and included frequently teaching the content courses for prospective elementary school teachers.
His other professional activities include serving on numerous committees of the National Council of Teachers of Mathematics and the Mathematical Association of America, and holding various leadership positions in those organizations. Professor Long has also been heavily engaged in directing and instructing in-service workshops and institutes for teachers at all levels, has given over one hundred presentations at national and regional meetings of NCTM and its affiliated groups, and has presented invited lectures on mathematics education abroad.
Professor Long has co-authored two books and is the sole author of a text in number theory. In addition, he has authored over ninety articles on mathematics and mathematics education, and also served as a frequent reviewer for both The Arithmetic Teacher and The Mathematics Teacher. In 1986, he received the Faculty Excellence Award in Teaching from Washington State University and, in 1991, he received a Certificate for Meritorious Service to the Mathematical Association of America.
Aside from his professional activities, Dr. Long enjoys listening to, singing, and directing classical music, reading, fly fishing, camping, and back packing.
Duane DeTemple received his B.S. with majors in Applied Science and Mathematics from Portland State College. Following his Ph.D. in Mathematics from Stanford University, he joined the faculty at Washington State University, where he is now Professor of Mathematics. He has been extensively involved with teacher preparation and professional development at both the elementary and secondary levels. Professor DeTemple has been a frequent consultant to projects sponsored by the Washington State Office of the Superintendent of Public Instruction, the Higher Education Coordinating Board, and other boards and agencies.
Dr. DeTemple has co-authored three other books and over 80 articles on mathematics or mathematics materials for the classroom. He is a member of the Washington State University President's Teaching Academy, and in 2007 was the recipient of the WSU Sahlin Faculty Excellence Award for Instruction and the Distinguished Teaching Award of the Pacific Northwest Section of the Mathematical Association of America.
In addition to mathematics teaching and research, Duane enjoys reading, listening to and playing music, hiking, biking, canoeing, traveling, and playing tennis.
Richard Millman received a B.S. from the Massachusetts Institute of Technology and a Ph.D. from Cornell University in Mathematics. He is the Director of the Center for Education Integrating Science, Mathematics, and Computing (CEISMC) at the Georgia Institute of Technology, a partnership uniting the Georgia Institute of Technology with educational groups, schools, corporations, and opinion leaders throughout the state of Georgia. He is also Principal Investigator and Project Director at Georgia Tech of ALGEBRA CUBED, a grant from the National Science Foundation to improve algebra education in rural Kentucky.
Dr. Millman has co-authored three books in mathematics, co-edited two others, and received nine peer reviewed grants. He has published over 40 articles about mathematics or mathematics education and has taught a wide variety of mathematics and mathematics education courses throughout the undergraduate and graduate curriculum, including those for preservice teachers. He received, with a former student, an Excel Prize for Expository Writing for an article in The Mathematics Teacher.
Rich enjoys traveling, writing about mathematics, losing golf balls, listening to music, and going to plays and movies. He also loves and is enormously proud of his grandchildren with whom he enjoys discussing the conceptual basis of mathematics, among other topics.
Table of Contents
1. Thinking Critically
1.1 An Introduction to Problem Solving
1.2 Pólya's Problem-Solving Principles
1.3 More Problem-Solving Strategies
1.4 Algebra as a Problem-Solving Strategy
1.5 Additional Problem-Solving Strategies
1.6 Reasoning Mathematically
2. Sets and Whole Numbers
2.1 Sets and Operations on Sets
2.2 Sets, Counting, and the Whole Numbers
2.3 Addition and Subtraction of Whole Numbers
2.4 Multiplication and Division of Whole Numbers
3. Numeration and Computation
3.1 Numeration Systems Past and Present
3.2 Nondecimal Positional Systems
3.3 Algorithms for Adding and Subtracting Whole Numbers
3.4 Algorithms for Multiplication and Division of Whole Numbers
3.5 Mental Arithmetic and Estimation
4. Number Theory
4.1 Divisibility of Natural Numbers
4.2 Tests for Divisibility
4.3 Greatest Common Divisors and Least Common Multiples
5. Integers
5.1 Representations of Integers
5.2 Addition and Subtraction of Integers
5.3 Multiplication and Division of Integers
6. Fractions and Rational Numbers
6.1 The Basic Concepts of Fractions and Rational Numbers
6.2 Addition and Subtraction of Fractions
6.3 Multiplication and Division of Fractions
6.4 The Rational Number System
7. Decimals, Real Numbers, and Proportional Reasoning
7.1 Decimals and Real Numbers
7.2 Computations with Decimals
7.3 Proportional Reasoning
7.4 Percent
8. Algebraic Reasoning and Connections with Geometry
8.1 Algebraic Expressions, Functions, and Equations
8.2 Graphing Points, Lines, and Elementary Functions
8.3 Connections Between Algebra and Geometry
9. Geometric Figures
9.1 Figures in the Plane
9.2 Curves and Polygons in the Plane
9.3 Figures in Space
9.4 Networks
10. Measurement: Length, Area, and Volume
10.1 The Measurement Process
10.2 Area and Perimeter
10.3 The Pythagorean Theorem
10.4 Surface Area and Volume
11. Transformations, Symmetries, and Tilings
11.1 Rigid Motions and Similarity Transformations
11.2 Patterns and Symmetries
11.3 Tilings and Escher-like Designs
12. Congruence, Constructions, and Similarity
12.1 Congruent Triangles
12.2 Constructing Geometric Figures
12.3 Similar Triangles
13. Statistics: The Interpretation of Data
13.1 Organizing and Representing Data
13.2 Measuring the Center and Variation of Data
13.3 Statistical Inference
14. Probability
14.1 Experimental Probability
14.2 Principles of Counting
14.3 Permutations and Combinations
14.4 Theoretical Probability
Appendices
A. Manipulatives in the Mathematics Classroom
B. Getting the Most out of Your Calculator
C. A Brief Guide to the Geometer's Sketchpad
D. Resources