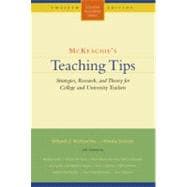 McKeachie's Teaching Tips : Strategies, Research, and Theory for College and University Teachers
by
McKeachie, Wilbert James
List Price: $73.33
Usually Ships in 2-3 Business Days
Currently Available, Usually Ships in 24-48 Hours

More New and Used
from Private Sellers
Questions About This Book?
What version or edition is this?
This is the 12th edition with a publication date of 6/27/2005.
What is included with this book?
The New copy of this book will include any supplemental materials advertised. Please check the title of the book to determine if it should include any CDs, lab manuals, study guides, etc.
The Used copy of this book is not guaranteed to inclue any supplemental materials. Typically, only the book itself is included.
Summary
McKeachie's Teaching Tipsis a handbook designed to provide helpful strategies for dealing with both the everyday problems of teaching at the university level, and those that pop up in trying to maximize learning for every student. The suggested strategies are supported by research and are grounded in enough theory to enable teachers to adapt them to their own situations. The author does not suggest a "set of recipes" to be followed mechanically, but gives teachers the tools they need to deal with the ever changing dynamics of teaching and learning. Improved Organization and consolidation of chapters allows the text to maintain its handy pocket-size length, while incorporating new information. New!Guest-Authored chapters offer advice and instruction from renowned educators, including Peter Elbow and Mary Deane Sorcinelli on writing, Jane Halonen on laboratory instruction (Chapter 20), and Marilla Svinicki on being a teacher (Chapter 27). Updated and Improved Technology Coverage, (Chapter 18) "Technology and Teaching" includes coverage of current issues such as: the use of PowerPoint slides, plagiarism, and effective Web research. Additional and relevant technology coverage will be interspersed in other chapters where appropriate. Expanded coverage of Experimental Learning (Chapter 21) and Updated Coverage of Hot Topics in higher education reflects recent policy shifts, current terminology, and changes in the field. Strengthened Coverage of Diversity in Chapter 13, written by Richard M. Suinn. Additional coverage of diversity is integrated throughout the text to include gender issues and learners with special needs to help instructors who need more background and experience with these issues. Increased Coverage of Standards and Accountability issues throughout the text.
Table of Contents
Preface
xvii
A Special Preface for Teaching Assistants and Graduate Student Instructors
xxi
Part 1 Getting Started
1
(28)
2
(7)

| | |
| --- | --- |
| | The College or University Culture |

3
(1)

| | |
| --- | --- |
| | Research Versus Teaching? |

4
(1)
5
(1)
5
(4)

| | |
| --- | --- |
| | CHAPTER 2 Countdown for Course Preparation |

9
(12)

| | |
| --- | --- |
| | Time: Three Months Before the First Class |

10
(5)

| | |
| --- | --- |
| | Write Objectives, Goals, or Outcomes |

10
(1)
11
(2)

| | |
| --- | --- |
| | Order Textbooks, Lab Supplies, or Other Resources Students May Need |

13
(1)

| | |
| --- | --- |
| | Choose a Textbook or Other Reading Materials |

14
(1)

| | |
| --- | --- |
| | Time: Two Months Before the First Class |

15
(2)

| | |
| --- | --- |
| | Begin Drafting a Syllabus for the Course |

15
(2)

| | |
| --- | --- |
| | Time: One Month Before the First Class |

17
(2)

| | |
| --- | --- |
| | Begin Preparing Lesson Plans |

17
(1)

| | |
| --- | --- |
| | Plan for Out-of-Class Learning |

18
(1)

| | |
| --- | --- |
| | Choose Appropriate Teaching Methods |

18
(1)

| | |
| --- | --- |
| | Select Appropriate Technology |

19
(1)

| | |
| --- | --- |
| | Time: Two Weeks Before the First Class |

19
(1)
19
(1)
20
(1)

| | |
| --- | --- |
| | Time: One Week Before the First Class |

20
(1)

| | |
| --- | --- |
| | CHAPTER 3 Meeting a Class for the First Time |

21
(8)
22
(1)
22
(2)
24
(1)
25
(1)

| | |
| --- | --- |
| | Testing, Grading, and Fairness |

25
(1)
26
(1)

| | |
| --- | --- |
| | Assessing Prior Knowledge |

26
(1)
27
(1)

| | |
| --- | --- |
| | What About Subject Matter? |

27
(1)
28
(1)
Part 2 Basic Skills for Facilitating Student Learning
29
(110)

| | |
| --- | --- |
| | CHAPTER 4 Reading as Active Learning |

30
(5)
30
(1)

| | |
| --- | --- |
| | How Do You Get Students to Do the Assigned Reading? |

31
(3)

| | |
| --- | --- |
| | Research on Learning from Reading |

32
(1)

| | |
| --- | --- |
| | Teaching Students to Learn More from Reading |

33
(1)
34
(1)

| | |
| --- | --- |
| | CHAPTER 5 Facilitating Discussion: Posing Problems, Listening, Questioning |

35
(22)
36
(1)

| | |
| --- | --- |
| | Problems in Teaching by Discussion |

37
(1)
37
(7)

| | |
| --- | --- |
| | Starting Discussion with a Common Experience |

37
(1)

| | |
| --- | --- |
| | Starting Discussion with a Controversy |

38
(1)

| | |
| --- | --- |
| | Starting Discussion with Questions |

39
(2)

| | |
| --- | --- |
| | Starting Discussion with a Problem or Case |

41
(1)

| | |
| --- | --- |
| | Breaking a Problem into Subproblems |

42
(1)
42
(2)
44
(1)

| | |
| --- | --- |
| | What Can I Do About Nonparticipants? |

45
(4)
48
(1)

| | |
| --- | --- |
| | The Inner Circle or Fishbowl |

48
(1)

| | |
| --- | --- |
| | The Discussion Monopolizer |

49
(1)

| | |
| --- | --- |
| | How Can We Have a Discussion If the Students Haven't Read the Assignment? |

49
(1)

| | |
| --- | --- |
| | Handling Arguments and Emotional Reactions |

50
(3)
51
(1)
52
(1)

| | |
| --- | --- |
| | Teaching Students How to Learn Through Discussion |

53
(1)
54
(1)

| | |
| --- | --- |
| | Taking Minutes or Notes, Summarizing |

54
(1)
55
(1)
55
(2)

| | |
| --- | --- |
| | CHAPTER 6 How to Make Lectures More Effective |

57
(17)

| | |
| --- | --- |
| | Research on the Effectiveness of Lectures |

58
(1)

| | |
| --- | --- |
| | What Are Lectures Good For? |

58
(1)
59
(1)
60
(1)

| | |
| --- | --- |
| | Preparing Your Lecture Notes |

61
(1)
62
(4)
63
(1)
64
(2)

| | |
| --- | --- |
| | How Can Lectures Be Improved? |

66
(2)
67
(1)

| | |
| --- | --- |
| | What Can Be Done to Get Attention? |

67
(1)

| | |
| --- | --- |
| | Teaching Students How to Be Better Listeners |

68
(1)

| | |
| --- | --- |
| | How Do Students Process the Content of a Lecture? |

69
(1)

| | |
| --- | --- |
| | Should Students Take Notes? |

70
(2)

| | |
| --- | --- |
| | How to Get Students Actively Thinking in a Lecture Situation |

72
(1)
72
(1)
73
(1)

| | |
| --- | --- |
| | CHAPTER 7 Assessing, Testing, and Evaluating: Grading Is Not the Most Important Function |

74
(13)

| | |
| --- | --- |
| | Planning Methods of Testing and Assessment |

76
(1)

| | |
| --- | --- |
| | Alternative Testing Models |

77
(2)
77
(1)
78
(1)

| | |
| --- | --- |
| | Other Methods of Assessing Learning |

79
(6)

| | |
| --- | --- |
| | Performance Assessment (Authentic Assessment) |

79
(1)

| | |
| --- | --- |
| | Graphic Representations of Concepts |

80
(2)

| | |
| --- | --- |
| | Journals, Research Papers, and Annotated Bibliographies |

82
(1)
82
(1)
83
(1)
83
(2)
85
(1)
85
(2)

| | |
| --- | --- |
| | CHAPTER 8 Testing: The Details |

87
(18)
87
(1)
88
(6)

| | |
| --- | --- |
| | Choosing the Type of Question |

88
(4)

| | |
| --- | --- |
| | How Many Questions Should You Use? |

92
(2)
94
(1)
94
(9)
94
(4)

| | |
| --- | --- |
| | Helping Yourself Learn from the Test |

98
(1)
98
(3)
101
(1)

| | |
| --- | --- |
| | Dealing with an Aggrieved Student |

102
(1)

| | |
| --- | --- |
| | What Do You Do About the Student Who Missed the Test? |

102
(1)
103
(2)

| | |
| --- | --- |
| | CHAPTER 9 Tests from the Students' Perspective |

105
(8)

| | |
| --- | --- |
| | Reducing Student Frustration and Aggression |

106
(1)

| | |
| --- | --- |
| | Helping Students Become Test-Wise |

107
(4)

| | |
| --- | --- |
| | Taking Multiple-Choice Tests |

107
(1)
108
(1)
109
(1)

| | |
| --- | --- |
| | Helping Students Learn from a Test |

109
(2)
111
(2)

| | |
| --- | --- |
| | CHAPTER 10 What to Do About Cheating |

113
(10)
114
(1)
115
(1)
115
(1)
116
(2)

| | |
| --- | --- |
| | Preventing Plagiarism in the Internet Age |

118
(1)
119
(2)
121
(2)

| | |
| --- | --- |
| | CHAPTER 11 The ABC's of Assigning Grades |

123
(16)

| | |
| --- | --- |
| | Do Grades Provide Information Useful for Decision Making? |

124
(2)
126
(2)
128
(1)
128
(2)
130
(1)

| | |
| --- | --- |
| | Grading on the Curve (Norm-Referenced) vs. Grading Against a Preset Standard (Criterion-Referenced) |

131
(2)

| | |
| --- | --- |
| | What About the Student Who Wants a Grade Changed? |

133
(2)

| | |
| --- | --- |
| | Grades vs. Learning: Some Related Research |

135
(2)
137
(2)
Part 3 Understanding Students
139
(52)

| | |
| --- | --- |
| | CHAPTER 12 Motivation in the College Classroom |

140
(11)

| | |
| --- | --- |
| | By Barbara K. Hofer, Middlebury College |

| | |
| --- | --- |
| | Motivational Theories: An Overview |

141
(6)

| | |
| --- | --- |
| | Autonomy and Self-Determination |

141
(1)

| | |
| --- | --- |
| | Intrinsic and Extrinsic Motivation |

142
(1)
143
(1)

| | |
| --- | --- |
| | Mastery and Performance Goals |

144
(1)
145
(1)

| | |
| --- | --- |
| | Social Goals and Social Motivation |

146
(1)

| | |
| --- | --- |
| | Putting Motivation Theory into Practice |

147
(2)
149
(2)

| | |
| --- | --- |
| | CHAPTER 13 Teaching Culturally Diverse Students |

151
(21)

| | |
| --- | --- |
| | By Richard M. Suinn, Colorado State University |

| | |
| --- | --- |
| | Culture and Communication |

152
(7)
152
(3)
155
(4)
159
(8)

| | |
| --- | --- |
| | Cultural Differences in Motivation |

159
(1)
160
(4)
164
(1)
165
(2)

| | |
| --- | --- |
| | Tailoring Your Teaching Methods |

167
(4)
167
(1)
168
(1)

| | |
| --- | --- |
| | Enhance Performance Measurement |

168
(1)

| | |
| --- | --- |
| | Choose Appropriate Nonverbal Behaviors |

169
(1)
169
(2)
171
(1)

| | |
| --- | --- |
| | CHAPTER 14 Dealing with Student Problems and Problem Students (There's Almost Always at Least One!) |

172
(19)

| | |
| --- | --- |
| | Intellectual/Academic Problems |

173
(5)

| | |
| --- | --- |
| | Aggressive, Challenging Students |

173
(1)

| | |
| --- | --- |
| | Students Who Want the Truth and Students Who Believe that Everything Is Relative |

174
(1)

| | |
| --- | --- |
| | Students Who Are Underprepared for the Course or Struggling |

175
(2)

| | |
| --- | --- |
| | Individualized Teaching and Mentoring |

177
(1)

| | |
| --- | --- |
| | Class Management Problems |

178
(11)

| | |
| --- | --- |
| | Attention Seekers and Students Who Dominate Discussions |

179
(1)
180
(1)

| | |
| --- | --- |
| | Students Who Come to Class Unprepared |

181
(1)

| | |
| --- | --- |
| | The Flatterer, Disciple, Con Man (or Woman) |

182
(1)
183
(1)
184
(1)
184
(2)

| | |
| --- | --- |
| | Discouraged, Ready-to-Give-Up Students |

186
(1)

| | |
| --- | --- |
| | Students with Emotional Reactions to Sensitive Topics |

187
(1)

| | |
| --- | --- |
| | Dealing with Psychological Problems |

188
(1)
188
(1)
189
(2)
Part 4 Adding to Your Repertoire of Skills and Strategies for Facilitating Active Learning
191
(62)

| | |
| --- | --- |
| | CHAPTER 15 How to Enhance Learning by Using High-Stakes and Low-Stakes Writing |

192
(21)

| | |
| --- | --- |
| | By Peter Elbow and Mary Deane Sorcinelli, University of Massachusetts Amherst |

| | |
| --- | --- |
| | A Little Theory: High Stakes and Low Stakes |

192
(1)
193
(3)
193
(1)
193
(2)

| | |
| --- | --- |
| | Handling Low-Stakes Writing |

195
(1)
196
(7)
197
(1)
198
(1)

| | |
| --- | --- |
| | Multiple Papers and Multiple Drafts |

198
(2)
200
(1)

| | |
| --- | --- |
| | Responding to High-Stakes Papers |

201
(2)

| | |
| --- | --- |
| | Middle-Stakes Assignments: Think Pieces |

203
(1)
204
(1)

| | |
| --- | --- |
| | About Correctness: Spelling and Grammar |

205
(1)
206
(2)
207
(1)
208
(1)

| | |
| --- | --- |
| | Preventing-and Handling-Plagiarism |

208
(3)
211
(2)

| | |
| --- | --- |
| | CHAPTER 16 Active Learning: Cooperative, Collaborative, and Peer Learning |

213
(8)

| | |
| --- | --- |
| | Peer Learning and Teaching |

214
(1)
215
(1)
216
(1)

| | |
| --- | --- |
| | Team Learning: Syndicate and Jigsaw |

217
(1)

| | |
| --- | --- |
| | Student Characteristics and Peer Learning |

218
(1)

| | |
| --- | --- |
| | Why Does Peer Learning Work? |

218
(1)
219
(2)

| | |
| --- | --- |
| | CHAPTER 17 Problem-Based Learning: Teaching with Cases, Simulations, and Games |

221
(8)
221
(1)
222
(3)
224
(1)

| | |
| --- | --- |
| | Tips for Teaching with Cases |

224
(1)
225
(2)
227
(2)

| | |
| --- | --- |
| | CHAPTER 18 Technology and Teaching |

229
(24)

| | |
| --- | --- |
| | By Erping Zhu and Matthew Kaplan, University of Michigan |

| | |
| --- | --- |
| | How Will Technology Enhance Teaching and Learning? |

230
(1)

| | |
| --- | --- |
| | What Considerations Go into Teaching with Technology? |

231
(17)
232
(2)
234
(2)
236
(2)
238
(10)

| | |
| --- | --- |
| | What Are the Effects of Technology on Teaching? |

248
(3)
251
(2)
Part 5 Skills for Use in Other Teaching Situations
253
(46)

| | |
| --- | --- |
| | CHAPTER 19 Teaching Large Classes (You Can Still Get Active Learning!) |

254
(12)

| | |
| --- | --- |
| | Facilitating Active Learning |

255
(3)

| | |
| --- | --- |
| | Encouraging Student Writing in Large Classes |

256
(1)

| | |
| --- | --- |
| | Other Ways to Maintain Student Involvement |

257
(1)
258
(1)
259
(4)

| | |
| --- | --- |
| | Giving Tests in Large Classes |

259
(2)

| | |
| --- | --- |
| | Making Outside Reading Assignments |

261
(1)

| | |
| --- | --- |
| | Communicating with Large Classes |

262
(1)

| | |
| --- | --- |
| | Coordinating Multisection Courses |

263
(1)

| | |
| --- | --- |
| | Training and Supervising Teaching Assistants |

264
(1)
265
(1)

| | |
| --- | --- |
| | CHAPTER 20 Laboratory Instruction: Ensuring an Active Learning Experience |

266
(12)

| | |
| --- | --- |
| | By Brian P. Coppola, University of Michigan |

| | |
| --- | --- |
| | Styles of Laboratory Instruction |

267
(5)
268
(1)
268
(1)
269
(1)
270
(2)

| | |
| --- | --- |
| | Studio Instruction Brings Together the Arts and Sciences |

272
(1)

| | |
| --- | --- |
| | Turning Novice Researchers into Practicing Scientists |

273
(2)

| | |
| --- | --- |
| | Link to Cognitive Development |

275
(1)
276
(1)
276
(2)

| | |
| --- | --- |
| | CHAPTER 21 The Teacher's Role in Experiential Learning |

278
(10)

| | |
| --- | --- |
| | By Richard D. Mann, University of Michigan |

| | |
| --- | --- |
| | History of Experiential Learning |

279
(1)
280
(6)
280
(1)

| | |
| --- | --- |
| | The Teacher as Facilitator |

281
(1)
282
(1)
282
(1)

| | |
| --- | --- |
| | The Teacher as Formal Authority: Options for Assessing Field Learning |

283
(2)

| | |
| --- | --- |
| | The Teacher as Socializing Agent |

285
(1)
286
(1)
286
(2)

| | |
| --- | --- |
| | CHAPTER 22 Teaching by Distance Education |

288
(11)

| | |
| --- | --- |
| | By Andrew Northedge, The Open University |

| | |
| --- | --- |
| | Sketching Out the Shape of a Course |

289
(5)

| | |
| --- | --- |
| | Developing a Teaching Narrative |

294
(1)

| | |
| --- | --- |
| | Making the Course Manageable |

295
(1)
296
(3)
Part 6 Teaching for Higher-Level Goals
299
(44)

| | |
| --- | --- |
| | CHAPTER 23 Teaching Students How to Become More Strategic and Self-Regulated Learners |

300
(18)

| | |
| --- | --- |
| | By Claire Ellen Weinstein, University of Texas at Austin |

| | |
| --- | --- |
| | What Are the Characteristics of Strategic Learners? |

301
(1)

| | |
| --- | --- |
| | The Importance of Goals and Self-Reflection |

302
(1)

| | |
| --- | --- |
| | Increasing Students' Self-Awareness |

303
(1)

| | |
| --- | --- |
| | Using Existing Knowledge to Help Learn New Things |

304
(1)

| | |
| --- | --- |
| | Teaching Domain-Specific and Course-Specific Strategies |

305
(4)

| | |
| --- | --- |
| | Methods for Checking Understanding |

309
(2)

| | |
| --- | --- |
| | Knowing How to Learn Is Not Enough-Students Must Also Want to Learn |

311
(1)

| | |
| --- | --- |
| | Putting It All Together-Executive Control Processes in Strategic Learning |

312
(2)

| | |
| --- | --- |
| | What Instructors Can Do to Help Their Students Succeed in Online Lessons and Courses |

314
(2)
316
(2)

| | |
| --- | --- |
| | CHAPTER 24 Teaching Thinking |

318
(7)

| | |
| --- | --- |
| | By Jane S. Halonen, University of West Florida |

| | |
| --- | --- |
| | Setting Goals for Thinking |

320
(2)

| | |
| --- | --- |
| | Improving Thinking Quality |

322
(1)
323
(2)

| | |
| --- | --- |
| | CHAPTER 25 The Ethics of Teaching and the Teaching of Ethics |

325
(18)

| | |
| --- | --- |
| | Responsibilities to Students |

328
(7)

| | |
| --- | --- |
| | To Encourage the Free Pursuit of Learning |

329
(1)

| | |
| --- | --- |
| | To Demonstrate Respect for Students |

330
(1)

| | |
| --- | --- |
| | To Respect Confidentiality |

331
(1)

| | |
| --- | --- |
| | To Model the Best Scholarly and Ethical Standards |

332
(1)

| | |
| --- | --- |
| | To Foster Honest Academic Conduct and to Ensure Fair Evaluation |

332
(1)

| | |
| --- | --- |
| | To Avoid Exploitation, Harassment, or Discrimination |

333
(2)
335
(4)
337
(1)
338
(1)
339
(1)
340
(3)
Part 7 Lifelong Learning for the Teacher
343
(17)

| | |
| --- | --- |
| | CHAPTER 26 Vitality and Growth Throughout Your Teaching Career |

344
(16)

| | |
| --- | --- |
| | How Can You Develop Effective Skills and Strategies? |

346
(1)

| | |
| --- | --- |
| | Looking for New Ideas, New Methods, and Alternative Strategies for Handling Problems |

347
(1)
347
(1)
347
(1)
348
(1)

| | |
| --- | --- |
| | How Can You Get and Use Feedback to Continue to Improve Your Teaching? |

348
(9)

| | |
| --- | --- |
| | Feedback from Student Performance |

348
(1)
349
(1)

| | |
| --- | --- |
| | Feedback from Faculty Development Specialists |

350
(1)
351
(2)

| | |
| --- | --- |
| | Keys to Improvement with Feedback from Students |

353
(2)
355
(1)

| | |
| --- | --- |
| | Classroom Assessment and Research |

356
(1)
357
(1)
357
(3)
References
360
(31)
Index
391