Note: Supplemental materials are not guaranteed with Rental or Used book purchases.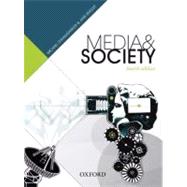 Summary
Media and Society explores the media's influence in our world, providing a comprehensive introduction to the main concepts and theories used in media studies. It analyzes representations of the world found in advertisements, film, television, photographs, language, and music. The fourth edition of this book continues to provide an accessible and student-friendly analysis of the relationship between media and society and includes many examples, definitions, issues, questions, and explanations to aid students' understanding. FEATURES * New chapter on new media and technological developments (Chapter 7) * Increased emphasis on the political nature of media and new media * Updated case studies and "Issues" boxes, which encourage students to reflect further on the issues discussed in each chapter * Margin notes and design to make the text simple for students to navigate
Table of Contents
Figures and Plates
Acknowledgments
Introduction: The 'Media-world'Guided Tour
Getting Ready: The Media and Media Studies
Defining the Media
Media Studies
What Do the Media Do to Us? Media and Society
What's in a Name? Language and the Social Construction of Reality
Mediation and Representation
Texts, Meanings, and Audiences
New Media and Technological Development
Pictures: Semiotic Analysis
Semiology
Reading Images and Advertisements
Model Essay: Semiotic Analysis of an Advertisement
Making Sense: Discounce, Ideology, and Hegemony
Defining Discourse and Ideology
Where are Discourses and Ideologies Found?
Dominant Ideology and Hegemony
Culture Jamming and Counter-hegemony
Stories: Approaches for Narrative Analysis
Genres, Codes, and Conventions
The Language of Film: American Beauty
Narrative Structure and Binary Oppositions
Documentary and Reality TV
Why Stories?
Media and Identity: Representation, Impact, and Influence
Feminism, Postfeminism, and Ideologies of Femininity
Ideologies and Discourses of Masculinity
Ethnicity, Ideology, and the Media
Stars and Celebrities
But They Keep Moving the Posts: Postmodern and Global Perspectives
Postmodernism
Globalisation and Technological Development
Conclusion
Notes
Glossary
Bibliography
Further Reading
Index
Table of Contents provided by Publisher. All Rights Reserved.