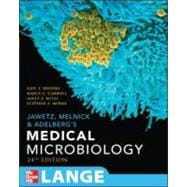 Related Products
Summary
The landmark clinical guide to the role microorganisms play in human health and illnesses -extensively revised and updated Linking fundamental microbiology concepts with the diagnosis and treatment of clinical infections, this one-of-a-kind, portable text delivers an essential overview of the organisms and agents involved in clinical microbiology. In addition to brief descriptions of the organisms, you'll find vital perspectives on pathogenesis, diagnostic laboratory tests, clinical findings, treatment, and epidemiology. The book's purpose is to introduce basic clinical microbiology through the fields of bacteriology, virology, mycology, and parasitology giving you a far-reaching, yet accessible review of the discipline that you can't find anywhere else. Supporting this acclaimed coverage are more than 300 informative illustrations and tables, each designed to clarify and drive home important chapter concepts. New to this Edition: Updates to critical topics throughout, particularly in the areas of hepatitis viruses, the HIV virus, and bacterial virulence factors Refreshed USMLE questions Revised list of microorganisms and viruses featured on the inside of the book's covers
Author Biography
Geoff Brooks, MD, is head of the Clinical Microbiology lab at UCSF.
Janet Butel, PhD, is Distinguished Services Professor and Head, Department of Molecular Virology & Microbiology, Baylor University College of Medicine.
Stephen A. Morse, PhD, Centers for Disease Control and Prevention, Atlanta, GA.
Table of Contents
Preface
The science of microbiology
Cell structure
Classification of bacteria
The growth, survival, & death of microorganisms
Cultivation of microorganisms
Microbial metabolism
Microbial genetics
Immunology
Pathogenesis of bacterial infection
Antimicrobial chemotherapy
Normal microbial flora of the human body
Spore-forming gram-positive bacilli : bacillus & clostridium species
Non-spore-forming gram-positive bacilli : corynebacterium, propionibacterium, listeria, erysipelothrix, actinomycetes, & related pathogens
The staphylococci
The streptococci
Enteric gram-negative rods (enterobacteriaceae)
Pseudomonads, acinetobacters, & uncommon gram-negative bacteria
Vibrios, campylobacters, helicobacter, & associated bacteria
Haemophilus, bordetella, brucella, & francisella
Yersinia & pasteurella
The neisseriae
Infections caused by anaerobic bacteria
Legionellae, bartonella, & unusual bacterial pathogens
Mycobacteria
Spirochetes & other spiral microorganisms
Mycoplasmas & cell wall-defective bacteria
Rickettsia & ehrlichia
Chlamydiae
General properties of viruses
Pathogenesis & control of viral diseases
Parvoviruses
Adenoviruses
Herpesviruses
Poxviruses
Hepatitis viruses
Picornaviruses (enterovirus & rhinovirus groups)
Reoviruses, rotaviruses, & caliciviruses
Arthropod-borne & rodent-borne viral diseases
Orthomyxoviruses (influenza viruses)
Paramyxoviruses & rubella virus
Coronaviruses
Rabies, slow virus infections, & prion diseases
Human cancer viruses
AIDS & lentiviruses
Medical mycology
Medical parasitology
Principles of diagnostic medical microbiology
Cases & clinical correlations
Index
Table of Contents provided by Publisher. All Rights Reserved.