Note: Supplemental materials are not guaranteed with Rental or Used book purchases.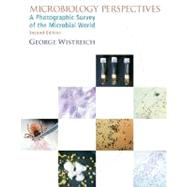 Microbiology Perspectives A Photographic Survey of the Microbial World
ISBN13:
9780132396882
by
Wistreich, George
Questions About This Book?
Why should I rent this book?
Renting is easy, fast, and cheap! Renting from eCampus.com can save you hundreds of dollars compared to the cost of new or used books each semester. At the end of the semester, simply ship the book back to us with a free UPS shipping label! No need to worry about selling it back.
How do rental returns work?
Returning books is as easy as possible. As your rental due date approaches, we will email you several courtesy reminders. When you are ready to return, you can print a free UPS shipping label from our website at any time. Then, just return the book to your UPS driver or any staffed UPS location. You can even use the same box we shipped it in!
What version or edition is this?
This is the 2nd edition with a publication date of 10/6/2006.
What is included with this book?
The New copy of this book will include any supplemental materials advertised. Please check the title of the book to determine if it should include any CDs, lab manuals, study guides, etc.
The Used copy of this book is not guaranteed to include any supplemental materials. Typically, only the book itself is included.
The Rental copy of this book is not guaranteed to include any supplemental materials. You may receive a brand new copy, but typically, only the book itself.
Summary
This extremely readable, well-illustrated, presentation covers a wide range of microorganisms and their activities. It presents photographs and data about organisms that are not normally found in laboratory manuals and often not found in textbooks. Readers learn the characteristics of various types of microorganisms, along with pertinent information about microorganism-caused disease (bacterial, fungal, protozoan, viral, helminthic).Updates and increases coverage of basic laboratory procedures and associated results, the domains of microbal life, immunology, and infectious diseases. Increased emphasis on the features of viruses and prions: discusses the use of selected agents of bioterrorism, and adds coverage on the SARS agent, Ebola and Marburg viruses, and the human metapneumovirus. Features new illustrations throughout that emphasize the variety of microorganisms and their activities, increasing the microbiology perspective.A laboratory supplement for students studying to be nurses, medical assistants, dental assistants, medical technologists. It may also be used in biology majors labs.
Author Biography
George Wistreich is Professor of Microbiology and former Chair of the Department of Life Sciences, East Los Angeles College, Monterey Park, California.
Table of Contents
Preface
xvii
Pronunciation Guide
xix
About the Author
xxi
1
(10)
1
(2)

| | |
| --- | --- |
| | A Brief View of Classification |

3
(1)

| | |
| --- | --- |
| | Eukaryotes and Prokaryotes |

4
(1)
5
(6)
9
(1)
9
(2)

| | |
| --- | --- |
| | Modern Imaging Techniques |

11
(3)

| | |
| --- | --- |
| | Computerized Tomography (CT) Scanning |

11
(1)

| | |
| --- | --- |
| | Magnetic Resonance Imaging (MRI) |

11
(1)
11
(1)
11
(3)

| | |
| --- | --- |
| | Bacteriology---Laboratory Techniques |

14
(34)

| | |
| --- | --- |
| | Bacterial Morphology, Morphological Arrangements, and Staining Techniques |

14
(9)

| | |
| --- | --- |
| | Living Preparations versus Simple Staining |

14
(2)

| | |
| --- | --- |
| | Bacterial Morphology and, Morphological Arrangements |

16
(1)

| | |
| --- | --- |
| | Differential Staining Techniques |

17
(6)

| | |
| --- | --- |
| | Selected Specialized Structures |

23
(1)

| | |
| --- | --- |
| | Basic Cultivation Techniques |

23
(7)
24
(1)

| | |
| --- | --- |
| | Agar Plate, Broth, and Agar Slant Characteristics |

24
(3)
27
(3)

| | |
| --- | --- |
| | Biochemical Activities of Microorganisms |

30
(10)

| | |
| --- | --- |
| | Differential, Selective, and Selective and Differential Media |

30
(1)
31
(2)

| | |
| --- | --- |
| | Extracellular Degradation of Polysaccharides, Proteins, Lipids, and DNA |

33
(1)

| | |
| --- | --- |
| | Carbohydrate Metabolism: An Introduction to Intracellular Metabolism |

34
(2)
36
(3)

| | |
| --- | --- |
| | Oxygen Utilization: Oxidase and Catalase Activities |

39
(1)
40
(1)

| | |
| --- | --- |
| | Differential Test Patterns: The IMViC Test |

41
(1)

| | |
| --- | --- |
| | Microbial Reactions in Multiple-Test Media: Litmus Milk; Triple Sugar Iron Agar; Sulfide, Indole, Motility Medium, and Four-in-One Entero-Screen 4 |

42
(3)

| | |
| --- | --- |
| | Miniaturized and Rapid Microbiological Systems |

45
(3)

| | |
| --- | --- |
| | Bacteriology: A Survey of the Bacteria and Archeae Domains |

480
(62)
48
(1)
48
(1)
48
(1)

| | |
| --- | --- |
| | Aerobic/Microaerophilic Gram-Negative Coccobacilli and Stalked Bacteria |

48
(3)
48
(1)
48
(1)
49
(1)
49
(1)
49
(1)
49
(1)
49
(2)
51
(4)

| | |
| --- | --- |
| | Rickettsia Ehrlichia, and Bartonella |

51
(1)
51
(2)
53
(1)
53
(1)
53
(2)
55
(1)
55
(1)

| | |
| --- | --- |
| | Microaerophilic Gram-Negative Helical Bacteria |

55
(1)
55
(1)

| | |
| --- | --- |
| | Aquaspirillum magnetotacticum |

55
(1)

| | |
| --- | --- |
| | Aerobic, Gram-Negative Sheathed Bacteria |

55
(1)
55
(1)

| | |
| --- | --- |
| | Aerobic/Microaerophilic Gram-Negative Coccobacilli, Cocci, and Spirals |

55
(3)
55
(1)
55
(1)
56
(1)
56
(1)
57
(1)
57
(1)
57
(1)
58
(1)

| | |
| --- | --- |
| | Anoxygenic Phototrophic Gram-Negative Vibroids and Rods |

58
(3)
58
(1)

| | |
| --- | --- |
| | Chromatium and Related Species |

58
(3)

| | |
| --- | --- |
| | Aerobic/Microaerophilic Gram-Negative Rods and Cocci |

61
(2)
61
(1)
61
(1)
61
(1)

| | |
| --- | --- |
| | Moraxella (Branhamella) catarrhalis |

61
(2)
63
(1)
63
(1)
63
(1)

| | |
| --- | --- |
| | Facultatively Anaerobic Gram-Negative Rods |

63t
(12)
63
(1)

| | |
| --- | --- |
| | Calymmatobacterium granulomatis |

63
(2)
65
(1)
65
(1)
65
(1)
65
(1)
65
(2)
67
(1)
67
(1)
67
(2)
69
(1)
69
(1)
69
(1)
69
(1)
69
(1)
69
(2)
71
(1)
71
(2)
73
(1)
73
(1)
73
(1)
73
(2)
75
(1)
75
(1)
75
(1)
75
(1)

| | |
| --- | --- |
| | Aerobic, Motile, Gram-Negative Predatory Curved Rods |

75
(3)
75
(1)

| | |
| --- | --- |
| | Bdellovibrio bacteriovorus |

75
(2)
77
(1)
77
(1)

| | |
| --- | --- |
| | The Epsilon Proteobacteria |

78
(1)

| | |
| --- | --- |
| | Aerobic/Microaerophilic, Motile, Helical/Vibroid, Gram-Negative Bacteria |

78
(1)
78
(1)
78
(1)
78
(2)
79
(1)

| | |
| --- | --- |
| | Low GC, Endospore-Forming Gram-Positive Rods |

80
(4)
80
(2)
82
(1)
82
(1)
82
(1)
82
(1)
82
(2)

| | |
| --- | --- |
| | Low GC, Regular, Non-Spore-Forming Gram-Positive Rods |

84
(1)
84
(1)
84
(1)

| | |
| --- | --- |
| | Low GC, Non-Spore-Forming Gram Positive Cocci |

84
(6)
84
(1)
84
(1)
84
(2)
86
(1)
86
(1)
86
(4)
90
(1)
90
(1)

| | |
| --- | --- |
| | Low GC Cell-Wall-less Bacteria |

90
(1)
90
(1)
90
(1)
90
(1)

| | |
| --- | --- |
| | High GC, Non-Spore-Forming Gram-Positive Rods |

91
(4)
91
(1)
91
(1)
92
(1)

| | |
| --- | --- |
| | Corynebacterium diphtheriae |

92
(1)
92
(3)

| | |
| --- | --- |
| | Mycobacterium tuberculosis complex |

95
(1)

| | |
| --- | --- |
| | Mycobacterium avium-intracellulare (M. avium complex, MAC) |

95
(1)
95
(1)
95
(1)

| | |
| --- | --- |
| | Bacillus of Calmette and Guerin (BCG) |

95
(1)
95
(4)
95
(1)
96
(1)
96
(1)
96
(1)
96
(1)
96
(1)
96
(3)
99
(1)
99
(1)
99
(4)
99
(1)
99
(2)
101
(1)
101
(1)
101
(1)
101
(1)
101
(2)

| | |
| --- | --- |
| | Anaerobic/Facultative Anaerobic, Non-Motile, Gram-Negative Rods |

103
(3)
103
(1)
103
(1)
103
(1)

| | |
| --- | --- |
| | Streptobacillus moniliformis |

103
(3)
106
(2)
106
(1)
106
(1)
106
(1)
106
(2)
108
(2)
108
(1)
108
(1)
108
(1)
108
(1)
108
(1)
108
(1)
108
(1)
108
(1)
108
(2)
110
(28)
110
(5)
110
(4)
114
(1)
115
(1)

| | |
| --- | --- |
| | Culture and Microscopic Techniques |

115
(1)

| | |
| --- | --- |
| | Direct Microscopic Examination |

115
(1)

| | |
| --- | --- |
| | Representative Fungi, Their Distinctive Properties, and Selected Disease States |

116
(1)

| | |
| --- | --- |
| | Macroscopic Views of Fungi |

116
(4)
116
(4)
120
(1)
120
(1)
120
(1)
120
(1)
120
(8)

| | |
| --- | --- |
| | Agents of Superficial and Cutaneous Mycoses (Dermatophytoses) |

120
(4)

| | |
| --- | --- |
| | Agents of Subcutaneous Mycoses |

124
(1)
124
(1)
124
(1)

| | |
| --- | --- |
| | Agents of Systemic Mycoses |

124
(1)
124
(1)
124
(4)
128
(1)

| | |
| --- | --- |
| | Agents of Opportunistic Mycoses |

128
(10)
131
(1)
132
(2)

| | |
| --- | --- |
| | Filobasidiella (Cryptococcus) neoformans |

134
(1)
134
(1)
134
(4)

| | |
| --- | --- |
| | Algology (Protists---The Algae) |

138
(6)

| | |
| --- | --- |
| | Properties and Distribution |

138
(2)

| | |
| --- | --- |
| | Representative Algae and Their Distinctive Properties |

140
(1)

| | |
| --- | --- |
| | Chlorophyta (Green Algae) |

140
(1)

| | |
| --- | --- |
| | Euglenophyta (Euglenoids) |

140
(1)

| | |
| --- | --- |
| | Chrysophyta (Golden Brown Algae and Diatoms) |

140
(1)
140
(1)

| | |
| --- | --- |
| | Pyrrophyta (Dinoflagellates) |

140
(1)
140
(3)
143
(1)

| | |
| --- | --- |
| | Protozoology (Protists---The Protozoa) |

144
(13)
144
(1)
145
(1)
145
(1)

| | |
| --- | --- |
| | Representative Protozoa, Their Distinctive Properties, and Selected Disease States |

145
(1)
145
(4)
145
(1)
145
(2)
147
(1)
147
(1)
147
(1)
147
(2)
149
(1)

| | |
| --- | --- |
| | Trypanosoma brucei rhodesiense T. b. gambiense |

149
(1)
149
(1)
149
(3)
152
(1)
152
(3)
152
(1)
152
(3)
155
(1)
155
(1)
155
(1)
155
(2)
157
(25)

| | |
| --- | --- |
| | Viruses and Their Effects |

157
(2)
157
(2)

| | |
| --- | --- |
| | The Introduction of Electron Microscopy---The History of a Great Invention |

159
(9)

| | |
| --- | --- |
| | Basic Structure of Viruses |

159
(3)
162
(1)
162
(1)
162
(3)
165
(1)
165
(1)
165
(1)

| | |
| --- | --- |
| | Features of Generalized Infections Accompanied with a Rash |

165
(1)

| | |
| --- | --- |
| | Viruses as Biological Weapons |

165
(3)

| | |
| --- | --- |
| | Representative Viruses, Their Distinctive Properties, and Selected Diseases |

168
(1)
168
(4)
168
(1)
168
(1)
168
(1)
169
(2)
171
(1)
171
(1)
171
(1)
171
(1)
171
(1)
172
(10)
172
(1)
172
(1)
172
(2)
174
(1)
174
(1)
175
(1)
175
(1)

| | |
| --- | --- |
| | Varicella-zoster Virus (Varicellovirus) |

175
(1)
175
(2)
177
(1)
177
(1)
177
(1)
177
(3)
180
(1)
180
(1)

| | |
| --- | --- |
| | Molluscum Contagiosum Virus |

180
(1)
180
(1)

| | |
| --- | --- |
| | Mimivirus --- An Unusual Find |

180
(2)
182
(13)
182
(13)

| | |
| --- | --- |
| | Representative Helminths, Their Distinctive Properties, and Selected Diseases |

184
(1)
184
(1)
184
(1)
184
(1)
184
(1)
184
(2)
186
(1)

| | |
| --- | --- |
| | Ancylostoma duodenale and Necator americanus |

186
(1)
186
(1)
186
(1)
186
(1)
186
(3)

| | |
| --- | --- |
| | Strongyloides stercoralis |

189
(1)
189
(1)
189
(1)
189
(1)
189
(1)

| | |
| --- | --- |
| | Clonorchis (Opisthorchis) sinensis |

189
(2)
191
(1)
191
(1)
191
(3)
194
(1)
195
(3)

| | |
| --- | --- |
| | Properties Relation to Disease |

195
(3)
198
(13)
198
(2)

| | |
| --- | --- |
| | Selected Immune System Components |

200
(2)
200
(1)
200
(1)

| | |
| --- | --- |
| | B Lymphocytes and Plasma Cells |

200
(2)

| | |
| --- | --- |
| | The Thymus Gland and Other Selected Cellular Immune System Factors |

202
(1)

| | |
| --- | --- |
| | A Brief View of Immune Responses |

202
(2)
204
(6)
210
(1)
210
(1)
211
(9)

| | |
| --- | --- |
| | Infectious Diseases and Disease Agents Affecting the Skin, Nails, and Hair (Integumentary System) |

212
(1)

| | |
| --- | --- |
| | Infectious Diseases and Disease Agents Affecting the Cardiovascular System |

213
(1)

| | |
| --- | --- |
| | Infectious Diseases and Disease Agents Affecting the Lymphatic System |

214
(1)

| | |
| --- | --- |
| | Infectious Diseases and Disease Agents Affecting the Nervous System |

215
(1)

| | |
| --- | --- |
| | Infectious Diseases and Disease Agents Affecting the Respiratory System |

216
(1)

| | |
| --- | --- |
| | Infectious Diseases and Disease Agents Affecting the Digestive System |

217
(1)

| | |
| --- | --- |
| | Infectious Diseases and Disease Agents Affecting the Urinary System |

218
(1)

| | |
| --- | --- |
| | Infectious Diseases and Disease Agents Affecting the Reproductive System |

219
(1)
Glossary
220
(5)
Index
225