Note: Supplemental materials are not guaranteed with Rental or Used book purchases.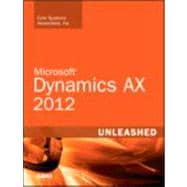 Summary
Microsoft Dynamics AX 2012 isn't just the most eagerly-awaited release of today's fastest growing ERP system: it will contain more than twice the features of previous versions. In Microsoft® Dynamics AX 2012 Unleashed, one of the world's leading Dynamics AX consulting firms present start-to-finish guidance for planning, customizing, deploying, integrating, managing, and securing it. Drawing on their experience implementing Microsoft Dynamics in scores of enterprises, they present a comprehensive reference with tutorial examples throughout. The authors offer thorough and modular coverage of both the business and technical aspects of Dynamics AX 2012, including all key functional capabilities and today's best practices for deployment and administration. This book reflects deep inside knowledge drawn from close relationships with Microsoft's Dynamics AX development team. Its farreaching coverage includes administration, integration, reporting, customization, and programming, and shows how to use Dynamics AX in any size of organization for any type of business.
Author Biography
Ivan Cole is President and Founder of Cole Systems, has 20+ years experience deploying innovative solutions for clients in industries ranging from healthcare to e-commerce to manufacturing. He serves on the Microsoft Dynamics AX Product Advisory Councils, Microsoft's Project Management and Accounting Partner Advisory Board, and the FRx Reporting and Analytics Advisory Board. Dave Weiner (NYC) leads Cole Systems Dynamics AX Division, directing strategy, business development, and support. Since 2001, he has consulted on and managed over 30 Dynamics implementations. He is a certified AX Master of Application and PMP project manager.
Table of Contents
Part 1: Introduction
1. What is Dynamics AX
2. Overall Navigation
Part II: Functional
3. New Functional Features in Dynamics AX
4. Financials
5. Sales and Purchase Order Processing
6. Inventory Management
7. Warehouse Management
8. Production/Manufacturing Execution
9. Projects
10. Service
11. Public Sector and Not-for-profit
12. Case Management
13. Human Resources
14. Expense Management
15. Compliance
16. Enterprise Portal
17. Administration
18. Certified for Microsoft Dynamics (CfMD)
Part III: Technical
19. New Technical Features in Dynamics AX
20. Installation
21. Models and the SQL Server Repository
22. Upgrading from a Previous Version
23. X++ (Programming)
24. SSRS/SSAS Reporting
25. Security
26. Workflow
27. Integrations (AIF)
28. Enterprise Portal
29. Performance and Maintenance