Note: Supplemental materials are not guaranteed with Rental or Used book purchases.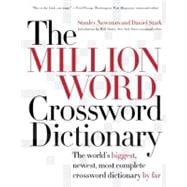 The Million Word Crossword Dictionary
ISBN13:
9780060517571
by
Newman, Stanley
HarperCollins Publications
Summary
With more than 1,000,000 answers, this volume contains more than twice as many answers as any other crossword dictionary. More important, it is the first crossword dictionary ever to comprehensively cover the clues and answers that actually appear in today's most popular crosswords, including contemporary slang, phrases, and brand names. Meticulously compiled by two crossword professionals with a combined thirty years in the field, and based on a massive analysis of current crosswords, there has never been a crossword dictionary with the breadth, depth, and currency of this one. From Jim Carrey to Sister Carrie, Homer Simpson to Homer's Iliad, the wide-ranging entries include 500,000+ synonyms, 3,000+ literary works, 5,000+ films, 20,000+ famous people from all fields, and more than 100,000 fill-in-the-blank clues so popular in today's crosswords. Featuring an introduction by New York Times crossword editor Will Shortz, The Million Word Crossword Dictionary makes every other crossword dictionary obsolete.
Excerpts
The Million Word Crossword Dictionary
A
Aalborg: 4 port
locale: 7 Denmark, Jutland
Aaliyah
last name: Haughton
song: At Your Best (1994)
Back & Forth (1994)
The One I Gave My Heart to (1997)
Try Again (2000)
Aalto: 5 Alvar
The Million Word Crossword Dictionary
. Copyright © by Stanley Newman. Reprinted by permission of HarperCollins Publishers, Inc. All rights reserved. Available now wherever books are sold.
---

Excerpted from The Million Word Crossword Dictionary by Stanley Newman, Daniel Stark
All rights reserved by the original copyright owners. Excerpts are provided for display purposes only and may not be reproduced, reprinted or distributed without the written permission of the publisher.