Note: Supplemental materials are not guaranteed with Rental or Used book purchases.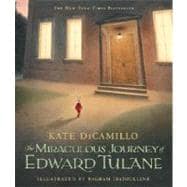 Summary
Once, in a house on Egypt Street, there lived a china rabbit named Edward Tulane. The rabbit was very pleased with himself, and for good reason: he was owned by a girl named Abilene, who adored him completely. And then, one day, he was lost. . . . Kate DiCamillo takes us on an extraordinary journey, from the depths of the ocean to the net of a fisherman, from the bedside of an ailing child to the bustling streets of Memphis. Along the way, we are shown a miracle -- that even a heart of the most breakable kind can learn to love, to lose, and to love again.
Author Biography
KATE DICAMILLO is the author of THE TALE of DESPEREAUX which received the Newbery Medal; BECAUSE of WINN-DIXIE, which received a Newbery Honor; THE TIGER RISING, which was named a National Book Award Finalist; and, most recently, the MERCY WATSON stories. She says, "One Christmas, I received an elegantly dressed toy rabbit as a gift. I brought him home, placed him on a chair in my living room, and promptly forgot about him. A few days later, I dreamed that the rabbit was face-down on the ocean floor - lost, and waiting to be found. In telling THE MIRACULOUS JOURNEY OF EDWARD TULANE, I was lost for a good long while, too. And then, finally, like Edward, I was found."

BAGRAM IBATOULLINE is the illustrator of CROSSING by Philip Booth; THE NIGHTINGALE by Hans Christian Andersen, retold by Stephen Mitchell; THE ANIMAL HEDGE by Paul Fleischman; HANA in the TIME of the TULIPS by Deborah Noyes; and THE SERPENT CAME to GLOUCESTER by M. T. Anderson. He says, "It was a singular and most pleasurable experience to work on the illustrations for EDWARD TULANE and to be there with him on his journey. I must admit, I'm a bit wistful now that I've come to the end of this very special book."
Excerpts
CHAPTER ONE


Once, in a house on Egypt Street, there lived a rabbit who was made almost entirely of china. He had china arms and china legs, china paws and a china head, a china torso and a china nose. His arms and legs were jointed and joined by wire so that his china elbows and china knees could be bent, giving him much freedom of movement.
His ears were made of real rabbit fur, and beneath the fur, there were strong, bendable wires, which allowed the ears to be arranged into poses that reflected the rabbit's mood - jaunty, tired, full of ennui. His tail, too, was made of real rabbit fur and was fluffy and soft and well shaped.
The rabbit's name was Edward Tulane, and he was tall. He measured almost three feet from the tip of his ears to the tip of his feet; his eyes were painted a penetrating and intelligent blue.
In all, Edward Tulane felt himself to be an exceptional specimen. Only his whiskers gave him pause. They were long and elegant (as they should be), but they were of uncertain origin. Edward felt quite strongly that they were not the whiskers of a rabbit. Whom the whiskers had belonged to initially - what unsavory animal - was a question that Edward could not bear to consider for too long. And so he did not. He preferred, as a rule, not to think unpleasant thoughts.
Edward's mistress was a ten-year-old, dark-haired girl named Abilene Tulane, who thought almost as highly of Edward as Edward thought of himself. Each morning after she dressed herself for school, Abilene dressed Edward.
The china rabbit was in possession of an extraordinary wardrobe composed of handmade silk suits. . . . Each pair of well-cut pants had a small pocket for Edward's gold pocket watch. Abilene wound this watch for him each morning.
"Now, Edward," she said to him after she was done winding the watch, "when the big hand is on the twelve and the little hand is on the three, I will come home to you."
She placed Edward on a chair in the dining room and positioned the chair so that Edward was looking out the window and could see the path that led up to the Tulane front door. Abilene balanced the watch on his left leg. She kissed the tips of his ears, and then she left and Edward spent the day staring out at Egypt Street, listening to the tick of his watch and waiting.
Of all the seasons of the year, the rabbit most preferred winter, for the sun set early then and the dining-room windows became dark and Edward could see his own reflection in the glass. And what a reflection it was! What an elegant figure he cut! Edward never ceased to be amazed at his own fineness.
In the evening, Edward sat at the dining-room table with the other members of the Tulane family: Abilene; her mother and father; and Abilene's grandmother, who was called Pellegrina. True, Edward's ears barely cleared the tabletop, and true also, he spent the duration of the meal staring straight ahead at nothing but the bright and blinding white of the tablecloth. But he was there, a rabbit at the table.
Abilene's parents found it charming that Abilene considered Edward real, and that she sometimes requested that a phrase or story be repeated because Edward had not heard it.
"Papa," Abilene would say, "I'm afraid that Edward didn't catch that last bit."
Abilene's father would then turn in the direction of Edward's ears and speak slowly, repeating what he had just said for the benefit of the china rabbit. Edward pretended, out of courtesy to Abilene, to listen. But, in truth, he was not very interested in what people had to say. And also, he did not care for Abilene's parents and their condescending manner toward him. All adults, in fact, condescended to him.
Only Abilene's grandmother spoke to him as Abilene did, as one equal to another. Pellegrina was very old. She
---

Excerpted from The Miraculous Journey of Edward Tulane by Kate DiCamillo
All rights reserved by the original copyright owners. Excerpts are provided for display purposes only and may not be reproduced, reprinted or distributed without the written permission of the publisher.