Note: Supplemental materials are not guaranteed with Rental or Used book purchases.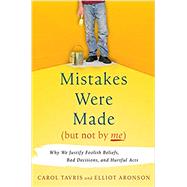 Mistakes Were Made (but Not by Me) : Why We Justify Foolish Beliefs, Bad Decisions, and Hurtful Acts
ISBN13:
9780151010981
by
Tavris, Carol
Houghton Mifflin Harcourt
Summary
Why do people dodge responsibility when things fall apart? Why the parade of public figures unable to own up when they screw up? Why the endless marital quarrels over who is right? Why can we see hypocrisy in others but not in ourselves? Are we all liars? Or do we really believe the stories we tell? Renowned social psychologists Carol Tavris and Elliot Aronson take a compelling look into how the brain is wired for self-justification. When we make mistakes, we must calm the cognitive dissonance that jars our feelings of self-worth. And so we create fictions that absolve us of responsibility, restoring our belief that we are smart, moral, and right a belief that often keeps us on a course that is dumb, immoral, and wrong. Backed by years of research and delivered in lively, energetic prose, Mistakes Were Made (But Not by Me) offers a fascinating explanation of self-deception how it works, the harm it can cause, and how we can overcome it.
Author Biography
CAROL TAVRIS is a social psychologist and author of Anger and The Mismeasure of Woman. She has written for the Los Angeles Times, the New York Times, Scientific American, and many other publications. She lives in Los Angeles.ELLIOT ARONSON is a social psychologist and author of The Social Animal. The recipient of many awards for teaching, scientific research, writing, and contributions to society, he is a professor emeritus at the University of California, Santa Cruz.
Table of Contents
Introduction: Knaves, Fools, Villains, and Hypocrites: How Do They Live with Themselves?
p. 1
Cognitive Dissonance: The Engine of Self-justification
p. 11
Pride and Prejudice...and Other Blind Spots
p. 40
Memory, the Self-justifying Historian
p. 68
Good Intentions, Bad Science: The Closed Loop of Clinical Judgment
p. 97
Law and Disorder
p. 127
Love's Assassin: Self-justification in Marriage
p. 158
Wounds, Rifts, and Wars
p. 185
Letting Go and Owning Up
p. 213
Afterword
p. 237
Endnotes
p. 239
Index
p. 277
Table of Contents provided by Ingram. All Rights Reserved.
Excerpts
CHAPTER 1Cognitive Dissonance:The Engine of Self-justificationPress release date: November 1, 1993 we didn't make a mistake when we wrote in our previous releases that New York would be destroyed on September 4 and October 14, 1993. We didn't make a mistake, not even a teeny eeny one!Press release date: April 4, 1994 All the dates we have given in our past releases are correct dates given by God as contained in Holy Scriptures. Not one of these dates was wrong . . . Ezekiel gives a total of 430 days for the siege of the city . . . [which] brings us exactly to May 2, 1994. By now, all the people have been forewarned. We have done our job. . . . We are the only ones in the entire world guiding the people to their safety, security, and salvation! We have a 100 percent track record!1Its fascinating, and sometimes funny, to read doomsday predictions, but its even more fascinating to watch what happens to the reasoning of true believers when the prediction flops and the world keeps muddling along. Notice that hardly anyone ever says, I blew it! I cant believe how stupid I was to believe that nonsense? On the contrary, most of the time they become even more deeply convinced of their powers of prediction. The people who believe that the Bibles book of Revelation or the writings of the sixteenth-century self-proclaimed prophet Nostradamus have predicted every disaster from the bubonic plague to 9/11 cling to their convictions, unfazed by the small problem that their vague and murky predictions were intelligible only after the event occurred. Half a century ago, a young social psychologist named Leon Festinger and two associates infiltrated a group of people who believed the world would end on December 21.2 They wanted to know what would happen to the group when (they hoped!) the prophecy failed. The groups leader, whom the researchers called Marian Keech, promised that the faithful would be picked up by a flying saucer and elevated to safety at midnight on December 20. Many of her followers quit their jobs, gave away their homes, and dispersed their savings, waiting for the end. Who needs money in outer space? Others waited in fear or resignation in their homes. (Mrs. Keechs own husband, a nonbeliever, went to bed early and slept soundly through the night as his wife and her followers prayed in the living room.) Festinger made his own prediction: The believers who had not made a strong commitment to the prophecy who awaited the end of the world by themselves at home, hoping they weren't going to die at midnight would quietly lose their faith in Mrs. Keech. But those who had given away their possessions and were waiting with the others for the spaceship would increase their belief in her mystical abilities. In fact, they would now do everything they could to get others to join them. At midnight, with no sign of a spaceship in the yard, the group felt a little nervous. By 2 a.m., they were getting seriously worried. At 4:45 a.m., Mrs. Keech
---

Excerpted from Mistakes Were Made (but Not by Me): Why We Justify Foolish Beliefs, Bad Decisions, and Hurtful Acts by Carol Tavris, Elliot Aronson
All rights reserved by the original copyright owners. Excerpts are provided for display purposes only and may not be reproduced, reprinted or distributed without the written permission of the publisher.