Note: Supplemental materials are not guaranteed with Rental or Used book purchases.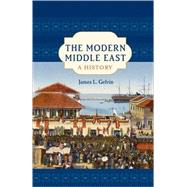 Questions About This Book?
What version or edition is this?
This is the edition with a publication date of 8/5/2004.
What is included with this book?
The Used copy of this book is not guaranteed to include any supplemental materials. Typically, only the book itself is included.
Related Products
Summary
In the wake of 11 September 2001, there has been much talk about the inevitable clash between "East" and "West." This book presents an alternative approach to understanding the genealogy of contemporary events. By taking students and the general reader on a guided tour of the past five hundredyears of Middle Eastern history, this book examines how the very forces associated with global "modernity" have shaped social, economic, cultural, and political life in the region. Beginning with the first glimmerings of the current international state and economic systems in the sixteenth century,The Modern Middle East: A History explores the impact of imperial and imperialist legacies, the great nineteenth-century transformation, cultural continuities and upheavals, international diplomacy, economic booms and busts, the emergence of authoritarian regimes, and the current challenges to thoseregimes on everyday life in an area of vital concern to us all. Engagingly written, drawing from the author's own research and other studies, and stocked with maps and photographs, original documents and an abundance of supplementary materials, The Modern Middle East: A History will provide both novices and specialists with fresh insights into the events thathave shaped history and the debates about them that have absorbed historians.
Author Biography
James L. Gelvin is associate professor of history at the University of California, Los Angeles
Table of Contents
Vignettes and Maps
vii
Acknowledgments
ix
A Note on Transliteration
x
Introduction: September 11 in Historical Perspective
1
(8)
PART I: THE ADVENT OF THE MODERN AGE
9
(60)

| | |
| --- | --- |
| | 1 From Late Antiquity to the Dawn of a New Age |

15
(12)
27
(8)

| | |
| --- | --- |
| | 3 The Middle East and the Modern World System |

35
(12)

| | |
| --- | --- |
| | 4 War, Diplomacy, and the New Global Balance of Power |

47
(13)
60
(6)

| | |
| --- | --- |
| | Draft Treaty of Amity and Commerce between the Ottoman Empire and France, February 1535 |

60
(1)

| | |
| --- | --- |
| | The Travels of Sir John Chardin into Persia and the East-Indies (1) |

61
(2)

| | |
| --- | --- |
| | The Travels of Sir John Chardin into Persia and the East-Indies (2) |

63
(3)
66
(3)
PART II: THE QUESTION OF MODERNITY
69
(102)

| | |
| --- | --- |
| | 5 Defensive Developmentalism |

73
(15)
88
(12)

| | |
| --- | --- |
| | 7 Wasif Jawhariyyeh and the Great Nineteenth-Century Transformation |

100
(23)

| | |
| --- | --- |
| | Photo Essay: The Great Transformation |

111
(12)
123
(9)

| | |
| --- | --- |
| | 9 Secularism and Modernity |

132
(7)
139
(8)
147
(20)

| | |
| --- | --- |
| | Commercial Convention (Balta Liman): Britain and the Ottoman Empire |

147
(1)

| | |
| --- | --- |
| | The Hatt-i Sharif of Gulhane |

148
(2)
150
(4)

| | |
| --- | --- |
| | The d'Arcy Oil Concession |

154
(3)
157
(1)

| | |
| --- | --- |
| | Huda Shaarawi: A New Mentor and Her Salon for Women |

158
(2)

| | |
| --- | --- |
| | Rifa'a Rafi' al-Tahtawi: The Extraction of Gold or an Overview of Paris |

160
(1)

| | |
| --- | --- |
| | Muhammad 'Abduh: The Theology of Unity |

161
(2)

| | |
| --- | --- |
| | Narvik Kemal: Extract from the Journal Hiirriyet |

163
(1)

| | |
| --- | --- |
| | The Supplementary Fundamental Laws of 7 October 1907 |

164
(3)
167
(4)
PART III: WORLD WAR I AND THE MIDDLE EAST STATE SYSTEM
171
(52)

| | |
| --- | --- |
| | 11 State-Building by Decree |

175
(11)

| | |
| --- | --- |
| | 12 State-Building by Revolution and Conquest |

186
(11)

| | |
| --- | --- |
| | 13 The Introduction and Spread of Nationalism |

197
(9)

| | |
| --- | --- |
| | 14 The Origins of the Arab-Israeli Dispute |

206
(9)
215
(4)

| | |
| --- | --- |
| | Resolution of the Syrian General Congress at Damascus, 2 July 1919 |

215
(2)

| | |
| --- | --- |
| | Theodor Herzl: A Solution of the Jewish Question |

217
(1)

| | |
| --- | --- |
| | The Balfour Declaration, 2 November 1917 |

218
(1)

| | |
| --- | --- |
| | Mahmud Darwish: Eleven Planets in the Last Andalusian Sky |

218
(1)
219
(4)
PART IV: THE CONTEMPORARY ERA
223
(97)

| | |
| --- | --- |
| | 15 State and Society in the Contemporary Middle East: An Old/New Relationship |

231
(16)
247
(10)

| | |
| --- | --- |
| | 17 The United States and the Middle East |

257
(11)

| | |
| --- | --- |
| | 18 Israel, the Arab States, and the Palestinians |

268
(10)

| | |
| --- | --- |
| | 19 The Iranian Revolution |

278
(13)

| | |
| --- | --- |
| | 20 Islamic Political Movements |

291
(9)

| | |
| --- | --- |
| | Conclusion: The Middle East in the "Age of Globalization" |

300
(7)
307
(11)

| | |
| --- | --- |
| | Speech Delivered by President Gamal 'Abd al-Nasser at Port Said on the Occasion of Victory Day on 23 December 1961 |

307
(1)

| | |
| --- | --- |
| | Zakarin Tamer: Tigers on the Tenth Day |

308
(3)

| | |
| --- | --- |
| | U.N. Security Council Resolution 242 |

311
(1)

| | |
| --- | --- |
| | 'Ali Shari'ati: The Philosophy of History: The Story of Cain and Abel |

312
(2)

| | |
| --- | --- |
| | Ayatollah Khomeini: Islamic Government |

314
(1)
315
(3)
318
(2)
Timeline
320
(4)
Biographical Sketches
324
(6)
Glossary
330
(9)
Credits
339
(2)
Index
341