Note: Supplemental materials are not guaranteed with Rental or Used book purchases.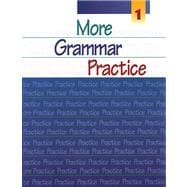 More Grammar Practice 1
ISBN13:
9780838418932
by
Heinle
Questions About This Book?
What version or edition is this?
This is the 1st edition with a publication date of 11/20/2000.
What is included with this book?
The New copy of this book will include any supplemental materials advertised. Please check the title of the book to determine if it should include any CDs, lab manuals, study guides, etc.
Summary
Used alone or in conjunction with your reading, writing, and listening/speaking course books, More Grammar Practice helps students learn and review the essential grammar skills to make language learning comprehensive and ongoing.
Table of Contents
| | |
| --- | --- |
| 1. Forms and Uses of Be | |
| 2. Subject Pronouns | |
| 3. Contractions with Be | |
| 4. Be with Location and Origin | |
| 5. This, That, These, and Those | |
| 6. Negative Statements with Be | |
| 7. Be in Yes/No Questions and Short Answers | |
| 8. Wh-Questions | |
| 9. Forms and Uses of the Simple Present Tense | |
| 10. Negative Statements with the Simple Present Tense | |
| 11. Yes/No Questions and Short Answers with the Simple Present Tense | |
| 12. Comparing Yes/No Questions with Be and Other Verbs | |
| 13. Wh-Questions with the Simple Present Tense | |
| 14. Wh-Questions with Prepositions | |
| 15. Regular Noun Plurals | |
| 16. Irregular Noun Plurals | |
| 17. Using There + Be | |
| 18. Questions with There | |
| 19. Articles and Quantity Words | |
| 20. Frequency Words with the Simple Present Tense, and the Position of Frequency Words | |
| 21. Yes/No Questions with Ever | |
| 22. Frequency Expression and Questions of How Often | |
| 23. Prepositions of Time | |
| 24. Possessive Forms of Nouns | |
| 25. Possessive Adjectives | |
| 26. Possessive Pronouns | |
| 27. The Subject and the Object | |
| 28. Object Pronouns | |
| 29. Questions about the Subject or about the Complement | |
| 30. Forms and Uses of the Present Continuous Tense | |
| 31. Spelling of the -ing Form | |
| 32. Questions with the Present Continuous Tense | |
| 33. Contrast Between the Present Continuous and Simple Present Tenses | |
| 34. Future Tense with Will | |
| 35. Future Tense with Be Going to | |
| 36. Uses of Will and Be Going To | |
| 37. Questions with Be Going to and Will | |
| 38. Future Tense + Time / If Clauses | |
| 39. Simple Past Tense of Regular Verbs | |
| 40. Forms and Uses of the Past Tense of Be | |
| 41. Questions with Was and Were | |
| 42. Simple Past Tense of Irregular Verbs | |
| 43. Negative Forms of Past Tense Verbs | |
| 44. Questions with Past Tense Verbs | |
| 45. Using Imperatives | |
| 46. Verbs Followed by an Infinitive | |
| 47. It + Be + Adjective + Infinitive / Be + Adjective + Infinitive | |
| 48. Using the Infinitive to Show Purpose | |
| 49. Overview of Modals | |
| 50. Can and Should | |
| 51. Must, and Must versus Have To | |
| 52. Might, May, and Will | |
| 53. Polite Commands and Requests using Modals | |
| 54. Noncount Nouns | |
| 55. A Lot of, Much and Many | |
| 56. A Few, A Little, Some, Any, A, and An | |
| 57. Adjectives | |
| 58. Noun Modifiers | |
| 59. Adverbs of Manner | |
| 60. Spelling of -ly Adverbs | |
| 61. Uses and Forms of Too versus Very and Enough | |
| 62. Comparatives and Superlatives | |
| 63. Comparative and Superlative Forms of Adjectives and Adverbs | |
| 64. Superlatives and Word Order | |
| 65. Comparisons | |
| 66. Comparisons and Word Order | |
| 67. Auxiliary Verbs with Too and Either | |
| 68. Auxiliary Verbs with Opposite Statements | |
| 69. Auxiliary Verbs in Tag Questions | |
| 70. Answering a Tag Question | |