Note: Supplemental materials are not guaranteed with Rental or Used book purchases.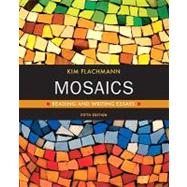 Mosaics : Reading and Writing Essays
ISBN13:
9780205738915
by
Flachmann, Kim
Questions About This Book?
What version or edition is this?
This is the 5th edition with a publication date of 7/7/2010.
What is included with this book?
The Used copy of this book is not guaranteed to include any supplemental materials. Typically, only the book itself is included.
Summary
MOSAICS illustrates how reading and writing are part of a interrelated process, and encourages students to discover how the mosaics of their own reading and writing processes work together to form a coherent whole. Acclaimed instructor and author Kim Flachmann capitalizes on the growing trend of studying reading to sharpen writing skills. Throughout the text students are shown the interrelationship among thinking, reading, and writing as they move back and forth through the tasks of pre-reading and reading, prewriting and writing, and revising and editing. Reading strategies are introduced in Chapter 1 and then integrated throughout the text. Meanwhile, as they are employing these reading strategies, students learn from their own writing-revising and editing their own writing.
Author Biography
Kim Flachmann received her doctorate in Rhetoric and Twentieth-Century American Literature at the University of Oregon. Her dissertation was a stylistic analysis of William Carlos Williams' poetry. Kim has been teaching at California State University, Bakersfield, where she also administers the Composition Program–from remedial English through the Graduate Teaching Assistants. She has published numerous articles on rhetoric and American literature and has written six textbooks–among them a very successful college reader for Pearson (The Prose Reader, in its ninth edition) and a series of three books for Pearson, called Mosaics, for developmental English, progressing from sentence-level to paragraph-level and finally to essay work. In addition, she received the Outstanding Professor Award for 1998-99 at California State University, Bakersfield; the Rhetorician of the Year Award from the Young Rhetoricians' Conference in 2007; and an award from California Association of Teachers of English for Classroom Excellence in 2009.
Table of Contents
Preface
PART I READING AND WRITING: AN OVERVIEW
Chapter 1 Reading and Writing in College
Why Learn How To Read And Write Well?
Thinking Of Yourself As A Reader And Writer
Keeping A Journal
Reading And Writing In Tandem With A Student
Chapter 2 The Reading Process
Visualizing The Reading Process
The Reading Process
Sample Reading Assignment
Chapter 3 Reading Critically
Preparing To Read
Reading
First Rereading
Second Rereading
Chapter 4 The Writing Process
Visualizing The Writing Process
The Writing Process
Writing On A Computer
Sample Writing Assignment
Chapter 5 Preparing To Write
Thinking
Planning
Writing The Thesis Statement
CHAPTER 6 Writing Effectively
Developing Body Paragraphs
Organizing Your Essay
Writing The Introduction, Conclusion, And Title
Chapter 7 Revising And Editing
Revising
Editing
PART II READING AND WRITING EFFECTIVE ESSAYS
Chapter 8 Describing
Preparing To Write A Description Essay
Reading A Description Essay
Margaret Bourke-White, "Dust Changes America"
Discovering How The Essay Works
Writing A Description Essay
Reading The Prompt
Thinking About The Prompt
Guidelines For Writing A Description Essay
Writing A Draft Of Your Essay
Revising And Editing
Reading A Student Essay
Abby Reed, "Grandma's House"
Revising And Editing The Student Essay
Reading Your Own Description Essay
Revising And Editing Your Own Essay
Practicing Description: From Reading To Writing
Reading Workshop
Mario Suarez, "El Hoyo"
Linda Hogan, "Dwellings"
Writing Workshop
Chapter 9 Narrating
Preparing To Write A Narration Essay
Reading A Narration Essay
Jane Maher, "Girl"
Discovering How The Essay Works
Writing A Narration Essay
Reading The Prompt
Thinking About The Prompt
Guidelines For Writing A Narration Essay
Writing A Draft Of Your Essay
Revising And Editing
Reading A Student Essay
Tommy Poulos, "My Brother"
Revising And Editing The Student Essay
Reading Your Own Narration Essay
Revising And Editing Your Own Essay
Practicing Narration: From Reading To Writing
Reading Workshop
Lynda Barry, "The Sanctuary Of School"
Stan Higgins, "Writer's Retreat"
Writing Workshop
Chapter 10 Illustrating
Preparing To Write An Illustration Essay
Reading An Illustration Essay
Julia Alvarez, "Hold The Mayonnaise"
Discovering How The Essay Works
Writing An Illustration Essay
Reading The Prompt
Thinking About The Prompt
Guidelines For Writing An Illustration Essay
Writing A Draft Of Your Essay
Revising And Editing
Reading A Student Essay
Taleah Trainor, "Murphy's Law"
Revising And Editing The Student Essay
Reading Your Own Illustration Essay
Revising And Editing Your Own Essay
Practicing Illustration: From Reading To Writing
Reading Workshop
Richard Rodriguez, "Dawn's Early Light"
France Borel, "The Decorated Body"
Writing Workshop
Chapter 11 Analyzing A Process
Preparing To Write A Process Analysis Essay
Reading A Process Analysis Essay
Carole Kanchler, "Dare To Change Your Job And Your Life In 7 Steps"
Discovering How The Essay Works
Writing A Process Analysis Essay
Reading The Prompt
Thinking About The Prompt
Guidelines For Writing A Process Analysis Essay
Writing A Draft Of Your Essay
Revising And Editing
Reading A Student Essay
Emily Bliss, "You Too Can Procrastinate"
Revising And Editing The Student Essay
Reading Your Own Process Analysis Essay
Revising And Editing Your Own Essay
Practicing Process Analysis: From Reading To Writing
Reading Workshop
Brian O'Connell, "How To Protect Your Identity"
David Levy, "Why We Have A Moon"
Writing Workshop
Chapter 12 Comparing and Contrasting
Preparing To Write A Comparison/Contrast Essay
Reading A Comparison/Contrast Essay
Eric Minton, "Thrills And Chills"
Discovering How The Essay Works
Writing A Comparison/Contrast Essay
Reading The Prompt
Thinking About The Prompt
Guidelines For Writing A Comparison/Contrast Essay
Writing A Draft Of Your Essay
Revising And Editing
Reading A Student Essay
Maria Castillo, "The Truth About Cats And Dogs"
Revising And Editing The Student Essay
Reading Your Own Comparison/Contrast Essay
Revising And Editing Your Own Essay
Practicing Comparison/Contrast: From Reading To Writing
Reading Workshop
Yi-Fu Tuan, "American Space, Chinese Place"
Tony Cohan, "Between Worlds"
Writing Workshop
Chapter 13 Dividing and Classifying 236
Preparing To Write A DIVISION/CLASSIFICATION Essay
Reading A Division/Classification Essay
Fran Lebowitz, "The Sound of Music: Enough Already"
Discovering How the Essay Works
Writing A Division/Classification Essay
Reading the Prompt
Thinking about the Prompt
Guidelines for Writing a Division/Classification Essay
Writing a Draft of Your Essay
Revising and Editing
Reading A Student Essay
Sergio Mendola, "Won't You Be My Neighbor"
Revising and Editing the Student Essay
Reading Your Own Division/Classification Essay
Revising and Editing Your Own Essay
Practicing Division/Classification: from reading to writing
Reading Workshop
Bernice Reagon, "Black Music in Our Hands"
Marion Winik, "What Are Friends For?"
Writing Workshop
Chapter 14 Defining
Preparing To Write A Definition Essay
Reading A Definition Essay
Lars Eighner, "Dumpster Diving"
Discovering How The Essay Works
Writing A Definition Essay
Reading The Prompt
Thinking About The Prompt
Guidelines For Writing A Definition Essay
Writing A Draft Of Your Essay
Revising And Editing
Reading A Student Essay
Francine Feinstein, "True Friends"
Revising And Editing The Student Essay
Reading Your Own Definition Essay
Revising And Editing Your Own Essay
Practicing Definition: From Reading To Writing
Reading Workshop
Isaac Asimov, "What Is Intelligence, Anyway?"
Janice Castro, "Spanglish Spoken Here"
Writing Workshop
Chapter 15 Analyzing Causes And Effects
Preparing To Write A Cause/Effect Essay
Reading A Cause/Effect Essay
Lynnell Hancock, "Why Do Schools Flunk Biology?"
Discovering How The Essay Works
Writing A Cause/Effect Essay
Reading The Prompt
Thinking About The Prompt
Guidelines For Writing A Cause/Effect Essay
Writing A Draft Of Your Essay
Revising And Editing
Reading A Student Essay
Jefferson Wright, "The Budget Crisis"
Revising And Editing The Student Essay
Reading Your Own Cause/Effect Essay
Revising And Editing Your Own Essay
Practicing Cause/Effect: From Reading To Writing
Reading Workshop
Linda Lee Andujar, "Shedding The Weight Of My Dad's Obsession"
Stacey Colino, "Happiness Is Catching"
Writing Workshop
Chapter 16 Arguing
Preparing To Write An Argument Essay
Reading A Argument Essay
Bob Herbert, "Racial Profiling Is Unjust"
Discovering How The Essay Works
Writing An Argument Essay
Reading The Prompt
Thinking About The Prompt
Guidelines For Writing An Argument Essay
Writing A Draft Of Your Essay
Revising And Editing
Reading A Student Essay
Melinda Jackson, "A Call For Policies On Drinking"
Revising And Editing The Student Essay
Reading Your Own Argument Essay
Revising And Editing Your Own Essay
Practicing Description: From Reading To Writing
Reading Workshop
Warner Todd Huston, "Wrong Call For Regulating Sexting"
Richard K. Willard, "Anti-Loitering Laws Can Reduce Gang Violence"
David Cole, "Anti-Loitering Laws Are Ineffective And Biased"
Writing Workshop
PART III THE RESEARCH PAPER
Chapter 17 Recognizing a Research Paper
Mary Minor, "Children as Robots"
Chapter 18 Avoiding Plagiarism
Common Knowledge
Original Ideas
Using And Synthesizing Sources
Direct Quotation, Paraphrase, And Summary
Taking Notes On Sources
Chapter 19 Finding Sources
Credibility Of Sources
Consulting Online Databases, Full-Text Indexes, And Electronic Journal Collections
Searching For Web Sites
Using The Library
Chapter 20 Writing a Research Paper
Chapter 21 Documenting Sources
Introducing Your Sources
Documentation Format
Using a Handbook
Chapter 22 Revising and Editing a Research Paper
Revising And Editing A Student's Research Paper
Rick Schroeder, "Space Bucks"
Revising And Editing Your Own Research Paper
Chapter 23 Writing Workshop
Guidelines for Writing a Research Paper
Revising Workshop
Editing Workshop
Reflecting on Your Writing
Part IV: THE GRAMMAR HANDBOOK
Chapter 24 Parts Of Speech
Chapter 25 Phrases And Clauses
Unit 1 SENTENCES
Chapter 26 Subjects and Verbs
Chapter 27 Fragments
Chapter 28 Fused Sentences and Comma Splices
Unit 2 VERBS
Chapter 29 Regular and Irregular Verbs
Chapter 30 Verb Tense
Chapter 31 Subject-Verb Agreement
Chapter 32 More on Verbs
Unit 3 PRONOUNS
Chapter 33 Pronoun Problems
Chapter 34 Pronoun Reference and Point of View
Chapter 35 Pronoun Agreement
Unit 4 MODIFIERS
Chapter 36 Adjectives
Chapter 37 Adverbs
Chapter 38 Modifier Errors
Unit 5 PUNCTUATION
Chapter 39 End Punctuation
Chapter 40 Commas
Chapter 41 Apostrophes
Chapter 42 Quotation Marks
Chapter 43 Other Punctuation Marks
Unit 6 MECHANICS
Chapter 44 Capitalization
Chapter 45 Abbreviations and Numbers
Unit 7 EFFECTIVE SENTENCES
Chapter 46 Varying Sentence Structure
Chapter 47 Parallelism
Chapter 48 Combining Sentences
Unit 8 CHOOSING THE RIGHT WORD
Chapter 49 Standard and Nonstandard English
Chapter 50 Easily Confused Words
Chapter 51 Spelling
Unit Tests
Appendixes
Credits
Index