Note: Supplemental materials are not guaranteed with Rental or Used book purchases.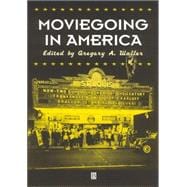 Questions About This Book?
What version or edition is this?
This is the 1st edition with a publication date of 12/5/2001.
What is included with this book?
The New copy of this book will include any supplemental materials advertised. Please check the title of the book to determine if it should include any CDs, lab manuals, study guides, etc.
Summary
Pairing significant research with primary documents, Moviegoing in America charts the evolution of film exhibition and reception as a function of changing patterns of American community, identity, consumption, and the fabric of everyday life."Moviegoing in America is an important, groundbreaking book." -- The Moving Image"Waller assembles an impressive collection that should become a key resource in the teaching of film exhibition history." -- Screen
Author Biography
Gregory A. Waller is Professor and Chair of the Department of English, University of Kentucky. He is author of Main Street Amusements: Movies and Commercial Entertainment in a Southern City, 1896-1930 (1995), which was awarded the Theater Library Association Award and the Katherine Singer Kovacs Award of the Society for Cinema Studies for outstanding scholarship in film and media studies. The author's other publications include American Horrors: Essays on the Modern American Horror Film (1987) and The Living and the Undead: From Stoker's 'Dracula' to Romero's 'Dawn of the Dead' (1986).
Table of Contents
ix
Acknowledgments
x
Introduction: A Century at the Movies
1
(8)
Part I Capturing an Audience, Creating a Business: 1896-1916
9
(74)
11
(2)

| | |
| --- | --- |
| | Introducing Cinema to the American Public: The Vitascope in the United States, 1896-7 |

13
(14)

| | |
| --- | --- |
| | From Rum Shop to Rialto: Workers and Movies |

27
(19)
46
(4)

| | |
| --- | --- |
| | Some Picture Show Audiences (1911) |

50
(4)

| | |
| --- | --- |
| | Motion-Picture Work (1911) |

54
(10)

| | |
| --- | --- |
| | Hints to Exhibitors (1908) |

64
(2)

| | |
| --- | --- |
| | Handling the Visitor (1909) |

66
(2)
68
(2)

| | |
| --- | --- |
| | Swelling the Box Office Receipts (1911) |

70
(3)

| | |
| --- | --- |
| | The Murder of Othello (1911) |

73
(2)
75
(2)

| | |
| --- | --- |
| | The Regulation of Motion Picture Theaters (1912) |

77
(4)

| | |
| --- | --- |
| | Architectural Treatment of the Moving Picture Theatre (1914) |

81
(2)
Part II Palatial Palaces and Everyday Practices: 1916-1930
83
(88)
85
(3)

| | |
| --- | --- |
| | ``You Can Have the Strand in Your Own Town'': The Struggle between Urban and Small-Town Exhibition in the Picture Palace Era |

88
(12)

| | |
| --- | --- |
| | What the Public Wants in the Picture Theater (1925) |

100
(4)

| | |
| --- | --- |
| | Theater Entrances and Lobbies (1925) |

104
(2)

| | |
| --- | --- |
| | A Description of the Capitol Theater, Chicago (1925) |

106
(4)

| | |
| --- | --- |
| | Building Theatre Patronage (1927) |

110
(6)

| | |
| --- | --- |
| | Motion Picture Theater Management (1928) |

116
(8)

| | |
| --- | --- |
| | Fashioning an Exhibition Empire: Promotion, Publicity, and the Rise of Publix Theaters |

124
(14)

| | |
| --- | --- |
| | Where ``Movie Playing'' Needs Reform (1920) |

138
(2)

| | |
| --- | --- |
| | Musical Presentation of Motion Pictures (1921) |

140
(4)
144
(3)

| | |
| --- | --- |
| | Future Developments (1927) |

147
(4)

| | |
| --- | --- |
| | Motion Pictures as a Phase of Commercialized Amusement in Toledo, Ohio (1919) |

151
(2)

| | |
| --- | --- |
| | The Motion Picture and the Upbuilding of Community Life (1920) |

153
(2)

| | |
| --- | --- |
| | Our Movie Made Children (1934) |

155
(4)

| | |
| --- | --- |
| | Ethnography and Exhibition: The Child Audience, the Hays Office, and Saturday Matinees |

159
(12)
Part III Picture Shows and New Theaters: The 1930s and 1940s
171
(62)
173
(2)

| | |
| --- | --- |
| | Hillbilly Music and Will Rogers: Small-Town Picture Shows in the 1930s |

175
(14)
189
(3)

| | |
| --- | --- |
| | The Management of Motion Picture Theatres (1938) |

192
(5)
197
(6)

| | |
| --- | --- |
| | What's Playing at the Grove? (1948) |

203
(8)

| | |
| --- | --- |
| | Give the Movie Exhibitor a Chance! (1935) |

211
(3)

| | |
| --- | --- |
| | Economic Control of the Motion Picture Industry (1944) |

214
(5)

| | |
| --- | --- |
| | New Theaters for the Cinema (1932) |

219
(2)

| | |
| --- | --- |
| | Motion Picture Theaters (1937) |

221
(4)

| | |
| --- | --- |
| | A New Architecture for the Movie Theater (1948) |

225
(3)

| | |
| --- | --- |
| | Psychology of the Theater (1948) |

228
(5)
Part IV Drive-In, Art House, Multiplex: The 1950s and Beyond
233
(76)
235
(3)
238
(9)

| | |
| --- | --- |
| | Big Boom in Outdoor Movies (1956) |

247
(5)
252
(3)

| | |
| --- | --- |
| | Sure-Seaters Discover an Audience (1952) |

255
(4)

| | |
| --- | --- |
| | Some Considerations on the Rise of the Art-Film Theater (1956) |

259
(6)

| | |
| --- | --- |
| | Domestic Theatrical and Semi-Theatrical Distribution and Exhibition of American Independent Feature Films: A Survey in 1983 |

265
(3)

| | |
| --- | --- |
| | The Harlem Theater: Black Film Exhibition in Austin, Texas: 1920-1973 |

268
(11)
279
(3)

| | |
| --- | --- |
| | The K-Mart Audience at the Mall Movies |

282
(14)
296
(4)

| | |
| --- | --- |
| | From Exhibition to Reception: Reflections on the Audience in Film History |

300
(9)
Part V Research and Resources
309
(37)

| | |
| --- | --- |
| | A Guide to Research and Resources |

311
(11)

| | |
| --- | --- |
| | Research Projects in the History of Moviegoing and Film Exhibition |

322
(2)
324
(22)
Index
346