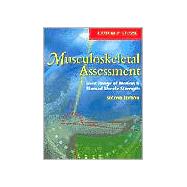 Musculoskeletal Assessment : Joint Range of Motion and Manual Muscle Strength
by
Clarkson, Hazel M.
Lippincott Williams & Wilkins
List Price: $82.12
Usually Ships in 2-3 Business Days
Usually Ships in 2-3 Business Days
Questions About This Book?
What version or edition is this?
This is the 2nd edition with a publication date of 11/30/1999.
What is included with this book?
The New copy of this book will include any supplemental materials advertised. Please check the title of the book to determine if it should include any CDs, lab manuals, study guides, etc.
The Used copy of this book is not guaranteed to inclue any supplemental materials. Typically, only the book itself is included.
Summary
Completely revised and updated, this edition presents the principles and methodology of assessing both joint range of motion (ROM)/goniometry and manual muscle strength for the head, neck, trunk, and extremities. Each chapter is devoted to a separate anatomical region and provides knowledge of pertinent surface anatomy and deep anatomy. Excellent photography and illustrations enhance comprehension of techniques and serve as a self-learning tool. New to this edition: New vertical format; second-color added to line art; 200 new photographs; detailed coverage of ROM and muscle length assessment and measurement for each body region; comprehensive coverage of end feels for each joint motion; and chapter relating assessment methods to treatment techniques and activities of daily living. A useful resource for assessment and treatment!
Table of Contents
2
(32)
4
(12)
16
(14)

| | |
| --- | --- |
| | Functional Application of Assessment of Joint Range of Motion and Manual Muscle Testing |

30
(4)
34
(64)

| | |
| --- | --- |
| | Surface Anatomy: Head and Neck |

34
(1)

| | |
| --- | --- |
| | Assessment Process: The Face and Neck |

35
(2)

| | |
| --- | --- |
| | Range of Motion Assessment and Measurement |

37
(6)

| | |
| --- | --- |
| | Muscle Strength Assessment: Muscles of the Face |

43
(18)

| | |
| --- | --- |
| | Muscle Strength Assessment: Muscles of the Head and Neck |

61
(7)
68
(1)

| | |
| --- | --- |
| | Range of Motion Assessment |

69
(1)

| | |
| --- | --- |
| | Range of Motion Assessment and Measurement |

70
(8)

| | |
| --- | --- |
| | Muscle Strength Assessment: Muscles of the Trunk |

78
(14)

| | |
| --- | --- |
| | Functional Application: Neck and Trunk |

92
(6)
98
(68)
98
(1)

| | |
| --- | --- |
| | Assessment Process: The Shoulder Complex |

99
(2)

| | |
| --- | --- |
| | Range of Motion Assessment and Measurement |

101
(23)

| | |
| --- | --- |
| | Muscle Strength Assessment |

124
(33)

| | |
| --- | --- |
| | Functional Application: Shoulder Complex |

157
(9)
166
(30)
166
(1)

| | |
| --- | --- |
| | Assessment Process: The Elbow and Forearm |

167
(2)

| | |
| --- | --- |
| | Range of Motion Assessment and Measurement |

169
(9)

| | |
| --- | --- |
| | Muscle Strength Assessment |

178
(13)

| | |
| --- | --- |
| | Functional Application: Elbow and Forearm |

191
(5)
196
(70)
196
(1)

| | |
| --- | --- |
| | Assessment Process: The Wrist and Hand |

197
(2)

| | |
| --- | --- |
| | Range of Motion Assessment and Measurement |

199
(23)

| | |
| --- | --- |
| | Muscle Strength Assessment |

222
(17)
239
(16)

| | |
| --- | --- |
| | Functional Application: Wrist and Hand |

255
(11)
266
(48)
266
(1)

| | |
| --- | --- |
| | Assessment Process: The Hip |

267
(2)

| | |
| --- | --- |
| | Range of Motion Assessment and Measurement |

269
(15)

| | |
| --- | --- |
| | Muscle Strength Assessment |

284
(22)

| | |
| --- | --- |
| | Functional Application: Hip |

306
(8)
314
(22)
314
(1)

| | |
| --- | --- |
| | Assessment Process: The Knee |

315
(2)

| | |
| --- | --- |
| | Range of Motion Assessment and Measurement |

317
(7)

| | |
| --- | --- |
| | Muscle Strength Assessment |

324
(7)

| | |
| --- | --- |
| | Functional Application: Knee |

331
(5)
336
(42)
336
(1)

| | |
| --- | --- |
| | Assessment Process: The Ankle and Foot |

337
(2)

| | |
| --- | --- |
| | Range of Motion Assessment and Measurement |

339
(13)

| | |
| --- | --- |
| | Muscle Strength Assessment |

352
(22)

| | |
| --- | --- |
| | Functional Application: Foot and Ankle |

374
(4)

| | |
| --- | --- |
| | Relating Treatment to Assessment |

378
(10)

| | |
| --- | --- |
| | Similar Assessment and Treatment Methods |

379
(3)

| | |
| --- | --- |
| | Key Steps When Applying Methods |

382
(1)

| | |
| --- | --- |
| | Examples of Similar Assessment and Treatment Methods |

383
(1)

| | |
| --- | --- |
| | Knee Extension: AROM Assessment and Treatment Using Active Exercise |

384
(1)

| | |
| --- | --- |
| | Hip Flexion: PROM Assessment and Treatment Using Relaxed Passive Movement |

385
(1)

| | |
| --- | --- |
| | Long Finger Extensors: Muscle Length Assessment and Treatment Using Prolonged Passive Stretch |

386
(1)

| | |
| --- | --- |
| | Anterior Fibers Deltoid: Muscle Strength Assessment and Treatment Using Resisted Exercise |

387
(1)
Appendix A: OB ``Myrin'' Goniometry
388
(13)
Appendix B: Sample Numerical Recording Form: Range of Motion Measurement
401
(4)
Appendix C: Sample Recording Form: Manual Muscle Strength Assessment
405
(6)
Appendix D: Gait
411
(4)
Index
415