Note: Supplemental materials are not guaranteed with Rental or Used book purchases.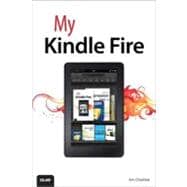 Questions About This Book?
What version or edition is this?
This is the 1st edition with a publication date of 1/11/2012.
What is included with this book?
The New copy of this book will include any supplemental materials advertised. Please check the title of the book to determine if it should include any CDs, lab manuals, study guides, etc.
The eBook copy of this book is not guaranteed to include any supplemental materials. Typically only the book itself is included.
Summary
Expert advice and easy-to-follow, full-color illustrated tasks to help you master your Kindle Fire quickly and painlessly! Full-color, step-by-step format with plenty of visuals to help with even the trickiest of tasks. Practical guide to getting the most out of the system's rich multimedia functionality. Maximizing connectivity, finding and using apps, playing music, media and more. Comprehensive coverage of the innovative tablet hardware. Millions of people use Amazon's services on computers, televisions, and multimedia appliances such as Roku boxes and video players. However, until now, there hasn't been a single device that provides seamless access to all of these services. My Kindle Fire is a one-stop guide on how to get the most out of this exciting new tablet, as well as how to use the Kindle Fire to access content from Amazon's cloud-based services. Readers will be able to tap into every feature of this device, including some of the hidden ones and those with less obvious functionality. The organized, task-based format will allow readers to quickly and easily find the exact goal they want to accomplish, all in a delightfully concise and visual manner. The Kindle Fire makes it easy for consumers to: Read eBooks from the Amazon Kindle store and from other sources. Purchase and stream music and audio books. Watch streaming movies and TV shows. Read magazines and newspapers. Access thousands of applications in Amazon's Android app store. And much more..
Author Biography
Jim Cheshire is a technology expert with a passion for gadgets.He's written about a dozen books and many online articles on technology, and is the author of the best-selling Kindle guide, Using Kindle.
Jim has a unique way of explaining technical concepts without being technical, a talent that has helped make his books and websites a leading resource for people who want to learn about technology in a fun and exciting way.
Table of Contents
Introduction . . . . . . . . . . . . . . . . . . . . . . . . . . . . . . . . . . . . . . . . . . . . . . . . . . . . . . . . . . . . . . . . 1
A Kindle Fire Overview . . . . . . . . . . . . . . . . . . . . . . . . . . . . . . . . . . . . . . . . . . . . . .2
Why You'll Love My Kindle Fire . . . . . . . . . . . . . . . . . . . . . . . . . . . . . . . . . . . . .3
What You'll Find in the Book . . . . . . . . . . . . . . . . . . . . . . . . . . . . . . . . . . . . . . . .4
Let's Light This Fire . . . . . . . . . . . . . . . . . . . . . . . . . . . . . . . . . . . . . . . . . . . . . . . . . . .6
Chapter 1 Getting Started with the Kindle Fire . . . . . . . . . . . . . . . . . . . . . . . . . . . . . 9
The Hardware . . . . . . . . . . . . . . . . . . . . . . . . . . . . . . . . . . . . . . . . . . . . . . . . . . . . . . . .10
Changing the Screen Timeout . . . . . . . . . . . . . . . . . . . . . . . . . . . . . . . .12
Initial Setup . . . . . . . . . . . . . . . . . . . . . . . . . . . . . . . . . . . . . . . . . . . . . . . . . . . . . . . . . .12
Connecting to a Listed Wi-Fi Network . . . . . . . . . . . . . . . . . . . . . .13
Connecting to an Unlisted Wi-Fi Network . . . . . . . . . . . . . . . . .14
Setting Your Time Zone . . . . . . . . . . . . . . . . . . . . . . . . . . . . . . . . . . . . . . . .15
Registering with Amazon . . . . . . . . . . . . . . . . . . . . . . . . . . . . . . . . . . . . .15
Basic Usage of the Kindle Fire . . . . . . . . . . . . . . . . . . . . . . . . . . . . . . . . . . . .16
The Home Screen . . . . . . . . . . . . . . . . . . . . . . . . . . . . . . . . . . . . . . . . . . . . . . . . . . .18
Downloading Items . . . . . . . . . . . . . . . . . . . . . . . . . . . . . . . . . . . . . . . . . . . .19
Removing Downloaded Items from Your Device . . . . . . . . .20
Adding an Item to Favorites . . . . . . . . . . . . . . . . . . . . . . . . . . . . . . . . . .21
Removing an Item from Favorites . . . . . . . . . . . . . . . . . . . . . . . . . . .22
Rearranging Favorites . . . . . . . . . . . . . . . . . . . . . . . . . . . . . . . . . . . . . . . . . .22
Notifications and Options . . . . . . . . . . . . . . . . . . . . . . . . . . . . . . . . . . . . . . . . .23
Notifications . . . . . . . . . . . . . . . . . . . . . . . . . . . . . . . . . . . . . . . . . . . . . . . . . . . . .24
Options . . . . . . . . . . . . . . . . . . . . . . . . . . . . . . . . . . . . . . . . . . . . . . . . . . . . . . . . . . .24
Settings . . . . . . . . . . . . . . . . . . . . . . . . . . . . . . . . . . . . . . . . . . . . . . . . . . . . . . . . . . . . . . .25
Locking the Screen Orientation . . . . . . . . . . . . . . . . . . . . . . . . . . . . . .25
Adjusting the Volume . . . . . . . . . . . . . . . . . . . . . . . . . . . . . . . . . . . . . . . . . .26
Adjusting Screen Brightness . . . . . . . . . . . . . . . . . . . . . . . . . . . . . . . . . .26
Checking Device Information . . . . . . . . . . . . . . . . . . . . . . . . . . . . . . . .27
Turning Off Wi-Fi . . . . . . . . . . . . . . . . . . . . . . . . . . . . . . . . . . . . . . . . . . . . . . . .28
Searches . . . . . . . . . . . . . . . . . . . . . . . . . . . . . . . . . . . . . . . . . . . . . . . . . . . . . . . . . . . . . .28
Searching Your Library . . . . . . . . . . . . . . . . . . . . . . . . . . . . . . . . . . . . . . . . .29
Searching the Web . . . . . . . . . . . . . . . . . . . . . . . . . . . . . . . . . . . . . . . . . . . . . .30
The Kindle Fire Keyboard . . . . . . . . . . . . . . . . . . . . . . . . . . . . . . . . . . . . . . . . . .30
Entering Text . . . . . . . . . . . . . . . . . . . . . . . . . . . . . . . . . . . . . . . . . . . . . . . . . . . . .31
Positioning the Cursor and Selecting Text . . . . . . . . . . . . . . . . .32
Selecting and Editing Text . . . . . . . . . . . . . . . . . . . . . . . . . . . . . . . . . . . .32
Copy/Cut and Paste . . . . . . . . . . . . . . . . . . . . . . . . . . . . . . . . . . . . . . . . . . . .33
Entering Punctuation and Numbers . . . . . . . . . . . . . . . . . . . . . . . .34
Chapter 2 Amazon's Cloud Services . . . . . . . . . . . . . . . . . . . . . . . . . . . . . . . . . . . . . . . . . . . . 37
Amazon Cloud Drive . . . . . . . . . . . . . . . . . . . . . . . . . . . . . . . . . . . . . . . . . . . . . . .37
Accessing Your Cloud Drive . . . . . . . . . . . . . . . . . . . . . . . . . . . . . . . . . . .39
Creating Folders . . . . . . . . . . . . . . . . . . . . . . . . . . . . . . . . . . . . . . . . . . . . . . . . .40
Deleting a Folder . . . . . . . . . . . . . . . . . . . . . . . . . . . . . . . . . . . . . . . . . . . . . . . .40
Recovering Deleted Items . . . . . . . . . . . . . . . . . . . . . . . . . . . . . . . . . . . . .41
Adding Files to Your Cloud Drive . . . . . . . . . . . . . . . . . . . . . . . . . . . .41
Downloading Files from Your Cloud Drive . . . . . . . . . . . . . . . . .42
Amazon Cloud Player . . . . . . . . . . . . . . . . . . . . . . . . . . . . . . . . . . . . . . . . . . . . . .43
Launching Cloud Player . . . . . . . . . . . . . . . . . . . . . . . . . . . . . . . . . . . . . . .43
Playing Music . . . . . . . . . . . . . . . . . . . . . . . . . . . . . . . . . . . . . . . . . . . . . . . . . . . .44
Creating Playlists . . . . . . . . . . . . . . . . . . . . . . . . . . . . . . . . . . . . . . . . . . . . . . . .45
Downloading Songs to a Computer . . . . . . . . . . . . . . . . . . . . . . . .46
Changing How Amazon Handles Purchased Music . . . . . .47
Amazon Instant Video . . . . . . . . . . . . . . . . . . . . . . . . . . . . . . . . . . . . . . . . . . . . . .48
Getting Videos from Amazon Instant Video . . . . . . . . . . . . . . .48
Kindle Cloud Reader . . . . . . . . . . . . . . . . . . . . . . . . . . . . . . . . . . . . . . . . . . . . . . . .50
Accessing Kindle Cloud Reader . . . . . . . . . . . . . . . . . . . . . . . . . . . . . .50
Opening and Downloading Books . . . . . . . . . . . . . . . . . . . . . . . . . .51
Reading Books . . . . . . . . . . . . . . . . . . . . . . . . . . . . . . . . . . . . . . . . . . . . . . . . . . .52
Chapter 3 Reading on the Kindle Fire . . . . . . . . . . . . . . . . . . . . . . . . . . . . . . . . . . . . . . . . . 55
Finding Content . . . . . . . . . . . . . . . . . . . . . . . . . . . . . . . . . . . . . . . . . . . . . . . . . . . . .55
Subscribing to Periodicals . . . . . . . . . . . . . . . . . . . . . . . . . . . . . . . . . . . . .56
Sampling and Buying Books . . . . . . . . . . . . . . . . . . . . . . . . . . . . . . . . . .57
Borrowing Books from Amazon . . . . . . . . . . . . . . . . . . . . . . . . . . . . . .59
Lending Books to Friends and Family . . . . . . . . . . . . . . . . . . . . . . .60
Sideloading Books . . . . . . . . . . . . . . . . . . . . . . . . . . . . . . . . . . . . . . . . . . . . . .61
Reading Books . . . . . . . . . . . . . . . . . . . . . . . . . . . . . . . . . . . . . . . . . . . . . . . . . . . . . . .62
Browsing Your Library . . . . . . . . . . . . . . . . . . . . . . . . . . . . . . . . . . . . . . . . . .63
Downloading a Book to Your Device . . . . . . . . . . . . . . . . . . . . . . . .64
Removing a Book from Your Device . . . . . . . . . . . . . . . . . . . . . . . . .65
Reading a Book . . . . . . . . . . . . . . . . . . . . . . . . . . . . . . . . . . . . . . . . . . . . . . . . . .65
Looking Up Definitions . . . . . . . . . . . . . . . . . . . . . . . . . . . . . . . . . . . . . . . .67
Changing Font Styles . . . . . . . . . . . . . . . . . . . . . . . . . . . . . . . . . . . . . . . . . .68
Changing the Typeface . . . . . . . . . . . . . . . . . . . . . . . . . . . . . . . . . . . . . . . .69
Using Notes . . . . . . . . . . . . . . . . . . . . . . . . . . . . . . . . . . . . . . . . . . . . . . . . . . . . . . . . . .70
Adding a Note . . . . . . . . . . . . . . . . . . . . . . . . . . . . . . . . . . . . . . . . . . . . . . . . . . .70
Viewing an Individual Note . . . . . . . . . . . . . . . . . . . . . . . . . . . . . . . . . . .71
Viewing All Notes . . . . . . . . . . . . . . . . . . . . . . . . . . . . . . . . . . . . . . . . . . . . . . .71
Editing a Note . . . . . . . . . . . . . . . . . . . . . . . . . . . . . . . . . . . . . . . . . . . . . . . . . . .72
Deleting a Note . . . . . . . . . . . . . . . . . . . . . . . . . . . . . . . . . . . . . . . . . . . . . . . . . .74
Working with Highlights . . . . . . . . . . . . . . . . . . . . . . . . . . . . . . . . . . . . . . . . . . .75
Adding a Highlight . . . . . . . . . . . . . . . . . . . . . . . . . . . . . . . . . . . . . . . . . . . . .75
Deleting a Highlight . . . . . . . . . . . . . . . . . . . . . . . . . . . . . . . . . . . . . . . . . . . .76
Working with Bookmarks . . . . . . . . . . . . . . . . . . . . . . . . . . . . . . . . . . . . . . . . . .77
Adding a Bookmark . . . . . . . . . . . . . . . . . . . . . . . . . . . . . . . . . . . . . . . . . . . .77
Removing a Bookmark . . . . . . . . . . . . . . . . . . . . . . . . . . . . . . . . . . . . . . . . .78
Moving to a Bookmark . . . . . . . . . . . . . . . . . . . . . . . . . . . . . . . . . . . . . . . . .78
Reading Magazines and Newspapers . . . . . . . . . . . . . . . . . . . . . . . . . . .79
Reading a Page View-Enabled Magazine . . . . . . . . . . . . . . . . . . .79
Reading in Text View and Reading Newspapers . . . . . . . . . .82
Managing Personal Documents . . . . . . . . . . . . . . . . . . . . . . . . . . . . . . . . . .83
Emailing a Personal Document to Kindle Fire . . . . . . . . . . . . .84
Sideloading Personal Documents . . . . . . . . . . . . . . . . . . . . . . . . . . .85
Reading Personal Documents . . . . . . . . . . . . . . . . . . . . . . . . . . . . . . . .86
Deleting Personal Documents . . . . . . . . . . . . . . . . . . . . . . . . . . . . . . . .87
Searching Content . . . . . . . . . . . . . . . . . . . . . . . . . . . . . . . . . . . . . . . . . . . . . . . . . .87
Searching the Current Item . . . . . . . . . . . . . . . . . . . . . . . . . . . . . . . . . . .87
Searching Wikipedia or Google from Books . . . . . . . . . . . . . . .89
Searching Wikipedia or Google from Periodicals and Personal Document . .. . .90
Chapter 4 Using Amazon's Manage Your Kindle Page . . . . . . . . . . . . . . . . . . 93
Working with Books and Docs . . . . . . . . . . . . . . . . . . . . . . . . . . . . . . . . . . .94
Accessing Manage Your Kindle . . . . . . . . . . . . . . . . . . . . . . . . . . . . . . .94
Viewing Books and Docs . . . . . . . . . . . . . . . . . . . . . . . . . . . . . . . . . . . . . .95
Sending Books and Docs to Your Kindle . . . . . . . . . . . . . . . . . . .96
Downloading Books to a Computer . . . . . . . . . . . . . . . . . . . . . . . . .97
Deleting Books and Docs . . . . . . . . . . . . . . . . . . . . . . . . . . . . . . . . . . . . . .97
Changing Your Kindle Email Address for Docs . . . . . . . . . . . .98
Limiting Doc Conversion Charges . . . . . . . . . . . . . . . . . . . . . . . . . . .99
Adding an Approved Email for Docs . . . . . . . . . . . . . . . . . . . . . .100
Disabling Doc Archiving . . . . . . . . . . . . . . . . . . . . . . . . . . . . . . . . . . . . .101
Managing Subscriptions . . . . . . . . . . . . . . . . . . . . . . . . . . . . . . . . . . . . . . . . .101
Changing Where a Subscription Is Delivered . . . . . . . . . . . .102
Canceling a Subscription . . . . . . . . . . . . . . . . . . . . . . . . . . . . . . . . . . . .102
Reactivating a Canceled Subscription . . . . . . . . . . . . . . . . . . . . .103
Changing Subscription Privacy Settings . . . . . . . . . . . . . . . . . .104
Updating Kindle Payment Information . . . . . . . . . . . . . . . . . . . . . . .105
Changing Amazon Purchases Credit Card . . . . . . . . . . . . . . . .105
Changing Current Subscriptions Credit Card . . . . . . . . . . . .106
Managing Your Kindle Devices . . . . . . . . . . . . . . . . . . . . . . . . . . . . . . . . .107
Deregistering a Kindle . . . . . . . . . . . . . . . . . . . . . . . . . . . . . . . . . . . . . . . .107
Renaming Your Kindle . . . . . . . . . . . . . . . . . . . . . . . . . . . . . . . . . . . . . . . .108
Deregistering a Kindle App . . . . . . . . . . . . . . . . . . . . . . . . . . . . . . . . . .108
Turning Whispersync Off . . . . . . . . . . . . . . . . . . . . . . . . . . . . . . . . . . . . .109
Chapter 5 Managing Content with Calibre . . . . . . . . . . . . . . . . . . . . . . . . . . . . . . . . 111
Getting Started with Calibre . . . . . . . . . . . . . . . . . . . . . . . . . . . . . . . . . . . .112
Welcome Wizard . . . . . . . . . . . . . . . . . . . . . . . . . . . . . . . . . . . . . . . . . . . . . . .112
Adding Content to Calibre . . . . . . . . . . . . . . . . . . . . . . . . . . . . . . . . . . . . . . .113
Importing Books . . . . . . . . . . . . . . . . . . . . . . . . . . . . . . . . . . . . . . . . . . . . . . .114
Searching for New eBooks . . . . . . . . . . . . . . . . . . . . . . . . . . . . . . . . . . .115
Editing Book Information . . . . . . . . . . . . . . . . . . . . . . . . . . . . . . . . . . . . . . . .116
Downloading Metadata . . . . . . . . . . . . . . . . . . . . . . . . . . . . . . . . . . . . . .116
Manually Editing Metadata . . . . . . . . . . . . . . . . . . . . . . . . . . . . . . . . . .119
Transferring eBooks to the Kindle Fire . . . . . . . . . . . . . . . . . . . . . . . .120
Converting to EPUB Format . . . . . . . . . . . . . . . . . . . . . . . . . . . . . . . . .120
Deleting Non-EPUB Formats . . . . . . . . . . . . . . . . . . . . . . . . . . . . . . . .121
Transferring the eBook to Your Kindle Fire . . . . . . . . . . . . . . .121
Emailing eBooks to Your Kindle Fire . . . . . . . . . . . . . . . . . . . . . . .122
Chapter 6 Accessing and Listening to Music. . . . . . . . . . . . . . . . . . . . . . . . . . . . . . 125
Browsing and Downloading Your Music . . . . . . . . . . . . . . . . . . . . . .125
Browsing Artists . . . . . . . . . . . . . . . . . . . . . . . . . . . . . . . . . . . . . . . . . . . . . . .126
Scrolling Quickly in Music . . . . . . . . . . . . . . . . . . . . . . . . . . . . . . . . . . .128
Browsing Albums . . . . . . . . . . . . . . . . . . . . . . . . . . . . . . . . . . . . . . . . . . . . . .129
Monitoring Downloads . . . . . . . . . . . . . . . . . . . . . . . . . . . . . . . . . . . . . .129
Canceling Downloads . . . . . . . . . . . . . . . . . . . . . . . . . . . . . . . . . . . . . . . .130
Searching for Music . . . . . . . . . . . . . . . . . . . . . . . . . . . . . . . . . . . . . . . . . . . . . . .130
Searching Your Music Collection . . . . . . . . . . . . . . . . . . . . . . . . . . .130
Playing Music . . . . . . . . . . . . . . . . . . . . . . . . . . . . . . . . . . . . . . . . . . . . . . . . . . . . . . .131
Listening to Music . . . . . . . . . . . . . . . . . . . . . . . . . . . . . . . . . . . . . . . . . . . . .132
Playback Settings . . . . . . . . . . . . . . . . . . . . . . . . . . . . . . . . . . . . . . . . . . . . . .134
Using the Now Playing Queue . . . . . . . . . . . . . . . . . . . . . . . . . . . . . . . . . .135
Viewing from Quick Settings . . . . . . . . . . . . . . . . . . . . . . . . . . . . . . . .135
Viewing from Library or Store . . . . . . . . . . . . . . . . . . . . . . . . . . . . . .135
Viewing from Music Menu . . . . . . . . . . . . . . . . . . . . . . . . . . . . . . . . . . .136
Viewing All Tracks in Now Playing . . . . . . . . . . . . . . . . . . . . . . . . .136
Adding Songs to Now Playing . . . . . . . . . . . . . . . . . . . . . . . . . . . . . .137
Removing Songs from the Now Playing Queue . . . . . . . . .138
Clearing the Now Playing Queue . . . . . . . . . . . . . . . . . . . . . . . . . .139
Managing Playlists . . . . . . . . . . . . . . . . . . . . . . . . . . . . . . . . . . . . . . . . . . . . . . . .139
Creating a Playlist . . . . . . . . . . . . . . . . . . . . . . . . . . . . . . . . . . . . . . . . . . . . .139
Editing a Playlist . . . . . . . . . . . . . . . . . . . . . . . . . . . . . . . . . . . . . . . . . . . . . . .141
Adding Artists or Albums to a Playlist . . . . . . . . . . . . . . . . . . . . .142
Playing a Playlist . . . . . . . . . . . . . . . . . . . . . . . . . . . . . . . . . . . . . . . . . . . . . . .143
Downloading a Playlist . . . . . . . . . . . . . . . . . . . . . . . . . . . . . . . . . . . . . . .144
Renaming a Playlist . . . . . . . . . . . . . . . . . . . . . . . . . . . . . . . . . . . . . . . . . . .145
Deleting a Cloud Playlist . . . . . . . . . . . . . . . . . . . . . . . . . . . . . . . . . . . . .146
Removing a Device Playlist . . . . . . . . . . . . . . . . . . . . . . . . . . . . . . . . . .147
Buying New Music . . . . . . . . . . . . . . . . . . . . . . . . . . . . . . . . . . . . . . . . . . . . . . . . .148
Navigating the Music Store . . . . . . . . . . . . . . . . . . . . . . . . . . . . . . . . . .148
Sampling and Buying Songs . . . . . . . . . . . . . . . . . . . . . . . . . . . . . . . .149
Sampling and Buying Albums . . . . . . . . . . . . . . . . . . . . . . . . . . . . . .149
Changing Music Delivery Preference . . . . . . . . . . . . . . . . . . . . . .151
Sideloading Music . . . . . . . . . . . . . . . . . . . . . . . . . . . . . . . . . . . . . . . . . . . . . . . . .151
Sideloading to Your Kindle Fire . . . . . . . . . . . . . . . . . . . . . . . . . . . . .152
Chapter 7 Watching Video. . . . . . . . . . . . . . . . . . . . . . . . . . . . . . . . . . . . . . . . . . . . . . . . . . . . . . . . 155
Navigating the Video Store . . . . . . . . . . . . . . . . . . . . . . . . . . . . . . . . . . . . . .155
Browsing the Video Store . . . . . . . . . . . . . . . . . . . . . . . . . . . . . . . . . . . .156
Viewing Movie Details . . . . . . . . . . . . . . . . . . . . . . . . . . . . . . . . . . . . . . . .157
Viewing TV Show Details . . . . . . . . . . . . . . . . . . . . . . . . . . . . . . . . . . . .158
Renting or Purchasing a Movie . . . . . . . . . . . . . . . . . . . . . . . . . . . . .160
Buying TV Shows . . . . . . . . . . . . . . . . . . . . . . . . . . . . . . . . . . . . . . . . . . . . . .161
Disabling the HD Purchase Warning . . . . . . . . . . . . . . . . . . . . . . .163
Working with Your Video Library . . . . . . . . . . . . . . . . . . . . . . . . . . . . . . .164
Watching a Movie or TV Show . . . . . . . . . . . . . . . . . . . . . . . . . . . . . .164
Downloading Videos . . . . . . . . . . . . . . . . . . . . . . . . . . . . . . . . . . . . . . . . .166
Removing a Downloaded Video . . . . . . . . . . . . . . . . . . . . . . . . . . . .167
Sideloading Videos . . . . . . . . . . . . . . . . . . . . . . . . . . . . . . . . . . . . . . . . . . . . . . . .167
Converting Videos for Kindle Fire . . . . . . . . . . . . . . . . . . . . . . . . . .168
Copying Video to Your Kindle Fire . . . . . . . . . . . . . . . . . . . . . . . . .170
Watching Sideloaded Videos . . . . . . . . . . . . . . . . . . . . . . . . . . . . . . . .170
Deleting Sideloaded Video . . . . . . . . . . . . . . . . . . . . . . . . . . . . . . . . . .171
Chapter 8 Installing and Using Apps. . . . . . . . . . . . . . . . . . . . . . . . . . . . . . . . . . . . . . . . . 173
Your App Library . . . . . . . . . . . . . . . . . . . . . . . . . . . . . . . . . . . . . . . . . . . . . . . . . . .174
Browsing Your App Library . . . . . . . . . . . . . . . . . . . . . . . . . . . . . . . . . .174
Installing a Purchased App . . . . . . . . . . . . . . . . . . . . . . . . . . . . . . . . . .175
Installing Multiple Apps at Once . . . . . . . . . . . . . . . . . . . . . . . . . . .176
Adding an App to Favorites . . . . . . . . . . . . . . . . . . . . . . . . . . . . . . . . .177
Uninstalling an App . . . . . . . . . . . . . . . . . . . . . . . . . . . . . . . . . . . . . . . . . . .177
Updating an Application . . . . . . . . . . . . . . . . . . . . . . . . . . . . . . . . . . . . .178
The Appstore . . . . . . . . . . . . . . . . . . . . . . . . . . . . . . . . . . . . . . . . . . . . . . . . . . . . . . .179
Browsing Apps . . . . . . . . . . . . . . . . . . . . . . . . . . . . . . . . . . . . . . . . . . . . . . . . .179
Viewing and Purchasing Apps . . . . . . . . . . . . . . . . . . . . . . . . . . . . . .180
Viewing Saved or Recently Viewed Apps . . . . . . . . . . . . . . . . .182
Viewing Subscriptions . . . . . . . . . . . . . . . . . . . . . . . . . . . . . . . . . . . . . . . .182
Changing a Subscription Period . . . . . . . . . . . . . . . . . . . . . . . . . . . .183
Turning Off Auto-Renewal . . . . . . . . . . . . . . . . . . . . . . . . . . . . . . . . . . .183
Changing Subscription Privacy Preferences . . . . . . . . . . . . .184
Application Settings . . . . . . . . . . . . . . . . . . . . . . . . . . . . . . . . . . . . . . . . . . . . . .184
Force Stopping an Application . . . . . . . . . . . . . . . . . . . . . . . . . . . . .185
Clearing Application Data . . . . . . . . . . . . . . . . . . . . . . . . . . . . . . . . . . .186
Indispensable Apps . . . . . . . . . . . . . . . . . . . . . . . . . . . . . . . . . . . . . . . . . . . . . . .188
Listening to Audible Books . . . . . . . . . . . . . . . . . . . . . . . . . . . . . . . . . .188
Gallery . . . . . . . . . . . . . . . . . . . . . . . . . . . . . . . . . . . . . . . . . . . . . . . . . . . . . . . . . . .191
Pandora . . . . . . . . . . . . . . . . . . . . . . . . . . . . . . . . . . . . . . . . . . . . . . . . . . . . . . . . . .192
ES File Explorer . . . . . . . . . . . . . . . . . . . . . . . . . . . . . . . . . . . . . . . . . . . . . . . . .193
Chapter 9 Reading and Sending Email. . . . . . . . . . . . . . . . . . . . . . . . . . . . . . . . . . . . . . 197
Email Accounts . . . . . . . . . . . . . . . . . . . . . . . . . . . . . . . . . . . . . . . . . . . . . . . . . . . . .198
Adding a Basic Account . . . . . . . . . . . . . . . . . . . . . . . . . . . . . . . . . . . . . .198
Adding an Additional Email Account . . . . . . . . . . . . . . . . . . . . . .200
Adding a POP3 or IMAP Account . . . . . . . . . . . . . . . . . . . . . . . . . . .200
Configuring a POP3 Account . . . . . . . . . . . . . . . . . . . . . . . . . . . . . . . .202
Configuring an IMAP Account . . . . . . . . . . . . . . . . . . . . . . . . . . . . . .204
Removing an Account . . . . . . . . . . . . . . . . . . . . . . . . . . . . . . . . . . . . . . . .206
Managing Your Email Inbox . . . . . . . . . . . . . . . . . . . . . . . . . . . . . . . . . . . . .207
Choosing an Inbox . . . . . . . . . . . . . . . . . . . . . . . . . . . . . . . . . . . . . . . . . . . .207
Choosing a Folder . . . . . . . . . . . . . . . . . . . . . . . . . . . . . . . . . . . . . . . . . . . . .207
Sorting Email . . . . . . . . . . . . . . . . . . . . . . . . . . . . . . . . . . . . . . . . . . . . . . . . . . .208
Searching Email . . . . . . . . . . . . . . . . . . . . . . . . . . . . . . . . . . . . . . . . . . . . . . . .209
Synchronizing Email . . . . . . . . . . . . . . . . . . . . . . . . . . . . . . . . . . . . . . . . . .210
Selecting and Managing Multiple Messages . . . . . . . . . . . .210
Accessing Email Settings . . . . . . . . . . . . . . . . . . . . . . . . . . . . . . . . . . . . .212
Emptying the Trash . . . . . . . . . . . . . . . . . . . . . . . . . . . . . . . . . . . . . . . . . . .214
Flagging a Message . . . . . . . . . . . . . . . . . . . . . . . . . . . . . . . . . . . . . . . . . . .215
Reading Mail . . . . . . . . . . . . . . . . . . . . . . . . . . . . . . . . . . . . . . . . . . . . . . . . . . . . . . . .215
Reading a Message . . . . . . . . . . . . . . . . . . . . . . . . . . . . . . . . . . . . . . . . . . .216
Choosing When Images Are Displayed . . . . . . . . . . . . . . . . . . .217
Viewing Attachments . . . . . . . . . . . . . . . . . . . . . . . . . . . . . . . . . . . . . . . . .218
Sending Messages . . . . . . . . . . . . . . . . . . . . . . . . . . . . . . . . . . . . . . . . . . . . . . . .218
Composing a New Email Message . . . . . . . . . . . . . . . . . . . . . . . . .219
Sending Replies or Forwards . . . . . . . . . . . . . . . . . . . . . . . . . . . . . . . .220
Creating a Signature . . . . . . . . . . . . . . . . . . . . . . . . . . . . . . . . . . . . . . . . . .221
Sending Messages in Plain Text . . . . . . . . . . . . . . . . . . . . . . . . . . . .222
Changing Whether Original Message Is Quoted . . . . . . . .223
Working with Contacts . . . . . . . . . . . . . . . . . . . . . . . . . . . . . . . . . . . . . . . . . . .223
Viewing Contacts . . . . . . . . . . . . . . . . . . . . . . . . . . . . . . . . . . . . . . . . . . . . . .224
Adding a Contact . . . . . . . . . . . . . . . . . . . . . . . . . . . . . . . . . . . . . . . . . . . . . .224
Editing a Contact . . . . . . . . . . . . . . . . . . . . . . . . . . . . . . . . . . . . . . . . . . . . . .225
Changing Contact Sort Order and Name Display . . . . . . .226
Importing Contacts . . . . . . . . . . . . . . . . . . . . . . . . . . . . . . . . . . . . . . . . . . .227
Exporting Contacts . . . . . . . . . . . . . . . . . . . . . . . . . . . . . . . . . . . . . . . . . . . .229
Chapter 10 Browsing the Web with Silk . . . . . . . . . . . . . . . . . . . . . . . . . . . . . . . . . . . . . . 231
Browsing the Web . . . . . . . . . . . . . . . . . . . . . . . . . . . . . . . . . . . . . . . . . . . . . . . . .231
Browsing to a Website . . . . . . . . . . . . . . . . . . . . . . . . . . . . . . . . . . . . . . . .232
Navigating a Page . . . . . . . . . . . . . . . . . . . . . . . . . . . . . . . . . . . . . . . . . . . . .232
Sharing Pages on Facebook . . . . . . . . . . . . . . . . . . . . . . . . . . . . . . . . .233
Sharing Pages with Email . . . . . . . . . . . . . . . . . . . . . . . . . . . . . . . . . . . .234
Copying a Link to the Current Page . . . . . . . . . . . . . . . . . . . . . . .235
Copying a Hyperlink on a Page . . . . . . . . . . . . . . . . . . . . . . . . . . . . .235
Searching in the Current Page . . . . . . . . . . . . . . . . . . . . . . . . . . . . . .236
Searching the Web . . . . . . . . . . . . . . . . . . . . . . . . . . . . . . . . . . . . . . . . . . . .236
Working with Tabs . . . . . . . . . . . . . . . . . . . . . . . . . . . . . . . . . . . . . . . . . . . . . . . . .237
Opening Links in a New Tab . . . . . . . . . . . . . . . . . . . . . . . . . . . . . . . . .237
Adding a New Tab and Closing Tabs . . . . . . . . . . . . . . . . . . . . . . .238
Navigating Many Tabs . . . . . . . . . . . . . . . . . . . . . . . . . . . . . . . . . . . . . . . .239
Using Bookmarks . . . . . . . . . . . . . . . . . . . . . . . . . . . . . . . . . . . . . . . . . . . . . . . . . .239
Bookmarking the Current Page . . . . . . . . . . . . . . . . . . . . . . . . . . . . .239
Bookmarking a Hyperlink . . . . . . . . . . . . . . . . . . . . . . . . . . . . . . . . . . . .240
Viewing and Following Bookmarks . . . . . . . . . . . . . . . . . . . . . . . .241
Editing a Bookmark . . . . . . . . . . . . . . . . . . . . . . . . . . . . . . . . . . . . . . . . . . .242
Deleting a Bookmark . . . . . . . . . . . . . . . . . . . . . . . . . . . . . . . . . . . . . . . . .243
Using History . . . . . . . . . . . . . . . . . . . . . . . . . . . . . . . . . . . . . . . . . . . . . . . . . . . . . . .244
Viewing History . . . . . . . . . . . . . . . . . . . . . . . . . . . . . . . . . . . . . . . . . . . . . . . .244
Searching History . . . . . . . . . . . . . . . . . . . . . . . . . . . . . . . . . . . . . . . . . . . . . .245
Deleting a Single History Item . . . . . . . . . . . . . . . . . . . . . . . . . . . . . .245
Downloading Files . . . . . . . . . . . . . . . . . . . . . . . . . . . . . . . . . . . . . . . . . . . . . . . .246
Starting and Monitoring Downloads . . . . . . . . . . . . . . . . . . . . . .246
Canceling a Download . . . . . . . . . . . . . . . . . . . . . . . . . . . . . . . . . . . . . . .247
Opening Downloaded Files . . . . . . . . . . . . . . . . . . . . . . . . . . . . . . . . .248
Deleting Downloaded Files . . . . . . . . . . . . . . . . . . . . . . . . . . . . . . . . . .248
Configuring Silk Settings . . . . . . . . . . . . . . . . . . . . . . . . . . . . . . . . . . . . . . . . .249
Setting Your Search Engine . . . . . . . . . . . . . . . . . . . . . . . . . . . . . . . . . .250
Changing Text Size . . . . . . . . . . . . . . . . . . . . . . . . . . . . . . . . . . . . . . . . . . . .250
Controlling Cookies . . . . . . . . . . . . . . . . . . . . . . . . . . . . . . . . . . . . . . . . . . .251
Clearing the Cache . . . . . . . . . . . . . . . . . . . . . . . . . . . . . . . . . . . . . . . . . . . .252
Clearing History . . . . . . . . . . . . . . . . . . . . . . . . . . . . . . . . . . . . . . . . . . . . . . . .252
Controlling Form and Password Data . . . . . . . . . . . . . . . . . . . . .253
Accelerating Page Loading . . . . . . . . . . . . . . . . . . . . . . . . . . . . . . . . . .254
Setting Your Silk View . . . . . . . . . . . . . . . . . . . . . . . . . . . . . . . . . . . . . . . . .254
TOC, 978078949222, 12/13/2011