Note: Supplemental materials are not guaranteed with Rental or Used book purchases.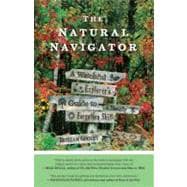 The Natural Navigator; A Watchful Explorer's Guide to a Nearly Forgotten Skill
ISBN13:
9781615190294
by
Tristan Gooley
Summary
Before GPS, before the compass, and even before cartography, humankind was navigating. A windswept tree, the depth of a puddle, or a trill of birdsong could point the way home#xE2;#xAC;#x1D;and, for the alert traveler, they still can. Whether you go exploring in the mountains or on a lunch break, natural navigation will keep you on course and open your eyes to the small wonders of the natural world. Almost anything in our environment can help us find our way#xE2;#xAC;#x1D;if we know what to look for. Adventurer and navigation expert Tristan Gooley unlocks the directional clues hidden in: the sun, moon, and stars #xE2;#xAC;#xA2; clouds #xE2;#xAC;#xA2; weather patterns #xE2;#xAC;#xA2; lengthening shadows #xE2;#xAC;#xA2; changing tides #xE2;#xAC;#xA2; plant growth #xE2;#xAC;#xA2; and the habits of local wildlife Enriched by helpful illustrations, and filled with navigational anecdotes collected across centuries, continents, and cultures, The Natural Navigator proves that anyone with a curious mind can still find south by looking at the moon#xE2;#xAC;#x1D;and find adventure in their own backyard.
Author Biography
Tristan Gooley is a writer and navigator. His passion for the subject of natural navigation stems from his hands-on experience. He has led expeditions in five continents, climbed mountains in Europe, Africa and Asia, sailed small boats across oceans and piloted small aircraft to Africa and the Arctic. He is the only living person to have both flown solo and sailed singlehandedly across the Atlantic, and he is a Fellow of the Royal Institute of Navigation and the Royal Geographical Society. Prior to setting up The Natural Navigator school, Gooley gained extensive experience in the travel industry, and he is currently Vice Chairman of Trailfinders. He and his school can be found online at naturalnavigator.com.