Note: Supplemental materials are not guaranteed with Rental or Used book purchases.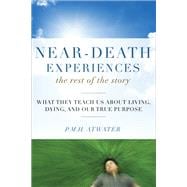 Near-Death Experiences, the Rest of the Story : What They Teach Us about Living and Dying and Our True Purpose
ISBN13:
9781571746511
by
Atwater, P. M. H.
Summary
Real-life stories of out-of-body experiences, encountering a special light, greeters from the afterlife, life reviews, tunnels, and 360-degree vision--are all part of this intriguing look at near-death experiences (NDEs) by one of the world's noted authorities, P.M.H. Atwater. Atwater shares her amazing findings, based on her sessions with more than 4,000 adults and children, and over 40 years of research; a breathtaking culmination to a successful and controversial career. Atwater examines every aspect of the near-death phenomenon: from first-hand accounts of survivors experiencing flash forwards, waking up in morgues, and developing psychic abilities, to stunning cases of groups experiencing NDEs together. Atwater offers statistics from her findings to show the distinctive common patterns that people experience, as well as the common aftereffects and how it changed their lives. She also explores the physiological and spiritual changes that result from near-death experiences and looks at the connections between the NDE experience and what is often called "enlightenment."Near Death Experiencesprovides a glimpse of not only what lies beyond the veil of our temporal existence, but points to what--or who--we really are and what we are meant to be.
Table of Contents
What This Book Is
p. ix
Opening Statement
p. xii
Acknowledgments
p. xiii
Groundwork: The Near-Death Experience
p. 1
The Scope of What I Did
p. 9
A New Model
p. 17
Actual Stories
p. 25
Accommodations, Multiples, Previews
p. 35
More Stories/Different Types
p. 43
Child Experiencers
p. 53
Their Turn
p. 61
The Pattern of Aftereffects
p. 71
A Myriad of Examples
p. 83
Integration
p. 91
Speaking of the Spiritual
p. 101
Shifts in Perception
p. 111
Crossover
p. 119
Compare It to Lightning
p. 127
The Key Is Intensity
p. 139
Brain Shift: Sensitivity and Synchronicity
p. 147
Brain Shift: Limbic System
p. 157
Brain Shift: Temporal Lobes
p. 167
Brain Shift: Deep Structures
p. 181
Spirit Shift: Second Birth
p. 195
Spirit Shift: Biological Imperative
p. 201
Spirit Shift: A New Model of Existence
p. 209
Spirit Shift: A New Christology
p. 219
Final Words about Science
p. 231
Voices
p. 241
Special Tribute
p. 253
International Association for Near-Death Studies-IANDS
p. 255
Note
p. 256
Applicability of Police Science Interview/Inquiry Techniques in Research of Non-Law Enforcement Matters
p. 257
Notes
p. 259
Index
p. 279
About the Author
p. 289
Table of Contents provided by Ingram. All Rights Reserved.