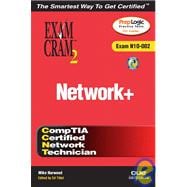 Questions About This Book?
What version or edition is this?
This is the 2nd edition with a publication date of 1/1/2003.
What is included with this book?
The eBook copy of this book is not guaranteed to include any supplemental materials. Typically only the book itself is included.
Summary
This exam certifies that candidates know the layers of the OSI model, can describe the features and functions of network components, and have the skills needed to install, configure, and troubleshoot basic networking hardware peripherals and protocols. The Network+ exam, developed by CompTIA, is only two years old but already is held by 50,000 individuals (an adoption rate that is even faster than A+, CompTIA's flagship certification). It is now being taught in schools and has grown 120% in the past year. Currently, 4,000 candidates are sitting the Network+ exam each month. The certification is endorsed by Microsoft (as part of its popular new MCSA program), Cisco, Novell, and 3Com, among others. Readers preparing for this exam find the best-selling Exam Cram2 series to be the smartest, most efficient way to become certified. This book focuses on exactly what readers need to get certified now, featuring test-taking strategies, time-saving study tips, and a special Cram Sheet that includes tips, acronyms, and memory joggers that are not available anywhere else. ExamCram2 also features PrepLogic" Practice Tests!
Table of Contents
Introduction
xxii
Self-Assessment
xxvii

| | |
| --- | --- |
| | Introduction to Networking |

1
(24)
2
(1)
2
(1)
2
(1)
3
(1)
3
(2)
3
(1)

| | |
| --- | --- |
| | Client/server networking model |

4
(1)

| | |
| --- | --- |
| | Centralized and distributed computing |

5
(1)
5
(6)
6
(1)
6
(1)
7
(2)
9
(1)
10
(1)

| | |
| --- | --- |
| | IEEE and networking standards |

11
(3)
12
(1)
12
(1)
13
(1)
13
(1)
14
(2)
16
(9)
16
(1)
17
(1)
18
(5)
23
(2)
25
(26)
26
(1)

| | |
| --- | --- |
| | General media considerations |

26
(2)

| | |
| --- | --- |
| | Broadband versus baseband |

26
(1)

| | |
| --- | --- |
| | Simplex, half duplex, and full duplex |

26
(1)
27
(1)
27
(1)
28
(1)
28
(7)
28
(2)
30
(2)
32
(1)
33
(2)
35
(4)
35
(1)
36
(1)
37
(1)
37
(2)
39
(4)
39
(1)
39
(1)
40
(1)
41
(1)
42
(1)
43
(7)
43
(1)
44
(1)
45
(5)
50
(1)
51
(24)
52
(1)
52
(1)
52
(1)
53
(3)
54
(2)
56
(1)

| | |
| --- | --- |
| | Bridge placement and bridging loops |

56
(1)
57
(1)
57
(3)
58
(1)
59
(1)
60
(1)
61
(1)
61
(1)
61
(2)
63
(2)
64
(1)

| | |
| --- | --- |
| | System area network cards |

64
(1)
65
(1)
66
(8)
66
(2)
68
(1)
69
(5)
74
(1)

| | |
| --- | --- |
| | OSI Model and Network Protocols |

75
(24)
76
(1)
76
(4)
77
(1)

| | |
| --- | --- |
| | Data-link layer (Layer 2) |

77
(1)
77
(1)

| | |
| --- | --- |
| | Transport layer (Layer 4) |

78
(1)
79
(1)

| | |
| --- | --- |
| | Presentation layer (Layer 6) |

79
(1)

| | |
| --- | --- |
| | Application layer (Layer 7) |

79
(1)
80
(1)

| | |
| --- | --- |
| | Identifying the OSI layers at which various network components operate |

81
(1)

| | |
| --- | --- |
| | Differentiating among protocols |

81
(9)

| | |
| --- | --- |
| | Connectionless and connection-oriented protocols |

81
(1)

| | |
| --- | --- |
| | The TCP/IP protocol suite |

82
(2)

| | |
| --- | --- |
| | Internetwork packet exchange/sequenced packet exchange |

84
(2)
86
(3)
89
(1)
89
(1)
90
(7)
90
(1)
91
(2)
93
(4)
97
(2)

| | |
| --- | --- |
| | TCP/IP (Transmission Control Protocol/Internet Protocol) |

99
(26)
100
(6)
100
(1)

| | |
| --- | --- |
| | Transmission Control Protocol (TCP) |

100
(1)

| | |
| --- | --- |
| | User Datagram Protocol (UDP) |

100
(1)

| | |
| --- | --- |
| | File Transfer Protocol (FTP) |

101
(1)

| | |
| --- | --- |
| | Trivial File Transfer Protocol (TFTP) |

102
(1)

| | |
| --- | --- |
| | Simple Mail Transfer Protocol (SMTP) |

102
(1)

| | |
| --- | --- |
| | Hypertext Transfer Protocol (HTTP) |

102
(1)

| | |
| --- | --- |
| | Hypertext Transfer Protocol Secure (HTTPS) |

103
(1)

| | |
| --- | --- |
| | Post Office Protocol (POP) and Internet Message Access Protocol (IMAP) |

103
(1)
103
(1)

| | |
| --- | --- |
| | Internet Control Message Protocol (ICMP) |

104
(1)

| | |
| --- | --- |
| | Address Resolution Protocol (ARP) |

104
(1)

| | |
| --- | --- |
| | Network Time Protocol (NTP) |

104
(1)

| | |
| --- | --- |
| | TCP/IP protocol suite summary |

104
(2)
106
(1)
107
(4)

| | |
| --- | --- |
| | Dynamic Host Configuration Protocol (DHCP) and Boot Protocol (BOOTP) |

107
(1)

| | |
| --- | --- |
| | Domain Name Service (DNS) |

108
(1)

| | |
| --- | --- |
| | Network Address Translation (NAT) and Internet Connection Sharing (ICS) |

109
(1)

| | |
| --- | --- |
| | Simple Network Management Protocol (SNMP) |

110
(1)

| | |
| --- | --- |
| | Windows Internet Name Service (WINS) |

110
(1)
111
(1)

| | |
| --- | --- |
| | Identifying IP addresses (IPv4, IPv6) and their default subnet masks |

111
(3)
112
(1)
112
(1)
113
(1)
113
(1)
114
(1)

| | |
| --- | --- |
| | Identifying the purposes of subnetting and default gateways |

114
(1)
115
(1)

| | |
| --- | --- |
| | Identifying the differences between public and private networks |

115
(2)
116
(1)
117
(6)
117
(2)
119
(4)
123
(2)

| | |
| --- | --- |
| | WAN Technologies, Remote Access, and Security Protocols |

125
(30)
127
(1)
127
(6)

| | |
| --- | --- |
| | Dial-up modem connections |

127
(1)

| | |
| --- | --- |
| | Integrated Services Digital Network (ISDN) |

128
(1)
129
(1)

| | |
| --- | --- |
| | Fiber Distributed Data Interface (FDDI) |

130
(1)

| | |
| --- | --- |
| | Asynchronous Transfer Mode (ATM) |

131
(1)
131
(1)
132
(1)
132
(1)

| | |
| --- | --- |
| | Remote access protocols and services |

133
(4)

| | |
| --- | --- |
| | Remote Access Service (RAS) |

133
(1)
134
(1)
135
(1)
136
(1)

| | |
| --- | --- |
| | Independent Computing Architecture (ICA) |

137
(1)
137
(4)
138
(1)
139
(1)

| | |
| --- | --- |
| | Layer 2 Tunneling Protocol (L2TP) |

139
(1)

| | |
| --- | --- |
| | Secure Sockets Layer (SSL) |

140
(1)
140
(1)
141
(1)

| | |
| --- | --- |
| | Configuring remote connectivity |

141
(5)
141
(1)
142
(2)
144
(1)
144
(2)
146
(7)
146
(1)
147
(2)
149
(4)
153
(2)

| | |
| --- | --- |
| | Network Operating Systems and Clients |

155
(44)
156
(1)

| | |
| --- | --- |
| | Network operating systems |

156
(17)
157
(5)
162
(3)
165
(4)
169
(4)

| | |
| --- | --- |
| | Operating system interoperability |

173
(1)

| | |
| --- | --- |
| | Using Windows with NetWare |

173
(1)

| | |
| --- | --- |
| | Using Windows and Linux servers |

174
(1)

| | |
| --- | --- |
| | Using NetWare and Linux servers |

174
(1)

| | |
| --- | --- |
| | Operating system client support |

174
(2)

| | |
| --- | --- |
| | Windows server client support |

175
(1)

| | |
| --- | --- |
| | NetWare server client support |

175
(1)

| | |
| --- | --- |
| | Linux server client support |

175
(1)
176
(5)

| | |
| --- | --- |
| | Windows 95, Windows 98, and Windows Me |

176
(1)

| | |
| --- | --- |
| | Windows NT Workstation, Windows 2000 Professional, and Windows XP Professional |

177
(2)
179
(1)
180
(1)

| | |
| --- | --- |
| | Selecting a NIC and network configuration settings |

181
(7)
181
(1)

| | |
| --- | --- |
| | Connecting the PC to the network |

182
(1)

| | |
| --- | --- |
| | Testing and troubleshooting the NIC |

183
(1)

| | |
| --- | --- |
| | Configuring the NIC settings |

184
(3)

| | |
| --- | --- |
| | Using DHCP (Dynamic Host Control Protocol) |

187
(1)

| | |
| --- | --- |
| | Configuring clients to access servers |

188
(3)

| | |
| --- | --- |
| | Configuring Microsoft Windows clients |

188
(2)

| | |
| --- | --- |
| | Unix/Linux client software |

190
(1)
191
(7)
191
(1)
192
(2)
194
(4)
198
(1)

| | |
| --- | --- |
| | Fault Tolerance, Disaster Recovery, VLANs, and NAS |

199
(24)
200
(1)
200
(8)

| | |
| --- | --- |
| | Disk-level fault tolerance |

200
(5)
205
(2)

| | |
| --- | --- |
| | Using uninterruptible power supplies |

207
(1)
208
(4)
208
(1)
209
(1)
210
(1)
211
(1)
211
(1)

| | |
| --- | --- |
| | Network Attached Storage (NAS) |

212
(1)
213
(2)
214
(1)
215
(7)
215
(1)
216
(1)
217
(5)
222
(1)
223
(20)
224
(1)
224
(3)

| | |
| --- | --- |
| | Packet-filtering firewalls |

225
(1)
226
(1)

| | |
| --- | --- |
| | Application gateway firewalls |

226
(1)
227
(3)
228
(1)
229
(1)

| | |
| --- | --- |
| | Understanding how security affects a network |

230
(4)
230
(1)

| | |
| --- | --- |
| | Port blocking and network users |

231
(1)
231
(2)
233
(1)

| | |
| --- | --- |
| | Authentication, passwords, and password policies |

234
(2)
234
(1)
235
(1)
236
(6)
236
(1)
237
(1)
238
(4)
242
(1)

| | |
| --- | --- |
| | Troubleshooting Connectivity |

243
(44)
245
(1)

| | |
| --- | --- |
| | Troubleshooting with diagnostic utilities |

245
(17)
245
(2)
247
(5)
252
(1)
253
(5)
258
(1)
259
(2)
261
(1)
261
(1)

| | |
| --- | --- |
| | Supporting and troubleshooting the small office and home environment |

262
(8)
263
(1)
263
(1)
264
(1)
265
(1)
266
(1)
267
(1)
268
(2)

| | |
| --- | --- |
| | Troubleshooting remote connectivity errors |

270
(2)
271
(1)
271
(1)
272
(1)
272
(3)
272
(1)
273
(1)

| | |
| --- | --- |
| | Tone generators (and tone locators) |

273
(1)
274
(1)

| | |
| --- | --- |
| | Hardware loopback connectors |

274
(1)

| | |
| --- | --- |
| | Interpreting visual indicators |

275
(2)

| | |
| --- | --- |
| | LEDs on networking devices |

275
(1)

| | |
| --- | --- |
| | LEDs on NICs and other devices |

276
(1)
277
(8)
277
(2)
279
(1)
280
(5)
285
(2)

| | |
| --- | --- |
| | Troubleshooting and Supporting the Network |

287
(26)
289
(1)

| | |
| --- | --- |
| | Troubleshooting steps and procedures |

289
(3)
289
(1)

| | |
| --- | --- |
| | Identify the affected area |

290
(1)

| | |
| --- | --- |
| | Establish what has changed |

290
(1)

| | |
| --- | --- |
| | Select the probable cause |

291
(1)
291
(1)
291
(1)

| | |
| --- | --- |
| | Recognize the potential effect of the solution |

292
(1)
292
(1)

| | |
| --- | --- |
| | Identify and troubleshoot errors with a particular physical topology |

292
(4)
293
(1)
293
(1)
294
(1)
295
(1)
295
(1)

| | |
| --- | --- |
| | Identifying and troubleshooting client connectivity problems |

296
(4)
296
(1)
297
(1)
298
(1)

| | |
| --- | --- |
| | Physical connectivity errors |

299
(1)

| | |
| --- | --- |
| | Troubleshooting wiring- and infrastructure-related problems |

300
(2)
300
(1)

| | |
| --- | --- |
| | Troubleshooting the infrastructure |

301
(1)

| | |
| --- | --- |
| | Predicting the impact of modifying, adding, or removing network services |

302
(2)

| | |
| --- | --- |
| | Adding, modifying, or removing DHCP |

302
(1)

| | |
| --- | --- |
| | Adding, modifying, or removing WINS |

303
(1)

| | |
| --- | --- |
| | Adding, modifying, or removing DNS |

304
(1)
304
(8)
304
(1)
305
(2)
307
(5)
312
(1)
313
(30)

| | |
| --- | --- |
| | Answers to exam questions |

334
(9)
343
(30)

| | |
| --- | --- |
| | Answers to exam questions |

363
(10)
Appendix A What's on the CD-ROM
373
(4)

| | |
| --- | --- |
| | PrepLogic Practice Tests, Preview Edition |

374
(1)

| | |
| --- | --- |
| | Exclusive Electronic Version of Text |

374
(1)

| | |
| --- | --- |
| | Easy Access to Online Pointers and References |

375
(2)
Appendix B Using the PrepLogic Practice Tests, Preview Edition Software
377
(8)
378
(1)
378
(1)
378
(1)

| | |
| --- | --- |
| | Effective Learning Environment |

378
(1)
379
(1)

| | |
| --- | --- |
| | Installing PrepLogic Practice Tests, Preview Edition |

379
(1)

| | |
| --- | --- |
| | Removing PrepLogic Practice Tests, Preview Edition from Your Computer |

379
(1)

| | |
| --- | --- |
| | Using PrepLogic Practice Tests, Preview Edition |

380
(1)

| | |
| --- | --- |
| | Starting a Practice Test Mode Session |

380
(1)

| | |
| --- | --- |
| | Starting a Flash Review Mode Session |

381
(1)

| | |
| --- | --- |
| | Standard PrepLogic Practice Tests, Preview Edition Options |

381
(1)
382
(1)

| | |
| --- | --- |
| | Your Examination Score Report |

382
(1)
383
(1)
383
(1)
383
(1)
383
(1)

| | |
| --- | --- |
| | Product Suggestions and Comments |

383
(1)
384
(1)
Glossary
385
(44)
Index
429