Note: Supplemental materials are not guaranteed with Rental or Used book purchases.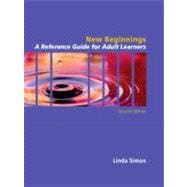 New Beginnings : A Reference Guide for Adult Learners
ISBN13:
9780130607386
by
Simon, Linda
Related Products
Summary
Linda Simon's New Beginnings specifically addresses the needs of adults by relating to and drawing upon their life experiences. This supportive guide takes readers from the early stages of their college careers-how to choose a program and a course-to broader academic support skills such as: bull; bull;managing time and stress effectively bull;recognizing how life experiences benefit them as students bull;assessing their own strengths as learners bull;choosing knowledgeably among the course offerings in their programs bull;finding the resources they need, when they need them bull;learning new study and test-taking skills bull;practicing new reading strategies bull;engaging in productive research bull;writing successful college papers New Beginnings helps students assess and apply their own strengths as learners, which gives them the skills and confidence they need to succeed. Visit our Student Success Supersite at www.prenhall.com/success Features include: bull; bull;Majors Exploration bull;Career Advice bull;Web Links bull;Tips from Successful Students bull;Student Bulletin Boards bull;Faculty Resources
Table of Contents
1. Becoming a Student.
2. Assessing Learning Needs and Course Requirements.
3. Identifying College Resources.
4. Strategies for Managing Time and Stress.
5. Developing Note-Taking, Studying, and Test-Taking Skills.
6. Strategies for Reading.
7. Strategies for Research.
8. Strategies for Writing.
Appendix A: Grammar Brushup.
Appendix B: Math Brushup.
Appendix C: Financing Your Education.
Index.

Excerpts
I've taught adult learners and returning students for 12 years. On the first day of class, I always ask my students to write a letter to me introducing themselves as learners. I want to know what educational and life experiences they bring to the classroom. I ask them to tell me why they've decided to return to school. What do they hope to achieve in my class? What do I need to learn about them to help them achieve their goals? These introductions tell me that most adult students are in college to better prepare themselves for the workforce. They may be pursuing a new career or shaking advancement in their current career. Whatever their goals, this book equips students with skills for continuous learning so that they can obtain and keep a better job. This book also gives readers what they need to do well in college. I've discovered that adult students often have a feeling of doubt about their ability to succeed in college. If they have been out of school for some time, they worry that their skills are rusty. If they were unsuccessful in past academic settings, they worry that they will repeat those experiences. Adult learners and returning students are concerned with managing time, honing good study skills, and learning to write successful college papers. Although many programs offer advisors, workshops, and support services, noticed that what my students lacked was a helpful and reassuring guide to college success.New Beginningsis that guide.New Beginningsaddresses the specific needs of adult learners and returning students. The eight chapters in this book will help readers: recognize how their life experiences benefit them as students assess their own strengths as learners choose knowledgeably among the course offerings in their programs a find the help they need when they need it manage time and stress effectively learn new study and test-taking skills practice new reading strategies engage in productive research write successful college papers New Beginningsis dedicated to all of my students who have worked so hard to achieve their goals; and to all of the adult students reading this book, who are returning to school to make a positive difference in their lives. A CHAPTER PREVIEW New Beginningswill help you build upon your life experiences and practice the new skills that will help you to become a successful student. Here is an overview of what you can expect from the rest of this book. CHAPTER 1, BECOMING A STUDENT.As you begin your college career, this chapter helps you to identify your strengths as a student, set long-term goals, and learn to feel productive and comfortable in a class environment. CHAPTER 2, ASSESSING LEARNING NEEDS AND COURSE REQUIREMENTS.Becoming a student means taking responsibility for your own learning. This chapter will give you some guidelines to help you assess your own learning style, establish productive relationships with your teachers, understand a college catalog and course syllabus, understand degree requirements, and choose appropriate courses. It helps you to evaluate your own learning style and to understand degree requirements. You'll learn the differences between types of courses (seminar, workshop, lecture) and find definitions of different disciplines. CHAPTER 3, IDENTIFYING COLLEGE RESOURCES.Adult education programs often provide a wide range of support services for their students. This chapter outlines and defines those helpful sources so you will know where to find the support you may need during your college career. CHAPTER 4, STRATEGIES FOR MANAGING TIME AND STRESS.Because adult students need to find time for school in their already busy lives, they need to develop strategies for coping with overload, burnout, and stress. This chapter offers ten hints for time management.