Note: Supplemental materials are not guaranteed with Rental or Used book purchases.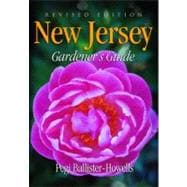 Summary
Written by Pegi Ballister-Howells, a leading gardening expert in the state of New Jersey, this proven format has helped gardeners experience success and enjoyment from their gardens. The trend in gardening books is toward regional titles, and book retailers are well aware of this. The Gardener's Guide series provides credible information on the plants that perform best in specific states. Gardeners will find information they can trust and use successfully in their own gardens. Gardening is now the favorite leisure pastime in America. Homeowners are realizing the health benefits derived from gardening, and the resulting increase in their home's property value.
Author Biography
Pegi Ballister-Howells is well suited to write about New Jersey ornamental gardening. She received her bachelor's degree in Biology from Rutgers College and a master's degree in Horticulture from Rutgers University. She has worked with numerous organizations in the horticulture field, including the New Jersey Farm Bureau as marketing consultant since 1993, Herb Tech of New Jersey as regional manager, The New Jersey Nursery and Landscape Association, The Vegetable Growers Association of New Jersey, and the Rutgers University Cooperative Extension as an assistant professor and county agricultural agent. She is a member of the Board of Trustees for the New Jersey Museum of Agriculture, and takes agricultural photographs across the state. Her expertise is shared with the public as host of the popular call-in radio program, "The Garden Show," on WCTC-AM 1450 in New Brunswick. Additionally, her 30-minute cable television show "At Home with Pegi," produced by EBTV, features gardening, agriculture, the animals she loves, and all the skills that go into running and maintaining a home. For each of the last five years Pegi has also spoken at the Philadelphia Flower Show, one of the largest flower shows in the world. The writing of Pegi Ballister-Howells appeared for 15 years in the Home News Tribune. The author has also been published in many other periodicals, including Garden State Home and Garden, The Star Ledger, The Courier News, Rutgers Magazine, Heresies, New Jersey Living, The Plant Press, Slow Food Central New Jersey, and The Farm Bureau publications The Update and Farm Bureau News. She currently authors the newsletter for the Vegetable Growers Association of New Jersey. Pegi, her husband, family, and assorted creatures live on a ten-acre working farm, Blooming Acres, where they do extensive ornamental and vegetable gardening.
Table of Contents
| | | | |
| --- | --- | --- | --- |
| Featured Plants for New Jersey | | 6 | (3) |
| Welcome to Gardening in New Jersey | | 9 | (11) |
| How to Use the New Jersey Gardener's Guide | | 20 | (1) |
| USDA Cold Hardiness Zones | | 21 | (1) |
| Annuals | | 22 | (28) |
| Bulbs, Corms, Rhizomes, and Tubers | | 50 | (26) |
| Down the Shore Plants | | 76 | (10) |
| Evergreen Trees | | 86 | (14) |
| Ground Covers | | 100 | (12) |
| Lawns | | 112 | (10) |
| Ornamental Grasses | | 122 | (14) |
| Perennials | | 136 | (26) |
| Plants with Winter Interest | | 162 | (12) |
| Roses | | 174 | (10) |
| Shade Trees | | 184 | (8) |
| Shrubs | | 192 | (24) |
| Small Flowering Trees | | 216 | (16) |
| Vines | | 232 | (8) |
| Places to Go of Horticultural Interest | | 240 | (4) |
| More on Rhododendrons | | 244 | (2) |
| Growing with Blooming Acres | | 246 | (6) |
| Glossary | | 252 | (4) |
| Bibliography | | 256 | (3) |
| Photography Credits | | 259 | (1) |
| Plant Index | | 260 | (12) |
| Meet the Author | | 272 | |