Note: Supplemental materials are not guaranteed with Rental or Used book purchases.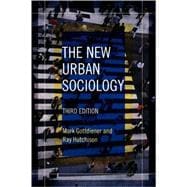 Summary
Representing a major contribution to the field, authors Mark Gottdiener and Ray Hutchison present their breakthrough text in a new third edition, now completely revised and streamlined to provide students with a solid grounding on the topic. The book is organized around an integrated paradigm--the sociospatial perspective--which considers the role played by social factors such as race, class, gender, lifestyle, economics, culture, and politics on the development of metropolitan areas. New case studies throughout the text represent the most recent work in the field, as well as key terms and discussion questions at the end of each chapter. Additional updates include discussions of globalism, suburbanization, the multi-centered region as the new urban form, the new urbanism, and critical perspectives on planning and policy. Cast in a clear, accessible delivery that students will comprehend,The New Urban Sociology, Third Edition is a necessity for all courses on the subject.
Author Biography
Mark Gottdiener is professor of sociology at SUNY-Buffalo and the author of a number of books, including The Theming of America (Westview Press); Las Vegas: The Social Production of an All-American City; New Forms of Consumption: Consumer, Culture, and Commodification; Postmodern Semiotics; and The Social Production of Urban Space. Ray Hutchison is professor of sociology and chair of urban and regional studies at the University of Wisconsin-Green Bay. He is series editor of Research in Urban Sociology and senior editor of the forthcoming three-volume Encyclopedia of Urban Studies.
Table of Contents
Preface
xiii
1
(20)

| | |
| --- | --- |
| | Defining the Metropolitan Region |

6
(3)

| | |
| --- | --- |
| | Megacities Around the World |

9
(3)

| | |
| --- | --- |
| | A New Approach to Urban Sociology |

12
(1)

| | |
| --- | --- |
| | Global Capitalism and the Metropolis |

12
(2)

| | |
| --- | --- |
| | The Production of the Multicentered Metro Environment: Pull Factors |

14
(2)

| | |
| --- | --- |
| | The Importance of Culture in Metropolitan Life |

16
(2)

| | |
| --- | --- |
| | Summary: The Sociospatial Approach |

18
(1)
19
(1)
20
(1)

| | |
| --- | --- |
| | The Origins of Urban Life |

21
(22)
25
(2)
27
(3)

| | |
| --- | --- |
| | Urbanization After AD 1000 |

30
(3)

| | |
| --- | --- |
| | The Medieval Order and the Renaissance City |

33
(3)

| | |
| --- | --- |
| | Capitalism and the Rise of the Industrial City |

36
(4)
40
(1)
40
(1)
41
(2)

| | |
| --- | --- |
| | The Rise of Urban Sociology |

43
(22)
46
(2)

| | |
| --- | --- |
| | Louis Wirth and Urbanism as a Way of Life |

48
(3)

| | |
| --- | --- |
| | The Chicago School of Urban Sociology |

51
(8)

| | |
| --- | --- |
| | From Human Ecology to Urban Ecology |

59
(3)
62
(1)
63
(1)
64
(1)

| | |
| --- | --- |
| | Contemporary Urban Sociology |

65
(20)

| | |
| --- | --- |
| | Political Economy and the City |

66
(4)

| | |
| --- | --- |
| | The Revival of Urban Political Economy: Henri Lefebvre |

70
(2)

| | |
| --- | --- |
| | Class Conflict Theories: Gordon, Storper and Walker, and Castells |

72
(1)

| | |
| --- | --- |
| | Capital Accumulation Theory: David Harvey |

73
(2)
75
(1)

| | |
| --- | --- |
| | The Sociospatial Perspective |

76
(6)

| | |
| --- | --- |
| | Summary: The Sociospatial Perspective |

82
(1)
83
(1)
83
(2)

| | |
| --- | --- |
| | Urbanization in the United States |

85
(20)

| | |
| --- | --- |
| | The Stages of Urban Growth |

86
(1)

| | |
| --- | --- |
| | The Colonial Period: 1630 to 1812 |

87
(4)

| | |
| --- | --- |
| | The Era of Industrial Expansion: 1812 to 1920 |

91
(6)

| | |
| --- | --- |
| | The Rise of the Metropolis: 1920--1960 |

97
(6)
103
(1)
103
(2)

| | |
| --- | --- |
| | Suburbanization and the Creation of the Multicentered Region |

105
(34)

| | |
| --- | --- |
| | The Restructuring of Settlement Space: 1960 to the Present |

111
(3)
114
(6)
120
(7)

| | |
| --- | --- |
| | Beyond Suburbia: The Multinucleated Region |

127
(1)
127
(9)
136
(1)
137
(2)

| | |
| --- | --- |
| | People and Lifestyles in the Metropolis |

139
(16)

| | |
| --- | --- |
| | Class Stratification and Spatial Location |

140
(8)

| | |
| --- | --- |
| | Women, Gender Roles, and Space |

148
(5)
153
(1)
153
(2)

| | |
| --- | --- |
| | Ethnicity and Race in the Metropolis |

155
(26)
157
(1)
158
(1)

| | |
| --- | --- |
| | Theories of Immigrant Adjustment |

159
(2)
161
(5)

| | |
| --- | --- |
| | Ethnic Settlement Space in Cities and Suburbs |

166
(12)

| | |
| --- | --- |
| | Conclusion: Ethnic Diversity Across the Metropolis |

178
(2)
180
(1)
180
(1)

| | |
| --- | --- |
| | Neighborhoods, the Public Environment, and Theories of Urban Life |

181
(18)

| | |
| --- | --- |
| | Does Space Affect Behavior? The Search for Community |

182
(4)

| | |
| --- | --- |
| | Does Space Affect Behavior? A New Theory of Urbanism |

186
(8)

| | |
| --- | --- |
| | Neighboring and Community |

194
(2)
196
(1)
197
(1)
197
(1)
197
(2)

| | |
| --- | --- |
| | Metropolitan Problems: Poverty, Racism, Crime, Housing, and Fiscal Crisis |

199
(32)

| | |
| --- | --- |
| | Theories of Urban Problems |

200
(1)

| | |
| --- | --- |
| | The Sociospatial Perspective |

201
(1)
202
(4)
206
(4)
210
(8)

| | |
| --- | --- |
| | Street Gangs and Gang Activity |

218
(4)
222
(1)

| | |
| --- | --- |
| | The Fiscal Crisis and Public Service Problems |

223
(2)

| | |
| --- | --- |
| | Housing Problems: Affordability, Access |

225
(3)
228
(1)
229
(1)
229
(1)
229
(2)

| | |
| --- | --- |
| | Local Politics: City and Suburban Government |

231
(22)
232
(2)
234
(2)

| | |
| --- | --- |
| | Theories of Local Politics |

236
(3)
239
(1)

| | |
| --- | --- |
| | The Drama of Local Politics |

240
(5)

| | |
| --- | --- |
| | The Contradictory Nature of Local Government |

245
(1)

| | |
| --- | --- |
| | The Declining Power of Local Politics |

246
(3)
249
(2)
251
(1)
251
(2)

| | |
| --- | --- |
| | Urbanization in the Developed Nations: Western and Eastern Europe and Japan |

253
(28)
255
(12)
267
(7)
274
(4)
278
(1)
279
(1)
280
(1)

| | |
| --- | --- |
| | Globalization and Third World Urbanization |

281
(32)

| | |
| --- | --- |
| | Changing Perspectives on Third World Urbanization |

284
(4)

| | |
| --- | --- |
| | Demography and Third World Urbanization |

288
(3)

| | |
| --- | --- |
| | Primate City Development Patterns |

291
(1)
292
(2)

| | |
| --- | --- |
| | The Informal Economy and Coping Strategies |

294
(1)

| | |
| --- | --- |
| | Urban Social Movements and Politics |

295
(3)

| | |
| --- | --- |
| | Patterns of Third World Urbanization |

298
(12)
310
(2)
312
(1)
312
(1)

| | |
| --- | --- |
| | Environmental Issues and Metropolitan Planning |

313
(26)
315
(3)
318
(1)
319
(3)

| | |
| --- | --- |
| | The Sociology of Land-Use Planning |

322
(1)
323
(2)

| | |
| --- | --- |
| | Utopian Schemes: Howard, Le Corbusier, and Wright |

325
(5)

| | |
| --- | --- |
| | Planning Critics: Jacobs and Krier |

330
(2)

| | |
| --- | --- |
| | Other Trends in Planning Today |

332
(3)
335
(3)
338
(1)
338
(1)
338
(1)

| | |
| --- | --- |
| | Metropolitan Social Policy |

339
(20)

| | |
| --- | --- |
| | The Tragedy of the Commons and Uneven Development |

339
(5)

| | |
| --- | --- |
| | Urban and Metropolitan Policy |

344
(6)

| | |
| --- | --- |
| | Privatism and Issues of Social Justice |

350
(2)

| | |
| --- | --- |
| | Urban Policy: The Political Debate |

352
(5)
357
(1)
357
(2)

| | |
| --- | --- |
| | The Future of Urban Sociology |

359
(16)

| | |
| --- | --- |
| | Understanding the New Urban World |

360
(8)

| | |
| --- | --- |
| | Urban Structure and Urban Culture |

368
(2)

| | |
| --- | --- |
| | The Future of the Urban Inquiry |

370
(2)
372
(1)
372
(1)
372
(3)
Bibliography
375
(24)
Index
399
(10)
About the Authors
409