Note: Supplemental materials are not guaranteed with Rental or Used book purchases.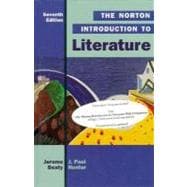 Questions About This Book?
What version or edition is this?
This is the 7th edition with a publication date of 1/1/1998.
What is included with this book?
The New copy of this book will include any supplemental materials advertised. Please check the title of the book to determine if it should include any CDs, lab manuals, study guides, etc.
Summary
Offering 59 stories, 458 poems, and 15 plays, the Seventh Edition provides a wealth of classics and contemporaries, canonical favorites and emerging writers. New to the Seventh Edition are pieces by Audre Thomas, Salman Rushdie, Jimmy Santiago Baca, Flannery O'Connor, Seamus Heaney, Marilyn Hacker, Lorraine Hansberry, David Ives, Raymond Carver, Joyce Carol Oates, Margaret Laurence, Allen Ginsberg, Nicholson Baker, and Denise Levertov, among many others. The Norton Introduction to Literature offers students more perspectives on the contexts of literature - authorial, literary, cultural, historical, and critical - than any other introductory anthology. Included in the Seventh Edition are three new "Exploring Contexts" chapters. Entitled "Critical Contexts", each includes a literary piece and several examples of professional criticism about that piece to introduce students to the critical discussion surrounding works and authors and to inspire students' own critical writing.
Table of Contents
Fiction
2
(792)

| | |
| --- | --- |
| | Fiction: Reading, Responding, Writing |

2
(19)
2
(3)

| | |
| --- | --- |
| | Kill Day on the Government Wharf |

5
(9)
14
(6)

| | |
| --- | --- |
| | QUESTIONS/WRITING SUGGESTIONS |

20
(1)
21
(288)
21
(51)
26
(3)
29
(18)
47
(23)

| | |
| --- | --- |
| | QUESTIONS/WRITING SUGGESTIONS |

70
(2)
72
(31)
75
(5)

| | |
| --- | --- |
| | An Occurrence at Owl Creek Bridge |

80
(7)
87
(15)

| | |
| --- | --- |
| | QUESTIONS/WRITING SUGGESTIONS |

102
(1)
103
(42)
107
(9)
116
(10)
126
(13)

| | |
| --- | --- |
| | A Conversation with My Father |

139
(4)

| | |
| --- | --- |
| | QUESTIONS/WRITING SUGGESTIONS |

143
(2)
145
(39)
147
(9)
156
(15)
171
(11)

| | |
| --- | --- |
| | QUESTIONS/WRITING SUGGESTIONS |

182
(2)
184
(27)
187
(9)
196
(7)
203
(3)

| | |
| --- | --- |
| | QUESTIONS/WRITING SUGGESTIONS |

206
(2)

| | |
| --- | --- |
| | STUDENT WRITING: The Struggle to Surface in the Water of "Sonny's Blues" |

208
(3)
211
(23)
214
(4)
218
(8)
226
(6)

| | |
| --- | --- |
| | QUESTIONS/WRITING SUGGESTIONS |

232
(2)
234
(75)
234
(30)

| | |
| --- | --- |
| | QUESTIONS AND WRITING SUGGESTIONS |

264
(1)
265
(16)

| | |
| --- | --- |
| | QUESTIONS AND WRITING SUGGESTIONS |

281
(1)
282
(25)

| | |
| --- | --- |
| | QUESTIONS/WRITING SUGGESTIONS |

307
(2)
309
(239)

| | |
| --- | --- |
| | 8 THE AUTHOR'S WORK AS CONTEXT: D. H. LAWRENCE AND FLANNERY O'CONNOR |

309
(107)
315
(44)
315
(14)
329
(14)
343
(11)

| | |
| --- | --- |
| | Passages from Essays and Letters |

354
(5)
359
(55)

| | |
| --- | --- |
| | A Good Man Is Hard to Find |

359
(12)

| | |
| --- | --- |
| | The Lame Shall Enter First |

371
(26)

| | |
| --- | --- |
| | Everything That Rises Must Converge |

397
(11)

| | |
| --- | --- |
| | Passages from Essays and Letters |

408
(6)

| | |
| --- | --- |
| | QUESTIONS/WRITING SUGGESTIONS |

414
(2)

| | |
| --- | --- |
| | 9 LITERARY KIND AS CONTEXT: INITIATION STORIES |

416
(21)
417
(5)
422
(10)
432
(3)

| | |
| --- | --- |
| | QUESTIONS/WRITING SUGGESTIONS |

435
(2)

| | |
| --- | --- |
| | 10 FORM AS CONTEXT: THE SHORT STORY |

437
(17)
438
(2)

| | |
| --- | --- |
| | A Very Old Man with Enormous Wings |

440
(5)

| | |
| --- | --- |
| | A Clean, Well-Lighted Place |

445
(4)
449
(1)

| | |
| --- | --- |
| | The Grasshopper and the Bell Cricket |

450
(2)

| | |
| --- | --- |
| | QUESTIONS/WRITING SUGGESTIONS |

452
(2)
454
(46)
455
(21)
476
(16)

| | |
| --- | --- |
| | Pierre Menard, Author of the Quixote |

492
(6)

| | |
| --- | --- |
| | QUESTIONS/WRITING SUGGESTIONS |

498
(2)

| | |
| --- | --- |
| | 12 CRITICAL CONTEXTS: A FICTION CASEBOOK |

500
(48)
502
(8)

| | |
| --- | --- |
| | STUDENT WRITING: "Like the Sand of the Hourglass..." |

510
(3)

| | |
| --- | --- |
| | "We all said, `she will kill herself'": The Narrator/Detective in William Faulkner's "A Rose for Emily" |

513
(8)
521
(8)

| | |
| --- | --- |
| | A Rose for "A Rose for Emily" |

529
(7)

| | |
| --- | --- |
| | Of Time and Its Mathematical Progression: Problems of Chronology in Faulkner's "A Rose for Emily" |

536
(7)

| | |
| --- | --- |
| | STUDENT WRITING: "One of us...": Concepts of the Private and the Public in William Faulkner's "A Rose for Emily" |

543
(5)
548
(50)
548
(19)

| | |
| --- | --- |
| | STUDENT WRITING: Why "The Most Dangerous Game" Is Good Literature |

564
(1)

| | |
| --- | --- |
| | STUDENT WRITING: Why "The Most Dangerous Game" Is Not Good Literature |

565
(2)
567
(16)
583
(15)
598
(196)
598
(14)
612
(18)
630
(12)
642
(20)

| | |
| --- | --- |
| | Without Benefit of Clergy |

662
(16)
678
(15)
693
(14)

| | |
| --- | --- |
| | The Lady with the Pet Dog |

707
(13)
720
(10)
730
(11)
741
(12)
753
(12)
765
(10)
775
(8)
783
(11)
Poetry
794
(532)

| | |
| --- | --- |
| | Poetry: Reading, Responding, Writing |

794
(27)
795
(6)

| | |
| --- | --- |
| | Elizabeth Barrett Browning |

795
(1)
796
(1)

| | |
| --- | --- |
| | The River-Merchant's Wife: A Letter |

797
(2)
799
(1)
800
(1)
801
(7)
801
(1)
802
(1)
803
(2)

| | |
| --- | --- |
| | Fifth Grade Autobiography |

805
(1)
806
(2)
808
(2)

| | |
| --- | --- |
| | PRACTICING READING: SOME POEMS ON LOVE |

810
(11)

| | |
| --- | --- |
| | To My Dear and Loving Husband |

810
(1)

| | |
| --- | --- |
| | [Shall I compare thee to a summer's day?] |

810
(1)
811
(1)
811
(1)

| | |
| --- | --- |
| | [Stop all the clocks, cut off the telephone] |

812
(1)
812
(1)
813
(1)
814
(1)
814
(1)

| | |
| --- | --- |
| | [Why should a foolish marriage vow] |

815
(1)
815
(1)
816
(1)

| | |
| --- | --- |
| | [What lips my lips have kissed, and where, and why] |

817
(1)
817
(1)
818
(1)

| | |
| --- | --- |
| | On Her Loving Two Equally |

818
(1)

| | |
| --- | --- |
| | [Let me not to the marriage of true minds] |

819
(1)

| | |
| --- | --- |
| | QUESTIONS/WRITING SUGGESTIONS |

819
(2)
821
(244)
821
(25)
821
(1)
822
(2)
824
(2)

| | |
| --- | --- |
| | Hard Rock Returns to Prison from the Hospital for the Criminal Insane |

826
(1)
827
(2)
829
(1)
829
(3)

| | |
| --- | --- |
| | MANY TONES: POEMS ABOUT FAMILY RELATIONSHIPS |

832
(12)

| | |
| --- | --- |
| | After Making Love We Hear Footsteps |

832
(1)
832
(1)
833
(1)
834
(1)
835
(1)
835
(2)
837
(1)
838
(1)
839
(1)
840
(1)

| | |
| --- | --- |
| | Because of My Father's Job |

840
(1)
841
(1)
842
(1)
843
(1)
844
(1)

| | |
| --- | --- |
| | QUESTIONS/WRITING SUGGESTIONS |

844
(2)

| | |
| --- | --- |
| | 14 SPEAKER: WHOSE VOICE DO WE HEAR? |

846
(24)
846
(2)

| | |
| --- | --- |
| | In a Prominent Bar in Secaucus One Day |

848
(1)
849
(3)

| | |
| --- | --- |
| | Soliloquy of the Spanish Cloister |

852
(2)
854
(1)
855
(2)
857
(1)

| | |
| --- | --- |
| | She Dwelt among the Untrodden Ways |

858
(1)
859
(1)
860
(1)
860
(1)
861
(1)

| | |
| --- | --- |
| | Lessons of the War: Judging Distances |

862
(1)
863
(1)
864
(1)

| | |
| --- | --- |
| | [I celebrate myself, and sing myself] |

864
(1)
865
(1)
865
(1)
866
(1)
867
(1)

| | |
| --- | --- |
| | Death of a Young Son by Drowning |

868
(1)

| | |
| --- | --- |
| | QUESTIONS/WRITING SUGGESTIONS |

869
(1)

| | |
| --- | --- |
| | 15 SITUATION AND SETTING: WHAT HAPPENS? WHERE? WHEN? |

870
(44)
871
(3)
874
(1)
875
(1)

| | |
| --- | --- |
| | To a Daughter Leaving Home |

876
(1)

| | |
| --- | --- |
| | On the Late Massacre in Piedmont |

877
(2)
879
(2)
881
(2)
883
(8)
883
(1)
884
(1)
885
(1)
886
(1)

| | |
| --- | --- |
| | A Mongoloid Child Handling Shells on the Beach |

886
(1)
887
(1)
887
(1)
888
(1)
889
(2)
891
(7)

| | |
| --- | --- |
| | [Full many a glorious morning have I seen] |

891
(1)
891
(1)
892
(1)

| | |
| --- | --- |
| | A Description of the Morning |

892
(1)
893
(1)
894
(1)

| | |
| --- | --- |
| | As I Walked Out One Evening |

894
(2)
896
(1)
896
(2)
898
(6)

| | |
| --- | --- |
| | Praise Psalm of the City-Dweller |

898
(1)
898
(1)

| | |
| --- | --- |
| | I Am Not a Conspiracy Everything Is Not Paranoid The Drug Enforcement Administration Is Not Everywhere |

899
(1)

| | |
| --- | --- |
| | Elegy Written in a Country Churchyard |

900
(4)

| | |
| --- | --- |
| | COMPARING PLACES AND TIMES: THE SENSE OF CULTURAL OTHERNESS |

904
(6)

| | |
| --- | --- |
| | Grandmother, a Caribbean Indian, Described by My Father |

904
(1)
905
(1)
906
(1)
906
(2)

| | |
| --- | --- |
| | We Are Americans Now, We Live in the Tundra |

908
(1)

| | |
| --- | --- |
| | Chitra Banerjee Divakaruni |

908
(2)

| | |
| --- | --- |
| | QUESTIONS/WRITING SUGGESTIONS |

910
(1)

| | |
| --- | --- |
| | STUDENT WRITING: A Letter to an Author |

911
(3)
914
(52)
914
(23)

| | |
| --- | --- |
| | [The golf links lie so near the mill] |

914
(1)

| | |
| --- | --- |
| | Countess of Winchelsea, There's No To-Morrow |

915
(1)
915
(2)

| | |
| --- | --- |
| | At the San Francisco Airport |

917
(2)
919
(1)
920
(1)
921
(1)
922
(2)

| | |
| --- | --- |
| | [After great pain, a formal feeling comes-] |

924
(1)
924
(2)
926
(1)
927
(1)
927
(1)
928
(1)
928
(1)
929
(2)
931
(1)
931
(1)

| | |
| --- | --- |
| | Reflections on Ice-Breaking |

932
(1)

| | |
| --- | --- |
| | Here Usually Comes the Bride |

932
(1)

| | |
| --- | --- |
| | [I dwell in Possibility-] |

932
(1)
933
(4)
937
(14)

| | |
| --- | --- |
| | [That time of year thou mayst in me behold] |

937
(2)
939
(1)
940
(1)
941
(1)
942
(2)
944
(1)

| | |
| --- | --- |
| | 1. [Sex, as they harshly call it] |

944
(1)

| | |
| --- | --- |
| | 2. [That "old last act"!] |

944
(1)

| | |
| --- | --- |
| | The Death of the Ball Turret Gunner |

945
(1)
946
(1)
947
(1)
947
(1)

| | |
| --- | --- |
| | [Wild Nights-Wild Nights!] |

948
(1)
948
(1)
949
(1)

| | |
| --- | --- |
| | [Batter my heart, three-personed God; for You] |

950
(1)
950
(1)
951
(13)

| | |
| --- | --- |
| | Leningrad Cemetery, Winter of 1941 |

951
(2)
953
(2)
955
(2)
957
(1)
958
(1)

| | |
| --- | --- |
| | [Virgins are like the fair flower in its luster] |

959
(1)

| | |
| --- | --- |
| | [Go not too near a House of Rose-] |

959
(1)
959
(1)
960
(1)

| | |
| --- | --- |
| | Now Sleeps the Crimson Petal |

961
(1)
961
(1)
962
(1)
962
(1)
962
(1)
963
(1)

| | |
| --- | --- |
| | QUESTIONS/WRITING SUGGESTIONS |

964
(2)
966
(24)
966
(1)
967
(2)
969
(2)
971
(2)
973
(1)
974
(1)

| | |
| --- | --- |
| | [There was a young lady of Riga] |

974
(1)
974
(1)

| | |
| --- | --- |
| | To the Memory of Mr. Oldham |

975
(1)
976
(1)
977
(1)
978
(1)
979
(1)
979
(1)

| | |
| --- | --- |
| | [Like as the waves make towards the pebbled shore] |

980
(1)
980
(1)
981
(1)

| | |
| --- | --- |
| | A Litany in Time of Plague |

981
(1)
982
(1)
983
(1)
984
(2)
986
(1)

| | |
| --- | --- |
| | [A narrow Fellow in the Grass] |

987
(1)

| | |
| --- | --- |
| | To the Virgins, to Make Much of Time |

988
(1)
988
(1)

| | |
| --- | --- |
| | QUESTIONS/WRITING SUGGESTIONS |

988
(2)
990
(25)
990
(3)
993
(2)
995
(3)
998
(1)

| | |
| --- | --- |
| | Arrangements with Earth for Three Dead Friends |

998
(2)
1000
(2)
1002
(1)
1003
(1)
1004
(1)
1005
(1)

| | |
| --- | --- |
| | [The Wind begun to knead the Grass-] |

1006
(1)
1007
(1)
1008
(1)
1008
(2)

| | |
| --- | --- |
| | Evening in the Sanitarium |

1010
(1)

| | |
| --- | --- |
| | QUESTIONS/WRITING SUGGESTIONS |

1011
(1)

| | |
| --- | --- |
| | STUDENT WRITING: Structure and Language in "The Victims" |

1012
(3)
1015
(32)
1018
(14)
1018
(1)

| | |
| --- | --- |
| | [My lady's presence makes the roses red] |

1019
(2)
1021
(1)

| | |
| --- | --- |
| | A Sonnet Is a Moment's Monument |

1021
(1)
1022
(1)
1022
(1)
1023
(1)

| | |
| --- | --- |
| | Joy Sonnet in a Random Universe |

1023
(1)
1024
(1)

| | |
| --- | --- |
| | [When I consider how my light is spent] |

1024
(1)
1025
(1)

| | |
| --- | --- |
| | Sonnet to a Negro in Harlem |

1025
(1)

| | |
| --- | --- |
| | The world is too much with us |

1026
(1)
1026
(1)
1027
(1)

| | |
| --- | --- |
| | Sir Charles G. D. Roberts |

1027
(1)
1028
(1)

| | |
| --- | --- |
| | First Fight. Then Fiddle. |

1028
(1)
1029
(1)
1029
(1)

| | |
| --- | --- |
| | [When Nature made her chief work, Stella's eyes] |

1030
(1)

| | |
| --- | --- |
| | [My mistress' eyes are nothing like the sun] |

1030
(1)

| | |
| --- | --- |
| | Sweep Me through Your Many-Chambered Heart |

1031
(1)
1032
(6)

| | |
| --- | --- |
| | Do Not Go Gentle into That Good Night |

1033
(1)
1033
(1)
1034
(1)

| | |
| --- | --- |
| | beware : do not read this poem |

1035
(2)
1037
(1)
1038
(7)

| | |
| --- | --- |
| | Composed in the Composing Room |

1038
(1)
1039
(1)
1040
(1)
1041
(1)
1041
(1)
1042
(1)
1043
(1)
1043
(1)
1044
(1)
1044
(1)

| | |
| --- | --- |
| | QUESTIONS/WRITING SUGGESTIONS |

1045
(2)
1047
(18)
1047
(1)
1049
(1)
1050
(2)
1052
(1)
1053
(1)

| | |
| --- | --- |
| | [My Life had stood-a Loaded Gun-] |

1054
(1)
1054
(1)
1055
(1)
1055
(1)

| | |
| --- | --- |
| | A Description of a City Shower |

1056
(1)

| | |
| --- | --- |
| | The Author's Epitaph, Made by Himself |

1057
(1)

| | |
| --- | --- |
| | With Mercy for the Greedy |

1058
(1)

| | |
| --- | --- |
| | QUESTIONS/WRITING SUGGESTIONS |

1059
(1)

| | |
| --- | --- |
| | STUDENT WRITING: Tragedy in Five Stanzas: "Woodchucks" |

1060
(5)
1065
(171)

| | |
| --- | --- |
| | 21. THE AUTHOR'S WORK AS CONTEXT: JOHN KEATS |

1065
(16)

| | |
| --- | --- |
| | On First Looking into Chapman's Homer |

1067
(1)

| | |
| --- | --- |
| | On the Grasshopper and the Cricket |

1068
(1)

| | |
| --- | --- |
| | On Seeing the Elgin Marbles |

1068
(1)
1068
(1)
1069
(2)
1071
(2)
1073
(1)
1074
(1)

| | |
| --- | --- |
| | Passages from Letters and the Preface to Endymion |

1075
(5)

| | |
| --- | --- |
| | QUESTIONS/WRITING SUGGESTIONS |

1080
(1)

| | |
| --- | --- |
| | 22 THE AUTHOR'S WORK IN CONTEXT: ADRIENNE RICH |

1081
(24)
1082
(1)
1083
(1)
1083
(1)

| | |
| --- | --- |
| | Snapshots of a Daughter-in-Law |

1084
(4)
1088
(1)
1089
(1)
1090
(2)
1092
(1)
1092
(1)

| | |
| --- | --- |
| | [My mouth hovers across your breasts] |

1093
(1)
1094
(1)
1094
(1)
1095
(1)

| | |
| --- | --- |
| | From Interviews and Personal Reflections |

1096
(8)

| | |
| --- | --- |
| | QUESTION/WRITING SUGGESTIONS |

1104
(1)

| | |
| --- | --- |
| | 23 LITERARY TRADITION AS CONTEXT |

1105
(47)
1106
(7)
1107
(1)
1108
(1)
1108
(2)
1110
(1)

| | |
| --- | --- |
| | You Too? Me Too-Why Not? Soda Pop |

1111
(1)

| | |
| --- | --- |
| | [Not marble, nor the gilded monuments] |

1112
(1)
1113
(2)

| | |
| --- | --- |
| | The Passionate Shepherd to His Love |

1113
(2)
1115
(5)
1116
(1)

| | |
| --- | --- |
| | Epitaph on Elizabeth, L. H. |

1116
(1)

| | |
| --- | --- |
| | [You've told me, Maro, whilst you live] |

1116
(1)
1117
(1)

| | |
| --- | --- |
| | An Epitaph upon a Young Married Couple, Dead and Buried Together |

1117
(1)

| | |
| --- | --- |
| | Epitaph for a Postal Clerk |

1118
(1)
1118
(1)

| | |
| --- | --- |
| | To Novella, on her saying deridingly, that a Lady of great Merit, and fine Address, was bred in the Old Way. |

1118
(1)
1118
(1)
1119
(1)
1120
(8)
1120
(2)
1122
(1)

| | |
| --- | --- |
| | [A village without bells-] |

1122
(1)
1122
(1)
1122
(1)
1122
(1)
1122
(1)
1122
(1)
1123
(1)
1123
(1)

| | |
| --- | --- |
| | [The moon and the flowers] |

1123
(1)
1123
(1)
1123
(1)
1123
(1)
1124
(1)
1124
(1)
1124
(1)

| | |
| --- | --- |
| | [Come! Come! Though I call] |

1124
(1)
1125
(1)

| | |
| --- | --- |
| | [An old-time pond, from off whose shadowed depth] |

1125
(1)
1125
(1)
1125
(1)
1126
(1)

| | |
| --- | --- |
| | [The old pond-a frog jumps in, kerplunk!] |

1126
(1)
1126
(1)
1126
(1)
1127
(1)

| | |
| --- | --- |
| | [Looking over my shoulder] |

1127
(1)
1127
(1)
1128
(7)

| | |
| --- | --- |
| | The Nymph's Reply to the Shepherd |

1128
(1)
1129
(1)

| | |
| --- | --- |
| | [(ponder, darling, these busted statues] |

1130
(1)

| | |
| --- | --- |
| | To His Importunate Mistress |

1131
(1)
1132
(1)

| | |
| --- | --- |
| | Variations on a Theme by William Carlos Williams |

1132
(1)

| | |
| --- | --- |
| | Ode on a Grecian Urn Summarized |

1133
(1)
1133
(1)

| | |
| --- | --- |
| | [Not only marble, but the plastic toys] |

1134
(1)

| | |
| --- | --- |
| | CULTURAL BELIEF AND TRADITION |

1135
(15)
1136
(1)
1136
(1)
1137
(2)
1139
(2)
1141
(1)
1142
(1)

| | |
| --- | --- |
| | The Negro Speaks of Rivers |

1143
(1)

| | |
| --- | --- |
| | Something Like a Sonnet for Phillis Miracle Wheatley |

1143
(1)
1144
(1)
1144
(1)

| | |
| --- | --- |
| | I Am a Cowboy in the Boat of Ra |

1145
(2)
1147
(1)
1148
(1)
1149
(1)

| | |
| --- | --- |
| | QUESTIONS/WRITING SUGGESTIONS |

1150
(2)

| | |
| --- | --- |
| | 24 HISTORICAL AND CULTURAL CONTEXTS |

1152
(40)
1153
(1)
1154
(1)

| | |
| --- | --- |
| | Sonnet: The Ladies' Home Journal |

1155
(4)

| | |
| --- | --- |
| | TIMES, PLACES, AND EVENTS |

1159
(12)

| | |
| --- | --- |
| | Thinking about Bill, Dead of AIDS |

1159
(1)
1159
(1)
1160
(1)

| | |
| --- | --- |
| | Notes for a Poem on Being Asian American |

1161
(1)

| | |
| --- | --- |
| | Children Walking Home from School through Good Neighborhood |

1162
(1)
1163
(1)

| | |
| --- | --- |
| | Harlem (A Dream Deferred) |

1163
(1)
1164
(1)
1164
(1)

| | |
| --- | --- |
| | The Convergence of the Twain |

1165
(1)
1166
(1)

| | |
| --- | --- |
| | The Fury of Aerial Bombardment |

1167
(1)
1168
(1)
1168
(1)

| | |
| --- | --- |
| | Ai, Riot Act, April 29, 1992 |

1169
(2)

| | |
| --- | --- |
| | CONSTRUCTING IDENTITY, EXPLORING GENDER |

1171
(20)
1171
(1)

| | |
| --- | --- |
| | Song: To Lucasta, Going to the Wars |

1172
(1)

| | |
| --- | --- |
| | Break of Day in the Trenches |

1173
(1)

| | |
| --- | --- |
| | The Things That Make a Soldier Great |

1173
(1)
1174
(1)
1175
(1)

| | |
| --- | --- |
| | What's That Smell in the Kitchen? |

1176
(1)
1176
(1)

| | |
| --- | --- |
| | When I Was Fair and Young |

1177
(1)
1177
(1)
1178
(1)
1178
(1)

| | |
| --- | --- |
| | L'amitie: To Mrs. M. Awbrey |

1179
(1)
1180
(1)

| | |
| --- | --- |
| | [Women have loved before as I love now] |

1181
(1)

| | |
| --- | --- |
| | To the Fair Clarinda, Who Made Love to Me, Imagined More Than Woman |

1181
(1)
1182
(1)
1183
(1)
1183
(1)
1184
(1)
1185
(1)
1186
(1)

| | |
| --- | --- |
| | [Who would divorce her lover...] |

1187
(1)
1188
(1)
1188
(1)

| | |
| --- | --- |
| | [I, being born a woman and distressed] |

1190
(1)

| | |
| --- | --- |
| | QUESTIONS/WRITING SUGGESTIONS |

1191
(1)

| | |
| --- | --- |
| | 25 CRITICAL CONTEXTS: A POETRY CASEBOOK |

1192
(32)
1194
(3)
1197
(3)

| | |
| --- | --- |
| | The Plath Celebration: A Partial Dissent |

1200
(2)
1202
(2)

| | |
| --- | --- |
| | Rituals of Exorcism: "Daddy" |

1204
(3)
1207
(3)

| | |
| --- | --- |
| | From A Feminine Tradition |

1210
(2)

| | |
| --- | --- |
| | FROM A Disturbance in Mirrors |

1212
(3)
1215
(9)

| | |
| --- | --- |
| | 26 THE PROCESS OF CREATION |

1224
(12)

| | |
| --- | --- |
| | Love Calls Us to the Things of This World |

1225
(2)
1227
(1)

| | |
| --- | --- |
| | [Bright star! would I were stedfast as thou art!] |

1227
(1)
1228
(1)
1229
(2)

| | |
| --- | --- |
| | [O where ha' you been, Lord Randal, my son?] |

1231
(1)
1232
(1)

| | |
| --- | --- |
| | [Safe in their Alabaster Chambers-] |

1233
(1)
1233
(3)
1236
(14)

| | |
| --- | --- |
| | [Th' expense of spirit in a waste of shame] |

1239
(2)
1241
(2)
1243
(1)
1243
(1)
1244
(1)

| | |
| --- | --- |
| | [The Brain-is wider than the Sky-] |

1244
(1)
1245
(1)
1245
(1)
1246
(1)

| | |
| --- | --- |
| | Bells for John Whiteside's Daughter |

1247
(1)
1248
(1)

| | |
| --- | --- |
| | QUESTIONS/WRITING SUGGESTIONS |

1248
(2)
1250
(76)
1250
(2)
1252
(1)
1252
(1)
1252
(1)

| | |
| --- | --- |
| | Kubla Khan: or, a Vision in a Dream |

1253
(1)
1254
(1)
1254
(1)
1255
(1)
1255
(1)
1255
(1)
1255
(1)
1256
(2)

| | |
| --- | --- |
| | [Because I could not stop for Death-] |

1256
(1)

| | |
| --- | --- |
| | [I reckon-when I count at all-] |

1257
(1)

| | |
| --- | --- |
| | [My life closed twice before its close-] |

1257
(1)

| | |
| --- | --- |
| | [We do not play on Graves-] |

1257
(1)

| | |
| --- | --- |
| | [She dealt her pretty words like Blades-] |

1258
(1)
1258
(3)
1258
(1)

| | |
| --- | --- |
| | [Death be not proud, though some have called thee] |

1259
(1)

| | |
| --- | --- |
| | A Valediction: Forbidding Mourning |

1260
(1)
1261
(1)
1261
(1)
1261
(1)

| | |
| --- | --- |
| | The Love Song of J. Alfred Prufrock |

1262
(4)
1266
(1)
1266
(1)
1266
(1)

| | |
| --- | --- |
| | Stopping by Woods on a Snowy Evening |

1267
(1)
1267
(2)

| | |
| --- | --- |
| | A Supermarket in California |

1267
(1)
1268
(1)
1269
(1)
1269
(1)
1269
(1)

| | |
| --- | --- |
| | The Summer of Lost Rachel |

1270
(1)
1271
(1)
1271
(1)
1272
(1)
1272
(1)
1273
(1)

| | |
| --- | --- |
| | To Amarantha, That She Would Dishevel Her Hair |

1274
(1)
1275
(1)
1276
(4)
1276
(2)

| | |
| --- | --- |
| | The Mower, against Gardens |

1278
(1)
1279
(1)
1280
(5)
1285
(1)

| | |
| --- | --- |
| | King Kong Meets Wallace Stevens |

1286
(1)
1287
(1)
1287
(3)

| | |
| --- | --- |
| | Black Rook in Rainy Weather |

1287
(1)
1288
(2)
1290
(1)
1290
(1)

| | |
| --- | --- |
| | In a Station of the Metro |

1291
(1)
1291
(1)
1291
(1)
1292
(1)

| | |
| --- | --- |
| | Reading Time : 1 Minute 26 Seconds |

1292
(1)
1293
(1)
1293
(2)

| | |
| --- | --- |
| | [Hark, hark! the lark at heaven's gate sings] |

1293
(1)

| | |
| --- | --- |
| | [Two loves I have of comfort and despair] |

1294
(1)

| | |
| --- | --- |
| | [They that have power to hurt and will do none] |

1294
(1)
1294
(1)
1295
(5)

| | |
| --- | --- |
| | The Idea of Order at Key West |

1295
(1)
1296
(1)
1297
(3)
1300
(1)
1301
(2)
1301
(1)

| | |
| --- | --- |
| | In My Craft or Sullen Art |

1302
(1)
1303
(1)
1303
(8)

| | |
| --- | --- |
| | Facing West from California's Shores |

1303
(1)
1304
(1)

| | |
| --- | --- |
| | A Noiseless Patient Spider |

1304
(1)

| | |
| --- | --- |
| | When Lilacs Last in the Dooryard Bloomed |

1305
(6)
1311
(2)
1311
(1)
1312
(1)
1312
(1)
1313
(1)

| | |
| --- | --- |
| | Lines Composed a Few Miles above Tintern Abbey on Revisiting the Banks of the Wye during a Tour, July 13, 1798 |

1313
(4)
1317
(9)
1317
(2)
1319
(1)
1320
(1)
1320
(1)
1321
(2)
1323
(3)
Drama
1326

| | |
| --- | --- |
| | Drama: Reading, Responding, Writing |

1326
(27)
1329
(11)
1340
(9)

| | |
| --- | --- |
| | QUESTIONS/WRITING SUGGESTIONS |

1349
(1)
1350
(3)
1353
(298)
1353
(3)
1356
(1)

| | |
| --- | --- |
| | STAGES, SETS, AND SETTING |

1357
(3)
1360
(1)
1361
(1)
1362
(50)

| | |
| --- | --- |
| | QUESTIONS/WRITING SUGGESTIONS |

1412
(2)
1414
(73)

| | |
| --- | --- |
| | QUESTIONS/WRITING SUGGESTIONS |

1487
(2)
1489
(57)

| | |
| --- | --- |
| | QUESTIONS/WRITING SUGGESTIONS |

1546
(2)
1548
(98)

| | |
| --- | --- |
| | QUESTIONS/WRITING SUGGESTIONS |

1646
(2)

| | |
| --- | --- |
| | STUDENT WRITING: The Play's the Thing: Deception in Hamlet |

1648
(3)
1651
(351)

| | |
| --- | --- |
| | 27 THE AUTHOR'S WORK AS CONTEXT: ANTON CHEKHOV |

1651
(60)
1656
(11)

| | |
| --- | --- |
| | On the Injurious Effects of Tobacco |

1667
(3)
1670
(38)
1708
(2)

| | |
| --- | --- |
| | QUESTIONS/WRITING SUGGESTIONS |

1710
(1)

| | |
| --- | --- |
| | 28 LITERARY CONTEXT: TRAGEDY AND COMEDY |

1711
(90)
1714
(40)

| | |
| --- | --- |
| | QUESTIONS/WRITING SUGGESTIONS |

1754
(1)

| | |
| --- | --- |
| | The Importance of Being Earnest |

1755
(45)

| | |
| --- | --- |
| | QUESTIONS/WRITING SUGGESTIONS |

1800
(1)

| | |
| --- | --- |
| | 29 CULTURE AS CONTEXT: SOCIAL AND HISTORICAL SETTING |

1801
(144)
1805
(65)
1870
(72)

| | |
| --- | --- |
| | STUDENT WRITING: Dream of a Salesman |

1942
(3)

| | |
| --- | --- |
| | 30 CRITICAL CONTEXTS: A DRAMA CASEBOOK |

1945
(57)
1948
(32)

| | |
| --- | --- |
| | FROM The Antigone of Sophocles |

1980
(2)
1982
(2)

| | |
| --- | --- |
| | Introduction to Sophocles: The Three Theban Plays |

1984
(5)
1989
(5)

| | |
| --- | --- |
| | FROM The Fragility of Goodness: Luck and Ethics in Greek Tragedy and Philosophy |

1994
(4)

| | |
| --- | --- |
| | FROM Prophesying Tragedy: Sign and Voice in Sophocles' Theban Plays |

1998
(2)

| | |
| --- | --- |
| | FROM Helping Friends and Harming Enemies: A Study in Sophocles and Greek Ethics |

2000
(2)
2002
2008
(68)

| | |
| --- | --- |
| | A Midsummer Night's Dream |

2076
Appendices Writing about Literature
A3
(54)
INTRODUCTION
A5
(1)
REPRESENTING THE LITERARY TEXT
A6
(3)
REPLYING TO THE TEXT
A9
(3)
EXPLAINING THE TEXT
A12
(8)
CRITICAL APPROACHES
A20
(10)
WRITING ABOUT FICTION, POETRY, DRAMA
A30
(6)
DECIDING WHAT TO WRITE ABOUT
A36
(4)
FROM TOPIC TO ROUGH DRAFT
A40
(5)
FROM ROUGH DRAFT TO COMPLETED PAPER
A45
(9)
A SUMMARY OF THE PROCESS
A54
(3)
Glossary
A57
(10)
Biographical Sketches
A67
(40)
Acknowledgments
A107
(16)
Index of Authors
A123
(12)
Index of Titles and First Lines
A135