Note: Supplemental materials are not guaranteed with Rental or Used book purchases.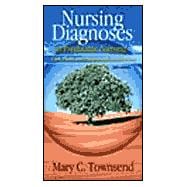 Nursing Diagnoses in Psychiatric Nursing : Care Plans and Psychotropic Medications
ISBN13:
9780803607033
by
Townsend, Mary C.
Related Products
Summary
A pocket-sized resource for helping psychiatric nurses develop practical, individualized care plans for their patients. Each chapter covers a different DSM-IV disorder, giving an overview and then a nursing diagnosis. Includes new information on anxiety agents, antidepressants, and other psychotropic medications. Previous edition: c1997. Softcover.
Author Biography
Mary C. Townsend, RN, MN, CS: Clinical Nurse Specialist Private Practice; Adult Psychiatric/Mental Health Nursing McAlester, Oklahoma; Nurse Consultant, Counseling Center of S.E. Oklahoma Antlers
Table of Contents
Index of DSM-IV Psychiatric Diagnoses
xvii
How to Use this Book
xxiii
UNIT ONE THE FOUNDATION FOR PLANNING PSYCHIATRIC NURSING CARE
1
(48)

| | |
| --- | --- |
| | Nursing Process: One Step to Professionalism |

3
(30)

| | |
| --- | --- |
| | Concepts of Psychobiology |

33
(16)
UNIT TWO ALTERATIONS IN PSYCHOSOCIAL ADAPTATION
49
(318)

| | |
| --- | --- |
| | Disorders Usually First Diagnosed in Infancy, Childhood, or Adolescence |

51
(44)

| | |
| --- | --- |
| | Delirium, Dementia, and Amnestic Disorders |

95
(18)

| | |
| --- | --- |
| | Substance-Related Disorders |

113
(34)

| | |
| --- | --- |
| | Schizophrenia and Other Psychotic Disorders |

147
(21)
168
(36)
204
(17)

| | |
| --- | --- |
| | Somatoform and Sleep Disorders |

221
(20)
241
(11)

| | |
| --- | --- |
| | Sexual and Gender Identity Disorders |

252
(19)
271
(19)
290
(21)

| | |
| --- | --- |
| | Impulse Control Disorders |

311
(9)

| | |
| --- | --- |
| | Psychological Factors Affecting Medical Condition |

320
(12)
332
(35)
UNIT THREE SPECIAL TOPICS IN PSYCHIATRIC AND MENTAL HEALTH NURSING
367
(88)

| | |
| --- | --- |
| | Problems Related to Abuse or Neglect |

369
(11)

| | |
| --- | --- |
| | Premenstrual Dysphoric Disorder |

380
(9)
389
(12)
401
(7)

| | |
| --- | --- |
| | Psychiatric Home Nursing Care |

408
(11)
419
(13)
432
(23)
UNIT FOUR PSYCHOTROPIC MEDICATIONS
455
(72)
459
(8)
467
(13)
480
(7)
487
(17)
504
(8)
512
(7)

| | |
| --- | --- |
| | Central Nervous System Stimulants |

519
(8)
Bibliography
527
(10)
Appendix A Comparison of Developmental Theories
537
(5)
Appendix B Ego Defense Mechanisms
542
(4)
Appendix C Levels of Anxiety
546
(2)
Appendix D Stages of Grief
548
(2)
Appendix E Relationship Development and Therapeutic Communication
550
(13)
Appendix F Psychosocial Therapies
563
(12)
Appendix G Electroconvulsive Therapy
575
(4)
Appendix H Medication Assessment Tool
579
(3)
Appendix I Cultural Assessment Tool
582
(3)
Appendix J The DSM-IV Multiaxial Evaluation System
585
(2)
Appendix K Global Assessment of Functioning Scale
587
(2)
Appendix L DSM-IV Classification: Axes I and II Categories and Codes
589
(17)
Appendix M Mental Status Assessment
606
(5)
Appendix N Assigning Nursing Diagnoses to Client Behaviors
611
(4)
Subject Index
615
(52)
Drug Index
667
(8)
Index of Nursing Diagnoses
675