Note: Supplemental materials are not guaranteed with Rental or Used book purchases.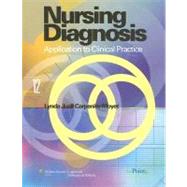 Summary
Revised to incorporate the 2007/2008 NANDA-approved nursing diagnoses, the Twelfth Edition of this classic text offers definitive guidance on key elements of nursing diagnosis and its application to clinical practice. Section One thoroughly explains the role of nursing diagnosis in the nursing process and in care planning. Section Two, a comprehensive A-to-Z guide to current nursing diagnoses, has been reorganized into four parts: Individual Nursing Diagnoses, Family/Home Nursing Diagnoses, Community Nursing Diagnoses, and Health Promotion/Wellness Nursing Diagnoses. Section Three focuses on collaborative problems. Nursing Interventions Classifications (NIC) and Nursing Outcomes Classifications (NOC) are listed for every NANDA diagnosis. An appendix shows current NANDA diagnoses grouped under functional health patterns.
Table of Contents
Nursing diagnosis in the nursing process
p. 1
Nursing diagnoses : issues and controversies
p. 2
Development of nursing diagnosis
p. 10
Types and components of nursing diagnoses
p. 13
Nursing diagnosis : what it is, what it is not
p. 22
Planning care with nursing diagnosis
p. 31
Ten steps to putting it all together
p. 52
Manual of nursing diagnoses
p. 57
Individual nursing diagnoses
p. 57
Family/home nursing diagnoses
p. 735
Community nursing diagnoses
p. 789
Health promotion/wellness nursing diagnoses
p. 809
Manual of collaborative problems
p. 833
Potential complication : cardiac/vascular dysfunction
p. 834
Potential complication : respiratory dysfunction
p. 847
Potential complication : metabolic/immune/hematopoietic dysfunction
p. 854
Potential complication : renal/urinary dysfunction
p. 879
Potential complication : neurologic/sensory dysfunction
p. 887
Potential complication : gastrointestinal/hepatic/biliary dysfunction
p. 897
Potential complication : muscular/skeletal dysfunction
p. 905
Potential complication : reproductive dysfunction
p. 909
Potential complication : medication therapy adverse effects
p. 919
Nursing diagnoses grouped under functional health patterns
p. 941
Nursing admission data base
p. 945
Table of Contents provided by Blackwell. All Rights Reserved.