Note: Supplemental materials are not guaranteed with Rental or Used book purchases.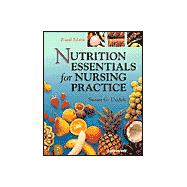 Nutrition Essentials for Nursing Practice
ISBN13:
9780781723442
by
Dudek, Susan G.
Lippincott Williams & Wilkins
Related Products
Summary
Brandon/Hill Nursing List selection (#73). A textbook for practicing nurses and nursing students, offering practical guidance for delivering quality nutritional care to every patient. Previously published as Nutrition Handbook for Nursing Practice, c1997. Softcover. DNLM: Diet therapy--Handbooks.
Table of Contents
SECTION I Principles of Nutrition
1
(199)
3
(16)
19
(27)
46
(22)
68
(31)
99
(30)
129
(29)

| | |
| --- | --- |
| | Eating, Energy, and Exercise |

158
(41)
SECTION II Nutrition in Health Promotion
199
(190)

| | |
| --- | --- |
| | Guidelines for Healthy Eating |

201
(29)

| | |
| --- | --- |
| | Assessing Nutritional Status |

230
(24)

| | |
| --- | --- |
| | Cultural Influences on Food Choices |

254
(26)

| | |
| --- | --- |
| | Healthy Eating for Healthy Babies |

280
(41)

| | |
| --- | --- |
| | Nutrition for Infants, Children, and Adolescents |

321
(38)

| | |
| --- | --- |
| | Nutrition for Adults and Older Adults |

359
(30)
SECTION III Nutrition in Clinical Practice
389
(304)

| | |
| --- | --- |
| | Obesity and Eating Disorders |

391
(42)

| | |
| --- | --- |
| | Feeding Patients: Hospital Food and Enteral and Parenteral Nutrition |

433
(40)

| | |
| --- | --- |
| | Protein-Calorie Malnutrition and Physiologic Stress |

473
(22)

| | |
| --- | --- |
| | Nutrition for Patients With Gastrointestinal Disorders |

495
(52)

| | |
| --- | --- |
| | Nutrition for Patients With Cardiovascular Disorders |

547
(54)

| | |
| --- | --- |
| | Nutrition for Patients With Diabetes Mellitus |

601
(33)

| | |
| --- | --- |
| | Nutrition for Patients With Renal Disorders |

634
(27)

| | |
| --- | --- |
| | Nutrition for Patients With Cancer or HIV/AIDS |

661
(32)
Appendices
693
(44)

| | |
| --- | --- |
| | Appendix 1 Dietary Reference Intakes: Recommended Levels for Individual Intake |

694
(2)

| | |
| --- | --- |
| | Appendix 2 Tolerable Upper Intake Levels (ULs) for Certain Nutrients |

696
(1)

| | |
| --- | --- |
| | Appendix 3 Recommended Dietary Allowances, Revised 1989 |

697
(1)

| | |
| --- | --- |
| | Appendix 4 Estimated Safe and Adequate Daily Dietary Intakes of Selected Vitamins and Minerals |

698
(1)

| | |
| --- | --- |
| | Appendix 5 Estimated Sodium, Chloride, and Potassium Minimum Requirements for Healthy Persons |

699
(1)

| | |
| --- | --- |
| | Appendix 6 CDC Growth Charts: United States |

700
(17)

| | |
| --- | --- |
| | Appendix 7 Diet and Drugs |

717
(9)

| | |
| --- | --- |
| | Appendix 8 Exchange Lists for Meal Planning |

726
(11)
Index
737