Note: Supplemental materials are not guaranteed with Rental or Used book purchases.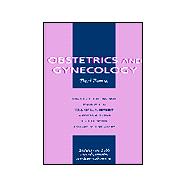 Related Products
Summary
Univ. of Missouri, Kansas City. Concise textbook intended for students' 6OB-GYN to 8-week clerkship. Based on the Assn. of Professors of Gynecology and Obstetrics Instructional Objectives, 7th ed. Includes over 1,800 questions with answers. Previous edition: c1995. 5 U.S. contributors. DNLM: Genital Diseases, Female.
Table of Contents
Foreword
p. xi
Preface
p. xiii
Acknowledgments
p. xv
Contributors
p. xvii
How to Use This Book
p. xix
APGO Educational Objectives
p. xxi
Approach to the Patient
Health Care for Women
p. 2
Ethics in Obstetrics and Gynecology
p. 32
Embryology, Anatomy, and Reproductive Genetics
p. 39
Obstetrics
Normal Obstetrics
Maternal-Fetal Physiology
p. 63
Antepartum Care
p. 78
Intrapartum Care
p. 98
Abnormal Labor
p. 115
Intrapartum Fetal Surveillance
p. 131
Immediate Care of the Newborn
p. 145
Postpartum Care
p. 151
Abnormal Obstetrics
Isoimmunization
p. 165
Postpartum Hemorrhage
p. 173
Postpartum Infection
p. 182
Abortion
p. 191
Ectopic Pregnancy
p. 202
Medical and Surgical Conditions of Pregnancy
p. 216
Hypertension in Pregnancy
p. 260
Multifetal Gestation
p. 270
Fetal Growth Abnormalities
p. 276
Third-Trimester Bleeding
p. 285
Postterm Pregnancy
p. 296
Preterm Labor
p. 304
Premature Rupture of Membranes
p. 313
Procedures
Obstetric Procedures
p. 319
Gynecology
General Gynecology
Contraception
p. 327
Sterilization
p. 347
Vulvitis and Vaginitis
p. 356
Sexually Transmitted Diseases
p. 366
Pelvic Relaxation, Urinary Incontinence, and Urinary Tract Infection
p. 384
Endometriosis
p. 396
Dysmenorrhea and Chronic Pelvic Pain
p. 407
Breasts
Disorders of the Breast
p. 417
Procedures
Gynecologic Procedures
p. 433
Reproductive Endocrinology and Infertility
Reproductive Cycle
p. 444
Puberty
p. 455
Amenorrhea and Dysfunctional Uterine Bleeding
p. 464
Hirsutism and Virilization
p. 472
Menopause
p. 482
Infertility
p. 494
Premenstrual Syndrome
p. 508
Neoplasia
Cell Biology and Principles of Cancer Therapy
p. 518
Gestational Trophoblastic Disease
p. 524
Vulvar and Vaginal Disease and Neoplasia
p. 533
Cervical Neoplasia and Carcinoma
p. 547
Uterine Leiomyoma and Neoplasia
p. 568
Endometrial Hyperplasia and Cancer
p. 577
Ovarian and Adnexal Disease
p. 590
Human Sexuality
Human Sexuality
p. 608
Violence Against Women
Sexual Assault and Domestic Violence
p. 618
Study Questions
p. 625
Index
p. 863
Table of Contents provided by Syndetics. All Rights Reserved.