Note: Supplemental materials are not guaranteed with Rental or Used book purchases.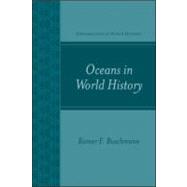 Oceans in World History
ISBN13:
9780073019031
by
Buschmann, Rainer
McGraw-Hill Humanities/Social Sciences/Languages
Summary
This book explores cross-cultural encounters in the context of exploration, migration, and trade across the world's oceans. From the early migrations of Austronesian peoples to the increasing globalization of recent centuries, it examines trans-oceanic communication and exchange as a major motor of transformation in World History, providing readers with better appreciation of how oceans connect human societies, rather than separate them.
Table of Contents
Note from the Series Editors
Preface
Introduction: Oceans and World History
The Big History of Oceans
The Historical Long-Term Cycles of Oceans
The Indian Ocean: A First Maritime Crossroads
Introduction
The Indian Ocean in Antiquity
Religious Exchanges in the Indian Ocean: Buddhism, Hinduism, Jainism
China and the Indian Ocean Exchange
The Expansion of Islam in the Indian Ocean
Islam and East Africa
Islam and Southeast Asia
Cosmopolitan Travelers and the Indian Ocean
Chinese and Iberian Ventures in the Indian Ocean
Conclusion
Cultural and Biological Exchanges in the Atlantic Ocean
Introduction
The Complexities of Navigation: Mastering Atlantic Winds and Currents
Columbian Exchanges
DiseasesPower
Animals and Plants
African Migrations to the Americas
Transatlantic Revolutions North America France and HaitiSouth America
Conclusion
Exploring Exchanges in the Pacific Ocean
Introduction
Original Settlement of the Pacific Islands
Traditional Navigation and Social Organization
A "Spanish Lake": Iberian Journeys to the Pacific Ocean
Linking Asia to the Pacific: Insular Southeast Asia
Linking Asia to the Pacific: The East Asia Connection
Geographic Imaginations: Unknown Continents in the Pacific
Encounters Tahiti and Hawaii China
Conclusion
Sea Power Unleashed: The World's Oceans 1800ndash;2000Introduction
Technological Changes: Steam Ships Oceans and Empires
Conquests Canals Sea Power Ideologies and Maritime Warfare
Ocean Liners: From Immigration to Tourism
Transoceanic Identities
International Women's Movement
Workers' Internationals
Pan-Africanism
Shipping Transformations: Oil Tankers and Container Ships
Mineral Wealth and the Law of the Sea
Environmental Concerns
Conclusion
Table of Contents provided by Publisher. All Rights Reserved.