Note: Supplemental materials are not guaranteed with Rental or Used book purchases.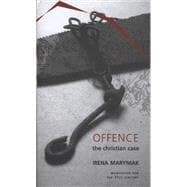 Summary
What is the relationship between superstition, religious belief, identity and the urge to social order? And where does the desire to validate, persuade and convert overcome any ethical sensibility of what is reasonable and humane? Where identity is affronted, offense is declared. But are we holding the beliefs of others in contempt when we call for the right to blaspheme and offend? What of the psychological hurt to those whose faith is a lifeline, and who are powerless to speak out? Or is there a serious, present danger to intellectual diversity, personal autonomy and moral freedom in the desire to create a society ruled by respect and what Britain's culture minister recently called "collective cultural belonging?" With a look back at the history of Christian heresies, witch hunts, and notions of Anti-Christ, this volume considers what has caused Church outrage in the past, and attempts to identify what offends and threatens Christianity most in the new world order. This book is in collaboration with the Index on Censorship.
Author Biography
Irena Maryniak is a specialist on religion and Eastern Europe. She has written and translated numerous articles on culture and society in Russia and Central Europe, and is the author of Spirit of the Totem (Modern Humanities Research Association, 1995)--a survey of mythological and religious ideas in Soviet Russian fiction. She is currently a freelance writer and translator, living in London.