Note: Supplemental materials are not guaranteed with Rental or Used book purchases.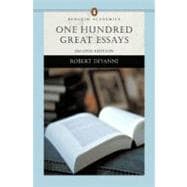 One Hundred Great Essays (Penguin Academics Series)
ISBN13:
9780321276667
by
DiYanni, Robert
Summary
One Hundred Great Essays is published as part of the Penguin Academic Series, a series of low-cost, high quality offerings intended for use in introductory college courses. Variety. This volume of never before collected contemporary and long-time classic essays provides a wealth of possibilities for instructors and students.
Author Biography
Robert DiYanni is Director of International Services in the Advanced Placement Program at The College Board. Dr. DiYanni, who holds a B.A. from Rutgers University and a Ph.D. from the City University of New York, has taught English and Humanities at a variety of institutions, including NYU, CUNY, and Harvard. He has written and edited more than two dozen books, mostly for college students of writing, literature, and humanities.
Table of Contents
Preface
xv
INTRODUCTION: READING AND WRITING ESSAYS
1
(32)
1
(4)
5
(2)
7
(2)
9
(6)

| | |
| --- | --- |
| | Reading Annie Dillard's "Living Like Weasels" |

10
(5)
15
(15)

| | |
| --- | --- |
| | The Qualities of Good Writing |

15
(1)

| | |
| --- | --- |
| | An Overview of the Writing Process |

16
(1)
16
(1)
17
(1)
18
(1)

| | |
| --- | --- |
| | Writing from Reading-An Example |

19
(2)
21
(2)
23
(2)
25
(2)
27
(1)
27
(1)
28
(1)
29
(1)

| | |
| --- | --- |
| | Arriving at art Interpretation |

30
(3)
MAYA ANGELOU
33
(13)
GLORIA ANZALDÚA

| | |
| --- | --- |
| | How to Tame a Wild Tongue |

46
(14)
FRANCIS BACON
60
(3)
RUSSELL BAKER
63
(7)
JAMES BALDWIN
70
(21)
DAVE BARRY
91
(4)
MARY CATHERINE BATESON
95
(15)
SVEN BIRKERTS

| | |
| --- | --- |
| | Into the Electronic Millennium |

110
(12)
JUDY BRADY
122
(3)
SUSAN BROWN MILLER
125
(6)
JANE BROX
131
(9)
ANGELA CARTER
140
(6)
JUDITH ORTIZ COFER

| | |
| --- | --- |
| | Casa: A Partial Remembrance of a Puerto Rican Childhood |

146
(7)
K.C. COLE
153
(10)
BERNARD COOPER
163
(11)
AARON COPLAND
174
(7)
WILLIAM CR0N0N

| | |
| --- | --- |
| | The Trouble with Wilderness |

181
(26)
CHARLES DARWIN
207
(13)
GUY DAVENPORT

| | |
| --- | --- |
| | The Geography of the Imagination |

220
(15)
JOAN DIDION
235
(5)
JOAN DIDION
240
(5)
ANNIE DILLARD
245
(6)
ANNIE DILLARD
251
(5)
JOHN DONNE
256
(3)
FREDERICK DOUGLASS

| | |
| --- | --- |
| | Learning to Read and Write |

259
(7)
W.E.B. DUBOIS

| | |
| --- | --- |
| | Of Our Spiritual Striving |

266
(9)
GRETEL EHRLICH
275
(4)
QUEEN ELIZABETH I

| | |
| --- | --- |
| | Speech to the Troops at Tilbury |

279
(2)
RALPH ELLISON
281
(10)
RALPH WALDO EMERSON
291
(4)
ANNE FADIMAN
295
(6)
BENJAMIN FRANKLIN
301
(5)
SIGMUND FREUD

| | |
| --- | --- |
| | The Interpretation of Dreams |

306
(9)
HENRY LOUIS GATES, JR.
315
(8)
ATUL GAWANDE
323
(14)
MALCOLM GLADWELL
337
(11)
ELLEN GOODMAN
348
(3)
MARY GORDON

| | |
| --- | --- |
| | More than Just a Shrine-Ellis Island |

351
(6)
STEPHEN JAY GOULD
357
(8)
WILLIAM HAZLITT

| | |
| --- | --- |
| | On the Pleasure of Hating |

365
(11)
EDWARD HOAGLAND
376
(8)
BARBARA HOLLAND
384
(5)
LANGSTON HUGHES
389
(4)
ZORA NEALE HURSTON

| | |
| --- | --- |
| | How It Feels to Be Colored Me |

393
(5)
PICO IYER
398
(4)
THOMAS JEFFERSON

| | |
| --- | --- |
| | The Declaration of Independence |

402
(9)
JAMAICA KINCAID

| | |
| --- | --- |
| | On Seeing England for the First Time |

411
(12)
MARTIN LUTHER KING, JR.

| | |
| --- | --- |
| | Letter from Birmingham Jail |

423
(17)
MARTIN LUTHER KING, JR.
440
(5)
BARBARA KINGSOLVER
445
(9)
MAXINE HONG KINGSTON
454
(3)
ROBIN TOLMACH LAKOFF
457
(8)
CHARLES LAMB
465
(8)
D.H. LAWRENCE

| | |
| --- | --- |
| | On Ben Franklin's Virtues |

473
(4)
CHANG-RAE LEE
477
(11)
ABRAHAM LINCOLN
488
(2)
BARRY LOPEZ
490
(11)
NICCOLÒ MACHIAVELLI
501
(9)
NANCY MAIRS
510
(14)
KARL MARX AND FRIEDRICH ENGELS
524
(9)
JOHN MCPHEE

| | |
| --- | --- |
| | from "The Encircled River" |

533
(10)
H.L. MENCKEN

| | |
| --- | --- |
| | Portrait of an Ideal World |

543
(5)
HOWARD MINER

| | |
| --- | --- |
| | Body Ritual Among the Nacirerna |

548
(7)
N. SCOTT MOMADAY

| | |
| --- | --- |
| | The Way to Rainy Mountain |

555
(7)
MICHEL DE MONPAIGNE
562
(4)
GEORGE ORWELL

| | |
| --- | --- |
| | Politics and the English Language |

566
(14)
GEORGE ORWELL
580
(8)
CYNTHIA OZICK
588
(4)
ALEXANDER PETRUNKEVITCH
592
(6)
PLATO
598
(5)
KATHERINE ANNE PORTER
603
(6)
ANNA QUINDLEN

| | |
| --- | --- |
| | Between the Sexes, A Great Divide |

609
(4)
RICHARD RODRIGUEZ

| | |
| --- | --- |
| | Aria: A Memoir of a Bilingual Childhood |

613
(21)
SCOTT RUSSELL SANDERS
634
(14)
LUC SAINTE
648
(8)
CHIEF SEATTLE

| | |
| --- | --- |
| | Speech on the Signing of the Treaty of Port Elliott |

656
(4)
RICHARD SELZER

| | |
| --- | --- |
| | The Masked Marvels Last Toehold |

660
(6)
LEONARD SHLAIN
666
(7)
LESLIE MARMON SILKO

| | |
| --- | --- |
| | Landscape, History; and the Pueblo Imagination |

673
(9)
SUSAN SONTAG

| | |
| --- | --- |
| | A Woman's Beauty: Put-Down or Power Source? |

682
(4)
ELIZABETH CADY STANTON

| | |
| --- | --- |
| | Declaration of Sentiments and Resolutions |

686
(4)
BRENT STAPLES

| | |
| --- | --- |
| | Just Walk on By: Black Men and Public Space |

690
(5)
SHELBY STEELE

| | |
| --- | --- |
| | On Being Black and Middle Class |

695
(10)
JONATHAN SWIFT
705
(12)
MARGARET TALBOT

| | |
| --- | --- |
| | Les Tiès Riches Heures de Martha Stewart |

717
(12)
AMY TAN
729
(7)
LEWIS THOMAS
736
(5)
HENRY DAVID THOREAU
741
(7)
JAMES THURBER
748
(7)
SOJOURNER TRUTH
755
(3)
MARK TWAIN
758
(4)
ALICE WALKER

| | |
| --- | --- |
| | Beauty: When the Other Dancer Is the Self |

762
(9)
EUDORA WELTY
771
(8)
E.B. WHITE
779
(7)
E.B. WHITE
786
(9)
TOM WOLFE
795
(6)
MARY WOLLSTONECRAFT

| | |
| --- | --- |
| | A Vindication of the Rights of Women |

801
(4)
VIRGINIA WOOLF
805
(4)
VIRGINIA WOOLF
809
(6)
RICHARD WRIGHT
815
(14)
Credits
829
(8)
Index
837