Note: Supplemental materials are not guaranteed with Rental or Used book purchases.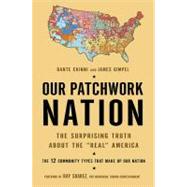 Summary
A revolutionary new way to understand America's complex cultural and political landscape, with proof that local communities have a major impact on the nation's behavior-in the voting booth and beyond. In a climate of culture wars and tremendous economic uncertainty, the media have often reduced America to a simplistic schism between red states and blue states. In response to that oversimplification, journalist Dante Chinni teamed up with political geographer James Gimpel to launch the Patchwork Nation project, using on-the-ground reporting and statistical analysis to get past generalizations and probe American communities in depth. The result is Our Patchwork Nation, a refreshing, sometimes startling, look at how America's diversities often defy conventional wisdom. Looking at the data, they recognized that the country breaks into twelve distinct types of communities, and old categories like "soccer mom" and "working class" don't matter as much as we think. Instead, by examining Boom Towns, Evangelical Epicenters, Military Bastions, Service Worker Centers, Campus and Careers, Immigration Nation, Minority Central, Tractor Community, Mormon Outposts, Emptying Nests, Industrial Metropolises, and Monied Burbs, the authors demonstrate the subtle distinctions in how Americans vote, invest, shop, and otherwise behave, reflect what they experience on their local streets and in their daily lives. Our Patchwork Nationis a brilliant new way to debate and examine the issues that matter most to our communities, and to our nation.
Author Biography
Dante Chinni, since the run-up to the 2008 presidential election, has been the correspondent for the Patchwork Nation project, a collaboration among The Christian Science Monitor, PBS NewsHour, and PBS member stations that is funded by the Knight Foundation. He has covered politics and the media for more than a decade and his work has appeared in Newsweek, The New Republic, The Washington Post Magazine, and other publications.

James Gimpel, Ph.D. is a professor of government at the University of Maryland, College Park.
Table of Contents
Acknowledgments
p. ix
Foreword
p. xi
Introduction
p. 1
Boom Towns: Eagle, Colorado
p. 15
Campus and Careers: Ann Arbor, Michigan
p. 25
Emptying Nests: Clermont, Florida
p. 35
Evangelical Epicenters: Nixa, Missouri
p. 45
Immigration Nation: El Mirage, Arizona
p. 55
Industrial Metropolis: Philadelphia, Pennsylvania
p. 65
Military Bastions: Hopkinsville, Kentucky
p. 75
Minority Central: Baton Rouge, Louisiana
p. 85
Monied Burbs: Los Alamos, New Mexico
p. 95
Mormon Outposts: Burley, Idaho
p. 105
Service Worker Centers: Lincoln City, Oregon
p. 115
Tractor Country: Sioux Center, Iowa
p. 125
The Economy
p. 135
Politics
p. 159
Culture
p. 187
Conclusion
p. 213
Appendix
p. 219
Notes
p. 307
Index
p. 313
Table of Contents provided by Ingram. All Rights Reserved.