Note: Supplemental materials are not guaranteed with Rental or Used book purchases.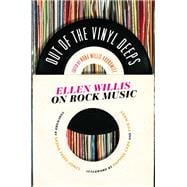 Questions About This Book?
What version or edition is this?
This is the edition with a publication date of 5/1/2011.
What is included with this book?
The New copy of this book will include any supplemental materials advertised. Please check the title of the book to determine if it should include any CDs, lab manuals, study guides, etc.
Summary
In 1968, theNew Yorkerhired Ellen Willis as its first popular music critic. Her column, Rock, Etc., ran for seven years and established Willis as a leader in cultural commentary and a pioneer in the nascent and otherwise male-dominated field of rock criticism. As a writer for a magazine with a circulation of nearly half a million, Willis was also the country's most widely read rock critic. With a voice at once sharp, thoughtful, and ecstatic, she covered a wide range of artists--Bob Dylan, The Who, Van Morrison, Elvis Presley, David Bowie, the Rolling Stones, Creedence Clearwater Revival, Joni Mitchell, the Velvet Underground, Sam and Dave, Bruce Springsteen, and Stevie Wonder--assessing their albums and performances not only on their originality, musicianship, and cultural impact but also in terms of how they made her feel. Because Willis stopped writing about music in the early 1980s--when, she felt, rock 'n' roll had lost its political edge--her significant contribution to the history and reception of rock music has been overshadowed by contemporary music critics like Robert Christgau, Lester Bangs, and Dave Marsh.Out of the Vinyl Deepscollects for the first time Willis's Rock, Etc. columns and her other writings about popular music from this period (including liner notes for works by Lou Reed and Janis Joplin) and reasserts her rightful place in rock music criticism. More than simply setting the record straight,Out of the Vinyl Deepsreintroduces Willis's singular approach and style--her use of music to comment on broader social and political issues, critical acuity, vivid prose, against-the-grain opinions, and distinctly female (and feminist) perspective--to a new generation of readers. Featuring essays by theNew Yorker's current popular music critic, Sasha Frere-Jones, and cultural critics Daphne Carr and Evie Nagy, this volume also provides a lively and still relevant account of rock music during, arguably, its most innovative period.
Author Biography
Ellen Willis (1941-2006) was a groundbreaking radical leftist writer and thinker whose true loves were rock music, feminism, pleasure, and freedom. She was pop music critic for The New Yorker and an editor and columnist at the Village Voice. Nona Willis Aronowitz has written for publications such as the Nation, the New York Observer, the Village Voice, and Salon. She is coauthor of Girldrive: Criss-crossing America, Redefining Feminism. Sasha Frere-Jones is a staff writer for The New Yorker. Daphne Carr is the editor of the Best Music Writing series. Evie Nagy is an associate editor at Billboard Magazine.
Table of Contents
Foreword: Opening the Vault
p. ix
Introduction: Wake-Up Call
p. xv
Before the Flood: Dylan From Cheetah, 1967
p. 1
The World-Class Critic
Two Soul Albums November 1968
p. 21
The Who Sell July 1969
p. 23
Songs of Innocence and Experience February 1970
p. 27
New Morning: Dylan Revisited December 1970
p. 30
Breaking the Vinyl Barrier July 1971
p. 33
Morrison Live June 1972
p. 34
˘Elvis Presley? In Person?÷ July 1972
p. 36
Bowie's Limitations October 1972
p. 38
Frankenstein at the Waldorf November 1973
p. 41
The Rolling Stones Now December 1973
p. 43
The Best of '74 January 1975
p. 45
Liner notes from Lou Reed's Rock and Roll Diary, 1967-1980 1980
p. 48
The Velvet: Underground From Greil Marcus's Stranded, 1979
p. 53
The Decade in Rock Lyrics From Village Voice, January 1980
p. 65
The New Talking World War III Blues From Salon.com. October 2001
p. 73
The Adoring Fan
The Big Ones February 1969
p. 77
East versus West July 1971
p. 83
Their Generation August 1971
p. 85
Yesterday's Papers August 1972
p. 87
Creedence as Therapy September 1972
p. 89
Believing Bette Midler, Mostly December 1973
p. 93
Dylan and Fans: Looking Back, Going On February 1974
p. 96
The Sixties Child
Pop Ecumenicism May 1968
p. 101
Randy Newman August 1971
p. 104
George and John February 1971
p. 107
Consumer Revolt September 1971
p. 109
My Grand Funk Problem-and Ours February 1972
p. 111
Into the Seventies, for Real December 1972
p. 114
Roseland Nation October 1973
p. 116
Sympathy for the Stones July 1975
p. 119
Creedence Clearwater Revival From Rolling Stone Illustrated History of Rock 'H' Roll, 1980
p. 121
Janis Joplin From Rolling Stone Illustrated History of Rock 'H' Roll, 1980
p. 125
Selections from ˘Don't Turn Your Back on Love÷ Liner Notes to Janis, A Janis Joplin Box Set, 1993
p. 131
The Feminist
But Now I'm Gonna Move October 1971
p. 135
Joni Mitchell: Still Traveling March 1973
p. 140
Women's Music June 1974
p. 142
After the Flood April 1975
p. 145
Beginning to See the Light From Village Voice, 1977
p. 148
The Abyss From Village Voice, June 1979
p. 157
Preface to Barbara O'Dair's Trouble Girls: The Rolling Stone Book of Women in Rock 1997
p. 160
The Navigator
Newport: You Can't Go Down Home Again August 1960
p. 165
The Scene, 1968 November 1960
p. 172
Summer of Love in Queens July 1969
p. 175
Elvis in Las Vegas August 1969
p. 178
The Cultural Revolution Saved from Drowning September 1969
p. 181
Stranger in a Strange Land December 1969
p. 186
The Return of the Dolls January 1973
p. 188
San Francisco Habitat August 1973
p. 190
The Sociologist
Pop Blues April 1968
p. 193
The Ordeal of Moby Grape June 1968
p. 196
The Star, the Sound, and the Scene July 1968
p. 198
Roots February 1969
p. 202
Dylan's Anti-Surprise April 1969
p. 205
Elliott Murphy's White Middle-Class Blues February 1974
p. 207
Mott the Hoople: Playing the Loser's Game May 1974
p. 210
Springsteen: The Wild, the Innocent, and the Street Kid Myth November 1974
p. 213
The Importance of Stevie Wonder December 1974
p. 216
Introduction to Beginning to See the Light: Sex, Hope, and Rock 'n' Roll 1981
p. 218
Afterword: Raise Your Hand
p. 225
Table of Contents provided by Ingram. All Rights Reserved.